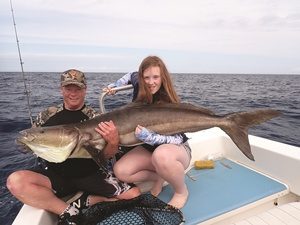 AT the time of writing, tuna have slowly made a start in the bay. Though the catches have been quite patchy and not in substantial numbers, there have been enough all the same. The majority are mack tuna and a few longtail have made their presence felt in mixed schools, with most fish being less than 90cm in length.
tuna hervey bay
Don't be put off because the odd big fish has been around too. The bait they are feeding on is quite small and it's not in copious quantities, so they are not fussy eaters… yet. Small surface lures and soft plastics have been key for hooking up.
Without the tuna, I would have had a few tough days because sharks had set up camp where I had previously been catching fish on deep presentations. So, I had to buckle down for a few tours and work the fish I saw on the Lowrance. tuna hervey bay
Because occasionally, the fewer the numbers of fish, the lesser the chance of a shark taking up residence too. Even then, you never know when you'll be taxed. Working your butt off against wind and wave, every bite counts, and to lose a hook up to sharks can be demoralising.
Being positive and having a laugh will help keep you motivated. On a recent tour, I had a group of fishers who insisted we go out in tough fishing and weather conditions. I agreed, not knowing their ability or durability in rough weather. tuna hervey bay
But they were forewarned and were willing to accept the terms the weather had dealt us. We lost an early bite to a shark at the end of the fight – it was a large trevally. We left the sharks and found a few very flighty tuna.
I decided it would be better if I found another surface school and was not rewarded, which was fine because tuna had been found out wide and the wind was hiking up. I fished in close to Fraser Island and we were fortunate to find fish worth targeting. tuna hervey bay
It took a little time to actually hook one, however we lost that fish – it simply found its freedom. After what may have been an hour, we boated one nice trev, pulled hooks on a few more and eventually a shark found our final hook-up. The last fish was actually taken on its very first run!
Credit to the fishos who remained positive and in good humour, it was a long grind. But they endured, enjoyed and were more educated at the end. I was very happy to see a five-star review from them and a promise to come again. tuna hervey bay
By early November, we should see spotty mackerel joining the tuna. Mackerel can be a lifesaver because they are not as fussy as tuna usually. However, they are definitely not a species I would target consistently as a sportfish, as I find them a little fragile.
I target mackerel with metal lures and a single hook. But the use of fine-gauge single hooks will minimise harm and increase hook-ups. De-hooking tools will help you quickly flip fish off boat side and they work extremely well on single hooks. tuna hervey bay
I will usually keep any damaged fish if it's of size. I look for compromised gills, jawbones and eyes. Try to take care of our resources, because no one else will.
For more tuna tips, click here!