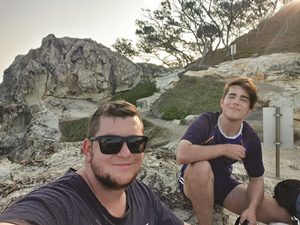 WE recently came to the grim realisation we'd had a serious lack of adventure over the past few months.
Consequently, we were eager to book a trip away. After considering our options, we made the choice to head across Moreton Bay for a beautiful Stradbroke Island escape. We were lucky to decide just in time to buy our four-wheel-drive beach permit at $46, only weeks before prices hiked to $158 a year! 
The price hike is another conversation altogether. We are confused as to why the price for an annual pass has risen about $100 when there are active talks about rolling all Queensland beach permits into one in the near future? If anyone has some inside knowledge regarding these plans, we would love to hear from you through our Flexible 4WD Solutions Facebook page.
Back to our trip – Stradbroke Island is only accessible by boat but thankfully there are hourly ferries every day, so timing to get on and off the island is up to you. As with most transport options, Stradbroke Ferries offers off-peak fares that are often up to $15 cheaper than on-peak options.   
For accommodation on this adventure we opted for the easy camping at Flinders Beach. 
We were very torn when making this decision because we are usually keen on getting as far away as possible, however due to the impromptu nature of this trip Sammy wasn't able to get more than one day off work. Nevertheless, Flinders Beach is a beautiful part of this country and suited our needs perfectly, with toilets nearby and a number of access tracks that lead straight from the road to the campsites. 
When booking your next trip to Stradbroke Island, we highly recommend getting your passes mailed to you prior to heading over to the island, as this saves you the hassle of waiting in lines to get your pass when you land on the island. As usual, we brought the pups along and ensured they got their fair share of adventure as well.
Sadly, the majority of Stradbroke Island does not allow dogs to be off leash, however, thankfully they are still allowed to stay with you while camping on Flinders and Main beaches. Our recommendation for anyone who wishes to bring their dog along is to buy an extra-long lead. They are super cheap and make having your pups on the leash at camp much more pleasant.  
With a bit of research, Sammy was able to find two off-leash areas for the pups to play during our Stradbroke Island escape. One is called Skatebowl Park Dunwich, just south of the ferries, though this park is not fenced.
The other option is Home Beach. With the Queensland weather being brutally hot recently, we decided to spend a portion of every day hanging down at Home Beach so the pups could run out their energy and enjoy their holiday too.
Our primary goal for this trip was to relax and reset, however my cousin who was with us for his second-ever 4×4 trip only had one request, which was to get some seat time. So we headed up along the Tripod Track to explore and enjoy the views from the lookout. While this lookout is beautiful, and the walk to the top is amazing, be aware that it could do with some trimming to expose the beautiful views.  
After hitting up the Tripod Track, we dropped onto Main Beach for a quick trip to Jumpinpin. We were super keen for a photoshoot at the Pin but shortly after hitting the beach we realised just how soft Main Beach was at the time. Though the LandCruiser had been eating up the inland tracks and regular beach driving, Main Beach was a real slog and the temperature gauge showed it.  
About halfway down the beach we were creeping up over 100C and made the call to pull up and go for a stroll instead. With the Cruiser normally sitting around 80C, this was a significant increase and with the tide on its way in, our trip back off the beach would have been a very slow drive to keep temperatures down if we had decided to push on.
For those heading over to the island with kids, the North Gorge Walk at Point Lookout is a spectacular thing to do. This short boardwalk follows the cliff edge and provides its visitors with spectacular beach views and brilliant vantage points to spot an array of marine life. We've done this walk a number of times and every time we visit we see large numbers of sea turtles swimming around the gorge and simply loving life. Visitors can walk along two cliffs and get the full experience of sitting on the edge of Australia and taking in the stunning views. These are great spots to stop and take some photos, but please remember to keep a close eye on your kids and dogs.  
Throughout our trip an abundance of horse flies targeted our dog Biggie. Biggie would attack them back and eventually turned into a horse fly ninja. It was an extremely scary moment for us when Biggie was targeted by a swarm of horse flies on one of these cliffs and decided to attack back. Long story short, the big boofhead was quickly restrained and dragged away from the cliff edge and danger. Moral of the story: it's probably not a good choice to take very large dogs down onto dangerous cliffs. All in all, we loved our  Stradbroke Island escape, as per usual.  
Flexible 4WD Solutions would like to wish everyone a merry Christmas and happy New Year.  
Catch ya in 2020! 
For more Straddie escape tips, click here!