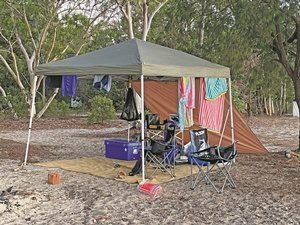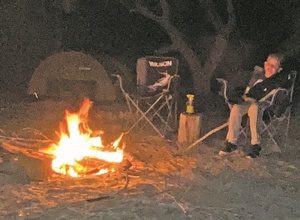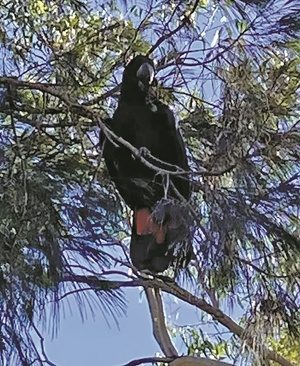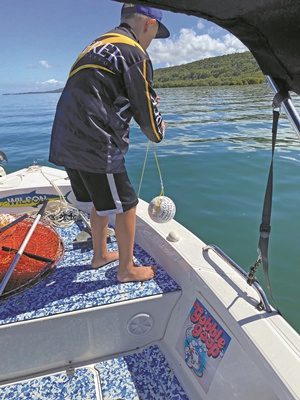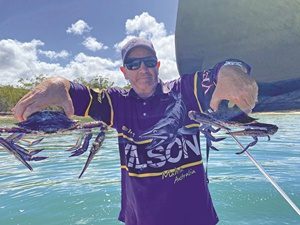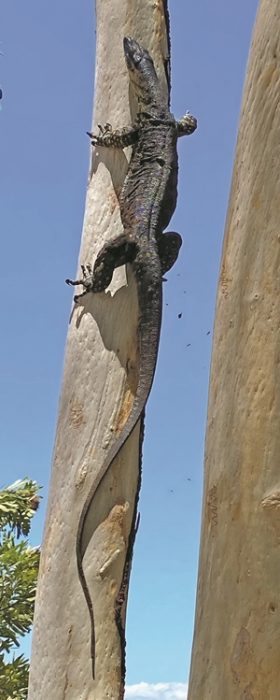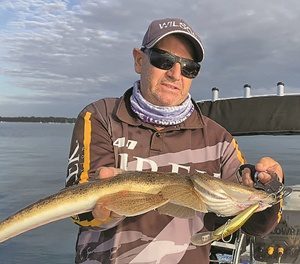 WELL, I don't think we've gotten rid of the problems from 2020. It seems this nasty bug we have hanging around is going to continue giving us a bit of trouble in 2021, so looking for places to get away from it all is probably not a bad thing. This month we might have a chat about a little hidden gem in southern Moreton Bay.
Though locals know about, many visitors don't. People go camping at Peel and Moreton islands and to places similar, but there is another spot really worth a look – Blaksley Anchorage on North Stradbroke Island. This particular area is south of Dunwich and north of Price Anchorage on the western side of Stradbroke Island.
You can only access it by boat, so that helps keep numbers down, but even so it does get busy around peak holiday seasons. If you go there off-peak, you can occasionally have the whole place to yourself. Max and I headed there mid-week during the recent school holidays, and it was only us and one other camp. Blaksley Anchorage
If you do decide to visit this place, you need to bring everything because there is nothing there. No showers, no toilets, no fresh water, nothing. If you're not a fan of a few mosquitoes, march flies and those types of creepy crawlies plus having to go to the loo without any amenities, this place is not for you. Blaksley is about getting back to basic simple bush camping.
When we head over, we take a couple of swags, a gazebo, an Esky with our food in it and a single-burner stove – nice and simple, and a lot of fun. It's a great place for the whole family or just a father and son trip as we do. We usually go for two or three nights, which gives us plenty of time for crabbing, fishing and swimming – keeps Max and I occupied for a few days.
It's fantastic to set up base there, and we do plenty of crabbing right in front of our camp, and north and south of there also on Pelican Banks. There's plenty of fishing too – heading out past Peel Island, near Russell Island over to Macleay and Coochiemudlo islands – it's central to everything and as you've seen before, you can pluck a good feed out of Moreton Bay if you do things right.Blaksley Anchorage
Here's a bit of information to consider if you're going to camp in this area. Frist, it's nice to have a high tide when you arrive and leave because instead of trudging all your gear from a low tide, it makes it very easy to set up camp. Second, mark up to your campsite which is at the tree line and try to go on a slightly bigger tide so you can have the tide in for a nice swim during the day.
Third, avoid a westerly wind – try to go when there's a southeasterly, easterly or northeast wind blowing, as you get a lot more protection from Stradbroke Island. Four, be aware of storms coming from the west, southwest and northwest – because you are on the western side of the island, if you do get a bad one, you're going to bear the brunt of it.Blaksley Anchorage
Five, always check the weather before you make the decision to head over. If you do everything correctly, you'll have a great time. There's a lot more than fishing and crabbing when you head to this place. The wildlife is fantastic with an array of birdlife including black cockatoos and a healthy population of lace monitors or goannas around the area.
Kids have fun at low tide chasing soldier crabs around. If you think the kids have had too much screen time, it only takes a day there for the batteries to go flat in the phone or iPad, with no way to charge them. Take a bat and ball and when they can't look at their device anymore, have a game of beach cricket at low tide.Blaksley Anchorage
It's a great little place to get away from it all for a few days. At night, having a little campfire and roasting a few marshmallows is great. Make sure to take your own firewood and check that there aren't any restrictions at the time you're visiting. Always put your fire out before you head to bed – it's a beautiful place and bushfires can be devastating, so be responsible. Blaksley Anchorage
As I said, take everything, watch the weather and get the kids away from their devices for a while. Oh, and I forgot the best thing. One big secret – it's still completely free. No camping fees! Don't tell anyone.
A short article this month about a place I think is quite special, and until you go there, sit back in the afternoon and look at the sunset, you might not understand how unique it is. So, get the camping gear, get in the boat and head over to experience it for yourself. As we all know with our busy jobs and lives, we are time poor, so if you can learn more to optimise your time on the water, then why not?Blaksley Anchorage
Remember: knowledge is the key. If you're interested in any off or on-water tuition classes or you want to do a fishing charter, give me a call on 0432 386 307 or send me an email at seanconlonsfishing@hotmail.com You can also check out the Sean Conlon's Fishing Charters and Tuition Facebook page.
Until next time, stay safe on the water.