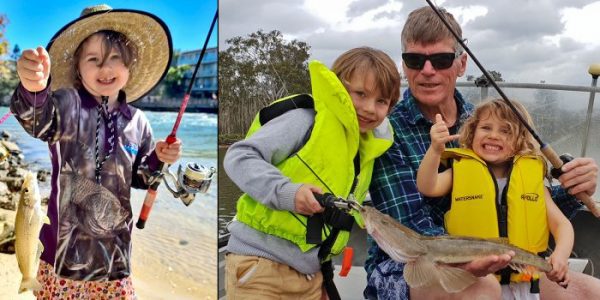 Sunshine Coast Noosa – Well that's another month gone as we push into the last month of winter. Last week certainly turned on the beautiful days and strong winds. Although strong, the winds featured mainly west in them which made for great land fishing or close inshore work.
Beach
With winter associated with tailor and jewfish it would appear that many anglers are working hard to find them. We did see good patches of fish pop up along the coast but these were mainly smaller fish during the daytime. Lighter 10-12ft surf rods are the go here and load up on 30-40 gram slugs like the Gillies baitfish. If you want to use wire then grab some single strand and opt for the sleeker haywire twist to make your connection. If running gang hooks and pilchards be sure to use a length of bait eleastic. The ocean stream elastic is super fine and keeps bait held together no matter if surf or offshore fishing.
Offshore
Offshore a few boats fished in close and caught a mix of tuskies, jewies, cobia and of course sweetlip. There have been multiple reports of mackerel showing up so it still pays to use a gang hooked pilchard floater with a shot of wire. This rig will also appeal to snapper so don't forget all snapper and pearl perch must be released ASAP. If looking for an intermediate spin combo for offshore the Abu Slaty fighter combos are very well priced and include braid. These are perfect for medium sized reef fish and casting so you can throw stickbaits and slugs for mackerel and use plastics offshore. As previously mentioned there are coral trout still on patrol around the Sunshine Reef area. These fish are suckers for live baits and for those willing to drop one a soft vibe will also work exceptionally well. Take a look at Samaki lures as these come fitted with BKK hooks which are more than capable of holding on when it counts. Be sure to run a quality leader like Shimano Ocea in 40LB or more and see how you go!
River
River fishing is very consistent and the run of winter flathead continues with some reaching over 80cms. At this size these fish are best handled with care and must be returned to continue breeding for future generations of flatties. These fish love areas where current passes overhead especially if there is a flat nearby making the dog beach a great area as well as the sand bags. If you want to try soft plastics then the Gulp Paddle shad in 4 inch sizes and 14lb fluorocarbon leaders will certainly help. Work these along the current lines and drop offs and be sure to strike even the slightest of bites so you get a solid hook up. If looking for braids be sure to come in and check out the huge range on offer. Braid lets you get the most from plastics and get super long accurate casts. School jewfish have previously featured in the river and around 45-65cm these fish are great fun on the light gear but must be returned as they are undersize until 75cm. Try not to go too light on jewies as they aren't Olympic athletes and tire very easily. Always let them recover before bringing them on board for a quick pic and release. They will take baits but soft vibes and small paddle tail plastics work very well.
Freshwater
Freshwater has been tough and a very different winter to previous years. The bass are on the move and have been sitting super deep in 10-20 meters and hard to tempt. Sounders are imperative this time of year so have them running and watch scan rates as the schools are small. Small minnow style plastics on 3/8th jigheads have accounted for better fish. Using heavy jigheads allows for a slow retrieve and the plastic to stay close to the bottom. The edges are holding fish deep in the weed and flicking small lures like the Bassday Sugadeep gets them out. Don't forget that the Mary River is now closed until 1st Nov to all types of line fishing to protect the Mary River cod. This applies to all tributaries upstream from the junction of Six Mile Creek and Mary River, including Six Mile Creek.
Now for all the  latest information log onto www.fishingnoosa.com.au for up to date bar and fishing reports, don't forget to drop into Tackle World Noosa, Noosa Boating and Outdoors and Northshore Bait & Tackle in Marcoola for all the right equipment, bait and advice to get you catching.
Be sure to follow us on Facebook and remember Tight Lines and Bent Spines!
Click here for more Sunshine Coast fishing reports and tips!