With the recent winds and swell persisting, this is the time of year where land-based angling tends to favour most. The beauty of fishing around the Noosa region is the estuary has so many locations that work in a multitude of wind directions. We also have the freshwater dams, which allow anglers to find a secluded spot in a bay or take a kayak out and explore the Noosa Everglades. Sunshine Coast Noosa
Offshore
Offshore has seen bigger boats heading over the bar with the local charter boats doing well. Earlier in the week they did manage a trip out wide to Double Island and there have certainly been a few red emperor and big nannygai coming onboard. Some anglers are fishing in close from the Wide Bay Bar and reporting good snapper and pearl perch catches. This is however an area for experienced boat owners. Don't forget when crossing any coastal bar, if your boat is under 4.8m you must wear a life jacket when crossing. We stock a wide range of jackets, flairs and emergency position indicating radio beacons (EPIRBs) as well as everything else boat related. Sunshine Coast Noosa
Sunshine Reef has been fished a few times with the occasional coral trot coming in as well as good sized sweetlip. With the forecasted rainfall, we could see a change for the better if fishing offshore. Sunshine Coast Noosa
Beach
The surf scene should see a few changes as the increased swell and rain often causes the water to get a bit dirtier, which many fish love. Previously we had super clear waters, which isn't conducive to catching big fish. If you are after a big fish be sure to break out your surf gear once the rain dies down. If looking to get a jewfish setup, we have the Penn long cast back in stock. This reel allows anglers to punch out big bait and lures with ease. Pair this with a suitable 12' surf rod and off you go!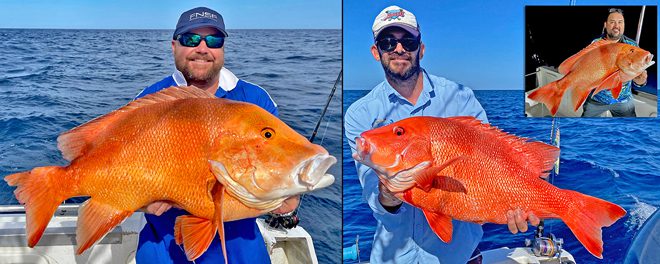 River
With the river soon to become busy, now is a great time to go explore. With a southeasterly wind the most popular, you will find plenty of spots. Gympie Terrace is great place for flathead, whiting and bream. Simple running sinkers and worm bait are best here. Lure anglers will do well with Keitech and Berkley PowerBait grubs on 1/8 jig heads. If you need to learn techniques, be sure to pop in and ask us how. We have a huge range of ready to fish combinations if you are looking for a new rod and reel. For those with a boat, you can fish the Noosa Sound for mangrove jack or head up to the mouth of Lake Cooroibah for flathead and jewfish. Between the lakes can yield a big mixed bag of species and bait and lures work very well. This is a great place to drop a live bait, so be sure you pick up a drawstring cast net with 3/4" mesh if after herring. We have a huge range of nets and bait buckets to help keep your bait fresh. The new Berkley Shimma Shrimp is set to become popular with solid treble hooks and a jointed action.
Freshwater
Finally, the freshwaters have been hot and cold with some anglers landing very chunky bass from both Lake Macdonald and Borumba Dam. Be sure you check online before travelling to these areas as they can be closed for works. With the rain coming you can expect the fish to sit down deep, so break out soft vibes from Samaki and Zerek and vibe the schools if struggling. You can also troll the weed lines with your favourite diving lure. As always, be sure you have a stocked impoundment permit so you're contributing to more fingerlings released into the waterways.
Now for all the  latest information log onto www.fishingnoosa.com.au for up to date bar and fishing reports, don't forget to drop into Tackle World Noosa, Noosa Boating and Outdoors and Northshore Bait & Tackle in Marcoola for all the right equipment, bait and advice to get you catching. Be sure to follow us on Facebook and remember tight lines and bent spines!
Click here for more Sunshine Coast fishing reports and tips!