Well, we've certainly experienced some crazy weather over the past three months or so, with relentless strong wind and ridiculous amounts of rainfall. Sussing Swain Reefs
I feel for the thousands of people who have been affected by the floods and my thoughts are with you all. Sussing Swain Reefs
Now, I know it's been a while between articles, but I thought I would share a recent trip I did onboard Big Cat Reality Charters to the Swain Reefs and the outer northern area known as the T line. Sussing Swain Reefs
This exploratory trip was organised by Wilson and was an opportunity to do some serious product testing – any angler's dream.
The number of lures, jigs, plastics, vibes, rods and reels that are brought on these trips is simply mind blowing.
This gives the anglers onboard a fantastic opportunity to put each item through its paces, which helps Wilson with the development of new and existing products.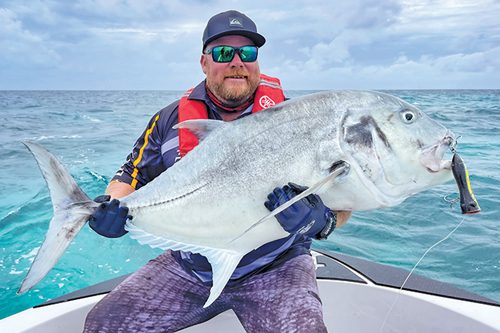 Leaving from Burnett Heads near Bundaberg, Captain James McVeigh pointed Big Cat in a northeast direction and, after a lengthy 28-hour run in less than favourable conditions, we arrived the following afternoon at our first destination.
Some of us were quick to have a fish off Big Cat, which resulted in a few redthroat emperor and a couple of nice cobia, but sharks were a menace so we soon gave up.
The next three days consisted of wind at about 20-30 knots and the strong current in the T line area was something you had to see to believe.
The strong current was caused by a combination of big tides and small narrow channels separating the reefs, which made fishing from smaller boats and tenders extremely difficult.
Some boats opted to fish the top of the shallow reef flats and to cast around the new range of Venom lures, which are set to be released this year.
This accounted for coral trout and redthroat emperor, along with an occasional giant trevally and red bass – great fun when you're pulling them from 1-2m of water.
Apart from fishing the shallow reef flats and edges, a bit of time was spent using jigs, vibes and plastics on the deeper reefs around and away from the main shoals.
These methods are easily the most effective way to catch coral trout and I'm confident in saying they far out-fish bait.
For this trip, I was driving the 4.8m Wilson tinnie and had the pleasure of fishing with Clint Fannin, the head of production at Wilson and Les Jones, the owner of LJ's Compleat Angler Gladstone.
We all tried a large selection of lures and one session saw a swag of different fish come over the side, including my humphead moari wrasse that I caught on an 80g Mustad Zippy Jig and a big redthroat emperor on a Mustad InkVader octopus.
Clint's first use of the new McArthy Jerk Minnow plastics saw him pull a cracking coral trout, and these larger plastics certainly made a name for themselves for catching the bigger trout over the trip.