If you feel like escaping the hustle and bustle of city life and need a break that's laid back and won't break the budget, I think I may have found the perfect place!
Only a four-hour drive from the Gold Coast – or about three hours from Brisbane – is the beautiful Tin Can Bay. This area is well known for its great fishing and crabbing, with several ramps for those who are thinking of towing the boat up.
Tin Can Bay Tourist Park is located right in town and accommodates anything – from tents and caravans to motorhomes. Powered sites are there for those wishing to plug in for longer stays, with unpowered sites as well for those who want to simply pitch a tent and enjoy the outdoors.
The level grassy sites combined with wide roadways are well laid out, so there's room to reverse big caravans with no trouble. Onsite facilities are very nice, with a big camp kitchen hosting a gas stove, loads of stainless-steel benchtops, two big sinks and two barbecues, as well as jugs, pots, pans and a shared fridge freezer, of course.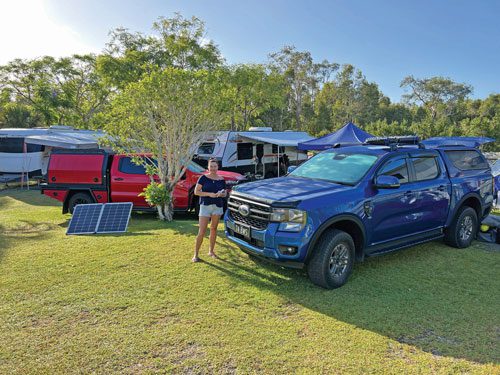 It's all undercover and has generous seating for the whole family.
The swimming pool is beautiful on a hot day and once again, there's plenty of room for everyone to enjoy the water. The pool tapers down gradually, so that kids feel safe getting in while their adults relax on a sunlounge under the sail shade.
The toilets and showers are modern and very clean, even with the park at full capacity when we stayed over the Christmas break, and there was never a wait.
The park does allow pets too, for those travelling with their furry friends, plus there are many walking tracks close by for a nice stroll.
If you don't feel like walking, bikes are onsite – which can be hired for a very reasonable fee – as well as balls and games for general public use.
On the main street of  Tin Can Bay is a service station to fuel up, a bottle shop and a grocery store for all the essentials.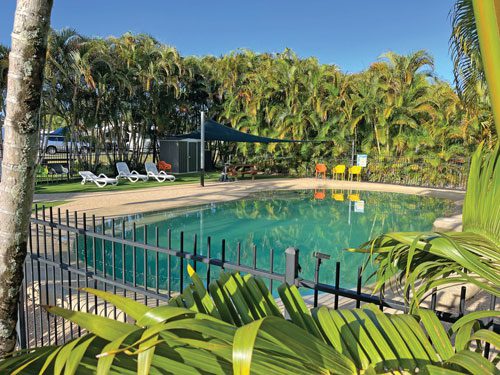 Snaking its way along the full length of the waterfront is a concreted walking and cycling track that extends from Crab Creek all the way up to the public pool and boat ramp at the northern end of town.
From 6:30am each morning, dolphins come in for feeding and, for a small fee, you can line up to handfeed them and get some awesome photos of the magical experience.
And there's a café handy for breakfast and a coffee once you're done.
At the other end of town is Crab Creek Park, which has a public boat ramp too – from here you can access the creek to drown a few crab pots and bag a nice feed of mud crab. Another nice café up from the ramp does breakfast wraps and smoothies, as well as a mean bacon and eggs dish.
Remember to take a yabby pump because there are acres of yabby flats to work at low tide, plus whiting are there all year – just off the beach near the park.
Rainbow Beach and Inskip Point are only a 20–30 minute drive away for those looking for a day trip from the bay, and don't forget to stop in at Seary's Creek on the road to Rainbow.
There are so many other things to mention – such as the marina, the skate park, the golf club, the offshore fishing charters… I could go on, but I'll leave that up to you to research.
Tin Can Bay is a great place in every way and the rates are easy on the pocket, so if you're looking to stay, give Sharlene a call on 07 5486 4411 or visit them on the website at tincanbaytouristpark.com.au