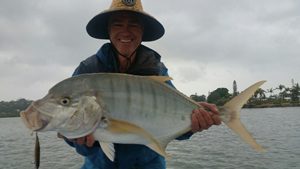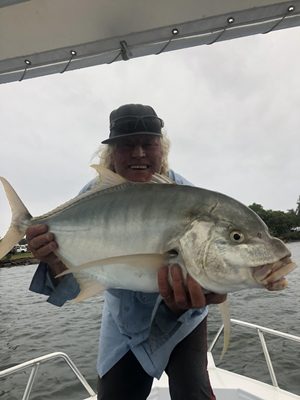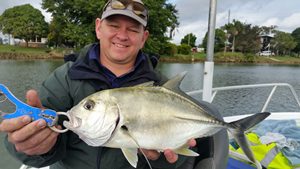 G'DAY everyone, in this month's article I will discuss some ideas for targeting one of our hardest-fighting estuary species: trevally. The Gold Coast and Tweed Heads area harbours numerous trevally types including bluefin, diamond, brassy, golden, bigeye and giant, with the last two the most prolific.
The common theme with all these trevally is they become more active on the big tides leading up to both the new and full moons. They also like lots of baitfish present and tend to spike in their feeding habits around tide changes. Now let's have a look at these varieties individually. targeting trevally
Bluefin
This trevally is startling in appearance and as its name suggests, has almost metallic blue fins and sometimes blue spots on its body. I have never caught one too far upstream, with the entrances of rivers being their domain, which makes the Gold Coast Seaway and its rock walls a great place to find them. The most successful technique for targeting them is to troll small deep-diving minnow lures.
Diamond
Once again, this is an amazingly pretty fish. Its body has a metallic, almost chrome sheen as well as long, flowing filaments extending from its dorsal and anal fins. It seems this fish is a bit of a loner and not so much a schooling species. I have only caught diamonds as welcome by-catch while targeting other species. targeting trevally
Brassy
Also known as the tea-leaf trevally, the brassy has black spots on the sides of its flanks. I love this species because through summer it moves out of the deeper channels and up over shallow seagrass flats to terrorise the baitfish and prawns hiding in the channels between the grasses. This means you can target them on small surface poppers and stickbaits, so keep an eye out while flats fishing for any bird or surface activity. Cast your surface lure there and then hang on because this fish is powerful and when hooked will want to scream away with your line in order to get back into deep water.
Golden
Golden trevally are not overly abundant in our area because they prefer the warmer waters to the north, but they can be captured and wow what great fighters they are on light line. I have the most success using poppers over the shallow flats and trolling minnow lures along the edges and channels parallel to the flats on big run-out tides. They thrive on patrolling the drop-offs, waiting for the bait forced off the shallows on the run-out tides. targeting trevally
Bigeye
This species is abundant in our area, which is great because they are fantastic fighters on light gear. Once again, I like to target them along the edges of channels on the run-out tides and current lines formed by hard-running water. This species can be targeted with both lures and live bait such as herring and prawns. What makes this species a little different is they will also feed aggressively at night. targeting trevally
Giant
This species is the most well-known and as the name suggests, they grow the biggest. Our rivers and creeks are mainly the haunts for the juvenile fish but once offshore they can grow to 50kg. In saying that, they are caught in our rivers up to about 5kg and pull like freight trains, providing an unforgettable experience.
Unlike some of the other trevally mentioned, GTs prefer the deeper parts of the rivers to the much shallow flats. Bridges, deep holes, deep channels and canal junctions are favoured locations for GTs to hang out. On big run-in tides I regularly encounter them corralling baitfish into the ends of canals as well. targeting trevally
GTs are not fussy feeders and can be caught on both surface and diving lures as well as live baits. The weeks leading up to both the new and full moons in October and November are when GTs are at their peak in our area. Thanks for reading and I look forward to talking to you again next month.