ALBEIT a year late, Commodore Rob was finally able to use his Jetstar credits to get down to Tasmania and see his relatives, and for a spot of fishing in the boat he and his brother-in-law had purchased in 2020. While not the fishing machine Salty is, it does have character, and after a bit of research was found to be nearly 50 years old.
Tasmania trout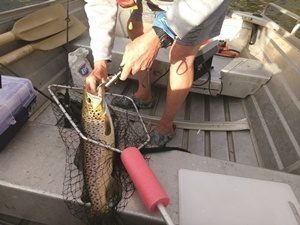 It's a Stacer 4.28 Kingray, build No. 63. Stacer kicked off in 1971 and No. 63 rolled off the line in 1972. For its age, there are no cracks or corrosion and it's in great condition. Dragged out of the shed, the 18hp Tohatsu fired up on the second pull, so the next morning the lads headed off to Lake Huntsman – about an hour from Launceston.
As they headed down the highway, Rob watched the temperature gauge drop from 15 to 8C – not quite the shorts and Crocs climate he's used to. They were the only boat on the lake, which was bizarre by Queensland standards, and not knowing where to go, they just moved around looking for fish. The lake had a bag of 20 trout with 220 being the minimum size limit, so it's well stocked with small fish.Tasmania trout
After trying all sorts of lures, the brother-in-law got a fish of around 30cm on a Tassie Devil lure. Rob searched the tackle box for a green and gold Devil – as this is the go-to colour apparently – and found something close. They were drifting sunken timber and several of the stumps slightly submerged were 2m across.Tasmania trout
They tried a windward bank and finally located fish and while not big, they managed six brown trout, soon after releasing the small tackers. The next day they travelled to Four Springs, where Rob had previously fished but never bagged a fish. They travelled down the lake casting and changing lures before Rob went back to a black and gold 2.5" Berkley Grub that he shortened to imitate the local leeches.