WHAT a topsy turvy summer it was, with flooding rainfall to finish the season off.
Many fisher people were looking forward to the stable weather that usually starts after the Easter break.
While the rain was disruptive to fishing, here on the Gold Coast it will stand us in good stead for fantastic estuary fishing over autumn and winter.

Gold Coast autumn estuary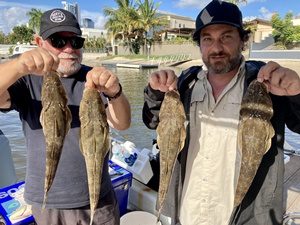 Floods rejuvenate tired river systems and get the whole food chain moving and multiplying. Where there is food, you'll find fish. Barely a week after floods – during which over 900mm of rain fell at Mt Tamborine and Hinze Dam overflowed – we were catching nice flathead, grunter, bream and whiting in the local rivers.
The water suddenly cooled from 30C to 23C, which effectively meant the end of the mangrove jack season for my charters. Our attention now turns to fishing the river during bigger tide phases and windy conditions. When a lighter wind is forecast in combination with a neap tide, I love to fish the Gold Coast Broadwater as often as possible, particularly in the area between Sundale Bridge and the Coomera River mouth.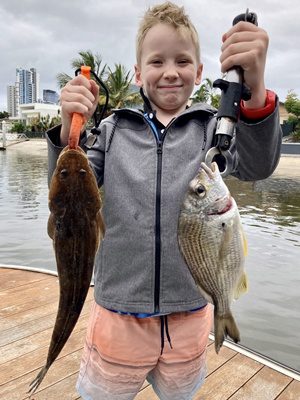 The variety of marine life and fish habitat here makes it an angling mecca for us. During cooler months, the most popular options on our estuary charter trips include casting Ecogear and Samaki vibes over the calm water reef and sand areas for fish such as dusky and bartail flathead, tuskfish, tarwhine, flounder, squire, and winter, sand and gold line whiting to name a few. Gold Coast autumn estuary
Around Crab Island is one of my favourite areas to target these species, and the structure there varies from shallow sand and weed bank edges to coral reef off the edges in 7m of water. If you mix up jigging vibes and soft plastics with drifting lightly weighted yabbies using 6lb mono line, you'll usually have an entertaining day of light tackle fishing.
To book on a charter with myself or Brad, or if you have any fishing related questions, SMS 0432 990 302 or email fishingwithclint@gmail.com, or find us on Facebook at Brad Smith Fishing Charters.