SIXTY anglers converged on Lake Borumba, near Imbil in Queensland, for the sixth annual Tag-a-toga event on March 6-7 – for a lot of fun and to gain a better understanding of the resident saratoga population. Different to a normal fishing competition, this event offers a more relaxed environment and focusses heavily on everyone enjoying themselves, rather than who wins.
Tagatoga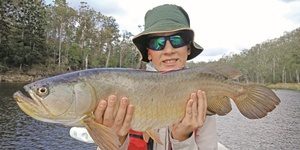 There are a lot of great prizes given away for hidden treasures and lucky-door prizes, with only a few reserved for those who catch fish. This helps promote the teams sharing tactics on what is working, which results in more captures and therefore more data is collected, so we have a greater understanding of these important fish in Queensland impoundments. Tagatoga
The event is limited to 20 boats plus sponsors to ensure consistent results, and to prevent putting too much pressure on the saratoga population. This year, the 20 spots filled within a couple hours, indicating how popular Tag-a-toga has become. Meals are provided throughout the weekend and the roast meal on the Saturday night, which involved a fancy dress to enhance the social aspect, had nearly 90 attendees.
As part of a continuous improvement program, this year we started to collect more information than at previous events. Items such as what lure and bait, time of capture and what terrain each fish was caught in were all recorded. Kingaroy Sport Fishing Club's Brendan Moore said that over time, as the data bank is built, it will be shared with entrants to help fine tune anglers' skills in order to have better success chasing these mighty fish. Tagatoga
Though they possess poor eating qualities, saratoga are renowned for their willingness to take both lures and flies, and their acrobatic performances once hooked have made them a premier freshwater sportfish. The prehistoric heads of saratoga have upward facing eyes, making them a target for surface presentations, however their hard-bony mouths make hooking and landing them challenging. Tagatoga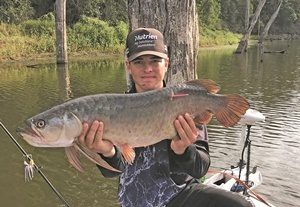 Kingaroy Sport Fishing Club secretary Shaun Manthey said, "The Tag-a-toga event is part of a long-term citizen science plan, with an aim of collecting data on the population, growth and growth-rate dynamics of saratoga in Lake Borumba."
"The fishing was also successful with a total of 95 saratoga caught, making this the most successful event by far.
"All of these fish were released and tagged with Queensland sportfishing pink tags. Tagatoga
"This will allow us to learn more about these ancient looking creatures.
"Due to the social aspect, successful methods and secret spots are shared among the teams throughout the event, which results in more fish being caught and therefore more data captured.
"It's great to see people unlocking the secrets in landing these great fish," he said.
The Kingaroy Sport Fishing Club offers its members an opportunity for friendship, education and skills development in a family friendly environment. To learn more about fishing in the South Burnett or to become involved, contact Kingaroy Sport Fishing Club via their Facebook page. Queensland Sportfishers Club president Adam Royle can be contacted on 0417 610 446 or qldsportfisherspresident@gmail.com
Kingaroy Sport Fishing Club secretary Shaun Manthey can be contacted on 0419 789 129 or dannishaun@outlook.com.au Tagatoga
The Queensland Sportfishers – Australian National Sportfishing Association Queensland Branch – is a not for profit organisation made up of affiliated clubs and members who promote sport, conservation and integrity in angling.