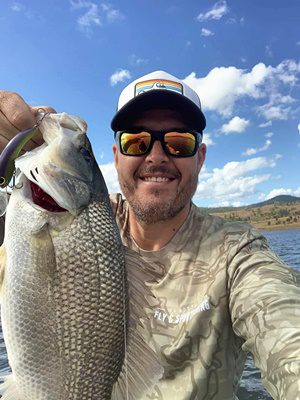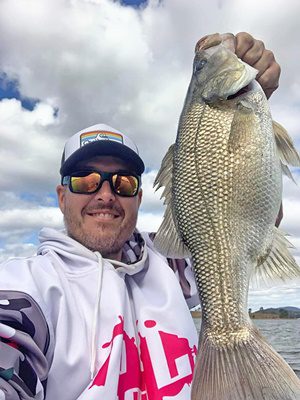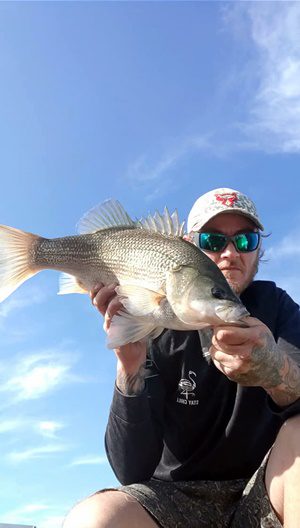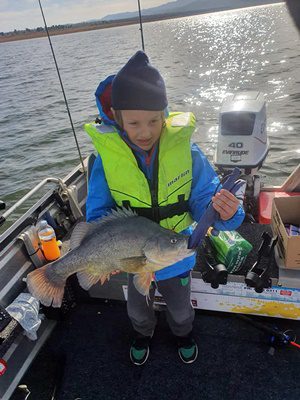 WINTER has set in at Somerset Dam.
With all the anticipation and excitement of the past couple of months of the lakes getting a reprieve from fishers and boaters, we were back out on the lake in May. I must say, Somerset generally has two rough periods for fishing and April is usually one of them, as the bass start to look at transitioning to deep water and schooling for uneventful partnering up.
Bass can't breed in fresh water, as they require salt water to perform the operation, so they school up and pretend it's all going to happen. They get fat and hungry. Unfortunately, myself and a few others headed out on the water after the restrictions lifted only to find the water was very dirty, with something like a silt under the surface, there was no thermocline and the bass we could find were suspended mid-water and sulking.
We checked the usual spots, went to the Spit and found nothing on the sounder, so headed to Beams Creek, but it was very slow there. We finally found a large school at Pelican Point but they did not want to eat anything we had to offer. Next we checked Happy Clappers bank, Bay 13 and the edges with no success. Returning to our launching point of Kirkleagh, we snagged some golden perch in the shallower 4.5m water just off the boat ramp.
If you were looking to head out on Somerset Dam any time in winter, I'd suggest trolling. Dan in the shop caught a few on Voodoo hard-body lures, and Nathan Mitchell also did the same on both the Voodoos and Bullship BS80. These waters dive to about 6m. At the end of May, the water temperature stabilised and the water cleared up, with great reports of bigger models caught around the edge with jerkbaits and Jackall TN60s. Slider Grubs on 1/2oz jig heads have seen a few takers enticed by a slow roll, but they were far and few between.
One young woman did well at the Westvale end of the dam by landing a beautiful saratoga. We are getting more and more reports of saratoga caught within the trees. Spinnerbaits and lipless crankbaits are doing the damage, though Taylor's saratoga came on a live worm. Don't feel like you have to use lures to catch great fish in the dam. Worms and live shrimp will also be dynamite.
Red claw reports haven't been great, but several people have been catching some here and there. This colder weather will see a decrease in catches. The odd bigger one will still be caught but not many smaller models. Due to the lockdown, we teamed up with Dave's Lures (Ipswich) and sent a bucket load of hard-body lures to kids to paint and assemble. Well, the pics say it all.
Winter is here at Somerset Dam… until next month!