It's on again, the annual Logan and Albert Fish Management Association's Wyaralong Dam Carp and Tilapia Eradication Competition will be held Saturday October 29, 2022.
This family oriented fun fishing day is aimed at catching pest fish.
By entering the comp, you will help remove noxious carp and tilapia from the dam, as well as help LAFMA raise funds to supplement those received from the Stocked Impoundment Permit Scheme.
The event is a major fundraiser for the stocking of the Logan and Albert River systems, as funds are not allocated by government.
Heaps of prizes and giveaways are on offer and one lucky entrant could go home with a kayak. You don't even have to catch a fish to be in the running for this prize.
Fishing can be done from the bank, kayak or canoe, even your boat – as long as you don't start the motor – noting, this is an electric-only impoundment. Motors can be left on but must not be started.
The 'carp out – natives in' concept was started 20 years ago by a small group of concerned anglers in the Rathdowney Beaudesert area – to get introduced noxious carp out of the Logan and Albert River systems and replace them with native fish.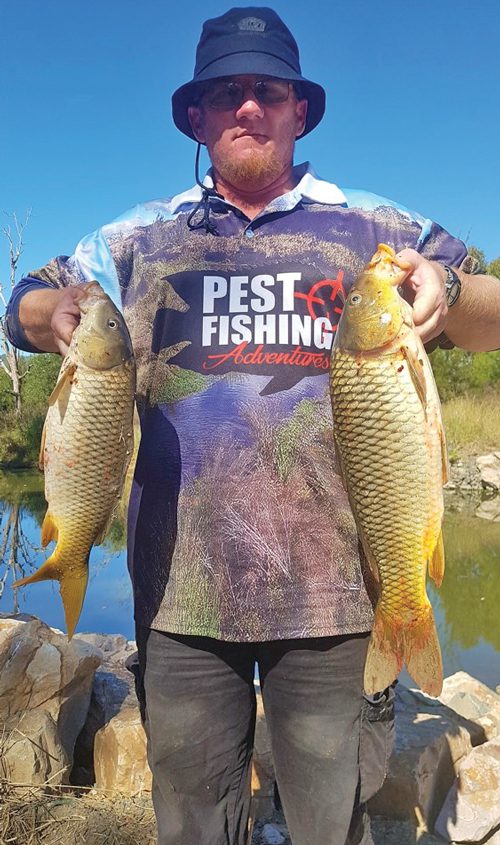 Formerly known as 'Carpbusters', LAFMA ran seven successful Easter Carp Eradication competitions from 1998 to 2004, removing more than 10 tonnes of carp from the rivers.
Wyaralong Dam is 14km northwest of Beaudesert and was completed in 2011 – filled almost on completion.
LAFMA decided to take on Wyaralong Dam as a project for its fish stocking program in 2012.
As the Logan and Albert River systems were already infested with carp and tilapia, LAFMA knew it would not be long before these pests took over the dam.
Competition statistics from 2014 to the present show tilapia numbers caught during the same seven-hour window jump from 75 to over 2000 – a massive increase.
Ranked in the top 100 invasive species worldwide, tilapia have a wide range of environmental impacts in Australia and internationally.
From spreading diseases and parasites to damaging the banks and bottoms of rivers, tilapia can make waterways unliveable for native species and less enjoyable for swimming, boating and fishing.
Tilapia and carp fishing can be a challenging and enjoyable experience and is encouraged to help control populations.
But what should you do with them once caught?
It's important to remember that tilapia and carp must not be kept or released.
Instead, humanely dispose of them as soon as possible, either in a bin or buried above the high-water mark.
Even dead tilapia can spread their young, as the females carry the eggs and babies in their mouths.
We all have a biosecurity responsibility to help protect our waterways from further tilapia and other invasive species introductions.
In 2013, LAFMA re-invented the pest fish competitions of old, though concentrated on Wyaralong Dam only.
All net profits from the competitions are spent on Australian bass and Mary River cod fingerlings to stock in the dam and the Logan and Albert River systems.
LAFMA, in conjunction with Fisheries Queensland, decided to make Wyaralong a trophy Mary River cod fishery – stocking mainly Mary River cod with a backup of Australian bass.
Since 2014, 76,600 Mary River cod fingerlings and 170,000 bass fingerlings have been released into Wyaralong.
As the dam has been on the SIP Scheme for only a few years, it has been these competitions and other fundraising activities that have allowed LAFMA to supplement the SIPS grants for Wyaralong and provide the funding to re-stock the Logan and Albert River systems with bass and the endangered Mary River cod.
So, if you're not doing anything on October 29, come out to Wyaralong Dam, bring the family, throw a line in and help eradicate a few pest fish.
For more information and details, including entry forms, go to lafma.org
Note that a stocked impoundment permit is required to fish Wyaralong Dam for those 18 years and over.
Lloyd Willmann
Secretary
0429 614 892