It was a fantastic turn out for the 2021
Wyaralong Dam
Carp and Tilapia Eradication Competition held on November 13, 2021 which saw 234 competitors smash some of the largest fish removed from the Wyaralong Dam yet, even with not ideal weather and dubious conditions leading up to and on the day.
Organised by the Logan and Albert Fish Management Association, it was great to see so many come out and support the event and to help raise funds to put native fingerlings back into our waterways.
Carp tilapia eradication 
The LAFMA sent out a massive thank you to all event sponsors, members and supporters who helped out on the day – without these people events such as this can't happen.
A full sponsor list can be found at
lafma.org
As for numbers, a total of 438 fish were removed – 284 carp and 154 tilapia.
With the massive size of most of the fish, they almost filled the 1000L disposal bin.
For this comp, carp dominated the day, which was a first for a while, though the change of date and conditions played a big part in the outcome.
A special mention goes to Ethan Ashman for a massive 800mm carp at 7.445kg, which took him an hour to land on 6lb line – what a huge effort!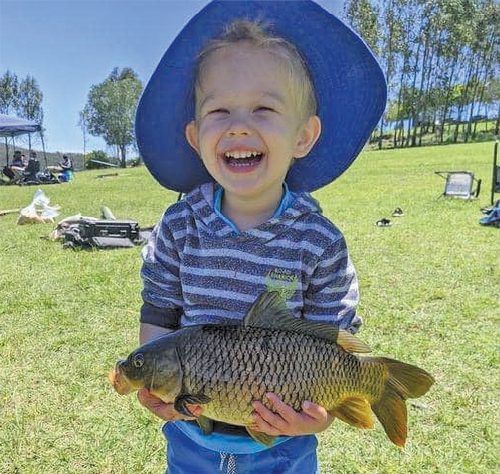 Category results
Junior
Most Carp – Will Schroeders, 5
Most Tilapia – Kayos Hapeta Williams, 8
Biggest Carp – Eli Wilson, 2.07kg
Biggest Tilapia – Will Schroeders, 1.82kg
Teen
Most Carp – Cooper Rennick, 4
Most Tilapia – Jacob Orthman, 3
Biggest Carp – Ryan Balch, 3kg
Biggest Tilapia – Marcus Hope, 2.43kg
Senior
Most Carp – Ji Chunhua, 51
Most Tilapia – Jason Williams, 43
Biggest Carp – Ethan Ashman, 7.445kg
Biggest Tilapia – Adam Smith, 2.435kg
Fly fishing section
Most Carp – Peter Herbst, 19
Most Tilapia – Peter Herbst, 2
Biggest Carp – Ward Nicholas, 4.315kg
Biggest Tilapia – Peter Herbst, 2.335kg