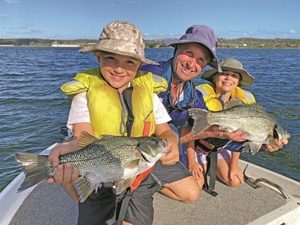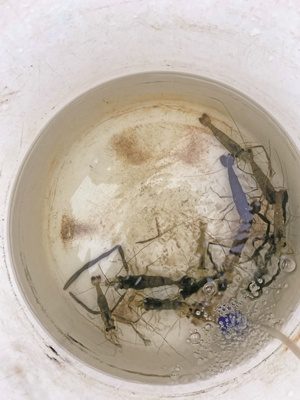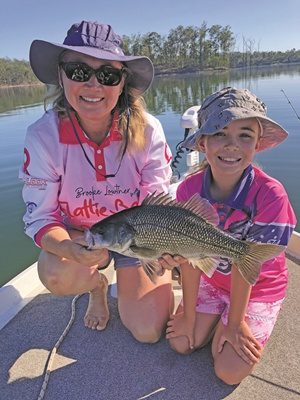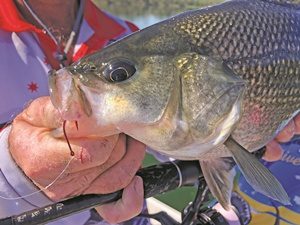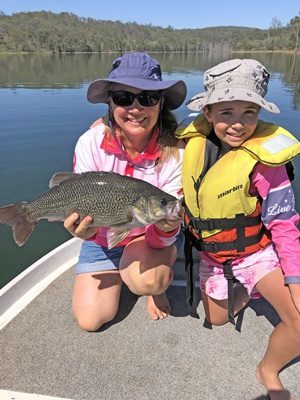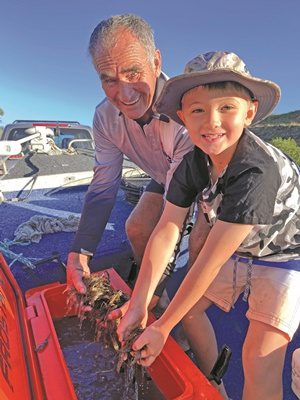 WYARALONG Dam is a beautiful waterway situated only 13km from the heart of Beaudesert and is a fabulous place to catch Australian bass with the family.
Why Wyaralong?
Well, admittedly over the summer period – and particularly during school holidays where dams, rivers and creeks are mostly awash with the wakes of skiers, jet skiers, cruisers and a multitude of watercraft – Wyaralong Dam remains a calm and peaceful body of water to fish in, as it is an electric-only dam. Wyaralong Dam
As well as that, this dam is located only 40 minutes from our home, which makes it ideal when travelling with young children. The gate to the dam opens at 5.30am and closes at 6.30pm.  If you wish to spend a little longer at the dam in the evening, the gate automatically opens as you drive out.  It would be awesome if the dam opened slightly earlier over the summer period, to fish before the heat hits.
Also, you will need a Stocked Impoundment Permit Scheme fishing licence to fish this dam and it must be purchased before entry. The Australian bass in this dam absolutely did our heads in when it came to trolling and casting lures to them. Okay, other anglers may have cracked the code, but we struggled even when sitting on top of large schools of fish.
As most people would know, if you have kids fishing too, you have to catch fish otherwise they get bored, equating to a painful session on the water for mum and dad! So, we resorted to bait in the way of shrimp – which we catch at one of our local creeks – and you know what, it's a really enjoyable way to target these fish.Wyaralong Dam
For fishing in the dam, we use both a bow mount and transom mounted Minn Kota motor on our 4.1m Cross Country, an ideal boat for this environment and the younger anglers. Sounder technology these days is where I feel sorry for the fish. If we don't see them on the sounder, we don't fish. Fish are not necessarily next to structure, though there are a few trees we regularly pull fish from.Wyaralong Dam
They do have a tendency to bust us off, so schools of fish found in open water are always welcomed, particularly for the kids. The use of unweighted and lightly weighted lines using a split shot rig and casting into schools is the most productive fishing you are going to get, as double hook-ups are a regular occurrence – and occasionally triple even quadruple hook-ups when we actually get all lines in the water.Wyaralong Dam
We have been using Mustad Needle Tarpon hooks in size 2, 12lb leader, 2500 sized reels and the 6-12lb Blade N Tails rods from Wilson Fishing. When using unweighted shrimp, we simply tie the hook to the end of the leader and cast the bait out, allowing it to slowly waft through the strike zone. We also use a simplified version of the paternoster rig, which consists of a small split shot attached to the leader at the end, with a dropper loop tied about 30cm above it.
When using the paternoster rig, it's only a matter of dropping the bait over the side of the boat to the depth the fish are sitting. For novice anglers, put a mark in your line so you know exactly how much line is out – which is not rocket science but is productive. The best fishing to date has been 50 bass in a session, and we never go home catching less than 20 fish – this keeps the kids happy.Wyaralong Dam
Another plus to fishing the dam is there are good-sized bass to be caught and to date we've not failed to catch a 50cm fish in a session. The ramp at Wyaralong is single lane, with a handful of parks for boats and trailers. Long weekends and public holidays will see day visitors parking here too, which is a nuisance, however more parking is available adjacent to the ramp.Wyaralong Dam
The dam is managed by Seqwater and is regularly used by rowing clubs. Motorised boats are used by clubs and they will be on the water on occasion. It is a good idea to check the webpage to see if there are any regattas or planned activities that could close the dam to fishing, seqwater.com.au/recreation-and-safety-notices The picnic areas are well maintained with barbecues, shelters with seating, toilets and a playground for younger children.