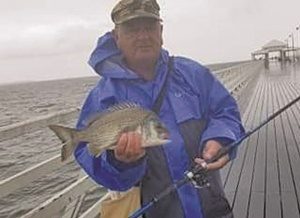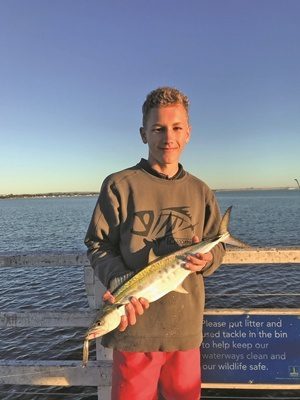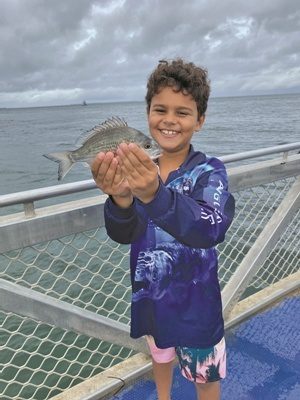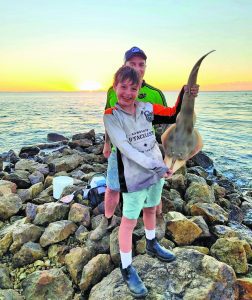 APRIL 2021 is done and dusted! Between COVID lockdowns and buckets of rain, I'd say a whole lot of the fish in the Moreton Bay region were safe. What is May 2021 going to produce? Well, for certain we know there's going to be a fair bit of uncertainty.
fishy May Moreton
We need to play each day as it comes – plan your trips out according to the weather and restrictions. This is not the time to waste an opportunity to get out there and have a fish. On the upside, the rain in April has done wonders for our waterways. They've had an awesome flushing, which gets everything active and feeding, as Glenn found out when he nailed a nice bream during a downpour. fishy May Moreton
So, get out there and check your local haunts and bring home a feed. Someone who didn't waste any time getting back into it, was good friend Chris. Not only did he get back into the fishing after all the rain, but he nailed a stonker threadfin salmon, which came in at 116cm and 10kg! This is what Shorncliffe Pier can produce when you put in the time and effort. Using live herring also played a big part in it all, but still Chris never ceases to amaze us with his fishing talents. A 110cm cobia in one session and a 116cm threadie in the next! Well done Chris – keep up the awesome work.
Recently, Levi and his friends ventured onto Shorncliffe Pier to try their luck in the clearer water and, even though they lost a bit of gear, Levi still managed to land a ripper mackerel. It goes to show that you never know what you're going to catch when you head out onto the pier. Well done Levi – we hope you manage to get a few more before they move on. We have a first timer to the Tackle Land scoreboard – welcome to Louis who has recently started fishing and is doing very well so far. fishy May Moreton
Louis bagged a cracker bream – his personal best at the time – but after talking to Louis and his dad, I think he will be upgrading to a larger model before too long. Awesome work Louis. I look forward to seeing you in the store soon and hearing about the fishing adventures you and your family have had. Will had bit of a battle on his hands when he was out fishing with dad Tony. Will wasn't expecting to get himself into a battle with an awesome little shovelnose ray – bait was out, the hook was set and the fight was on, but Will was determined to get his fish. fishy May Moreton
Will turned out to be the victor in this round and his smile tells the story. Well done Will, and it was great to see you out there having fun with your dad. Let's talk about waste. Yes, leftover bait that gets thrown in the bin every few months when cleaning out the freezer and having a tidy up. Instead of throwing it out, have a crack at making your own custom berley.
The rule to making your own berley is simple… there are no rules! Use a little imagination, add an extra dose of tuna oil and you're done. Most of the fishos I talk with swear by getting that berley trail going. Be it old prawn shells, leftover pillies, mullet chunks, smashed crab shells and even pellets mixed with a good grade of tuna oil and keeping it well combined. Unfortunately, it may produce rubbish as well, but that's the price you pay for a shot at a cracking snapper to take home. fishy May Moreton
For those new to making berley, a little trick is to add two or three good handfuls of sand before adding tuna oil. When combined, the tuna oil will stick to the sand, and when deployed it will disperse the berley scent down through the water column. Add the sand after the mincer though. If you are using it on a jetty or pier, give it the occasional jig up and down to release the goodness, and scattering small amounts at a time will entice a feeding frenzy. fishy May Moreton
If you are drifting in the boat, try and go over the same ground, as this will keep your berley trail more contained. Make every day of good weather count this month, don't miss an opportunity to get out with your family or a friend, treat the kids to a few hours of low-cost entertainment and excitement. Wherever you eventually end up, enjoy the time fishing and most importantly maintain the passion.