I've been working back in Gladstone for over 12 months now and on the weekends that I don't return to Brisbane, I'm always keen to pass the time by wetting a line if I get a chance. Cape Capricorn trip
Earlier in the year, the weather gods had been fairly nice, allowing me to get out early and hit the area off Cape Capricorn. Cape Capricorn trip
I have a Quintrex 460 Topender – not that big but in the right conditions capable of getting me there and back. Cape Capricorn trip
Along for the ride was friend Darrin Barnham and between us we did well and didn't miss a feed.
The area is dotted with patches of reef with some large rock structures that are all worth a drop.
I used soft plastics while Darrin preferred to drown a bait – either way, both attacks produce fish.
The area is prolific with undersized wire netting cod – I'm not sure if they even exist in a legal-size model because we caught hundreds of them though nothing over the 37cm mark.
Bread and butter species in the area are stripey, snapper, hussar, goldspotted cod, slatey bream, squire, mackerel and the occasional red emperor and coral trout.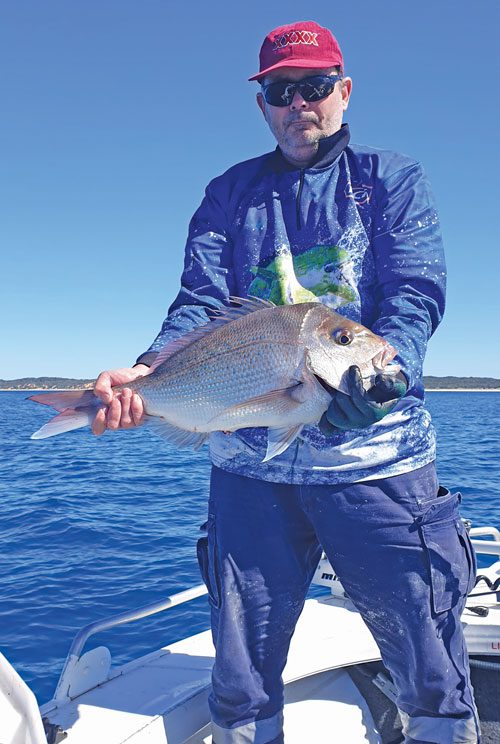 You'll also get a few golden trevally from time to time and, yes there are plenty of sharks in the area too.
We usually do a round trip of approximately 100km, leaving the harbour at around 4am and returning around 12pm depending on the tide and forecast.
There're plenty of areas to explore in a boat the size of mine and much closer to town, I just need to pull my finger out and spend some time having a poke around.
Hopefully soon, so stay tuned.
Please note that the meetings occur on the first Wednesday of every month at the 'Club Manly' (bowls club), 26 Faine St Manly from 6.30pm for a 7.00pm start.
Upcoming meetings
The first meeting for 2022 will be held on Wednesday February 2, with the next meeting on Wednesday March 2.
Until next month, safe boating and happy new year to all.