Well, it's certainly been an up-and-down year on the Cape! After the best wet the place had seen in a decade, the tourists arrived in droves as the water started to run off the many river and creek crossings along the Peninsula Development Rd. Cape winding down wet
By mid-July, vehicle traffic had exceeded previous record numbers by around 30 percent, resulting in camping areas, national parks and other accommodation bursting at the seams. Then COVID crashed the party again, all but halting any visitors south of the Queensland border. Cape winding down wet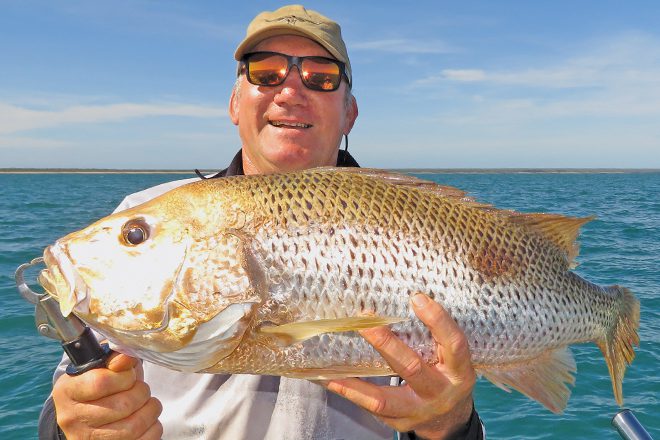 Local businesses went from boom to trying to keep their heads above water as the tourist tide went from a flood to a trickle. Charter operators who rely heavily on the fly-in market for clientele saw their booked-out schedules reduced to scattered trips overnight. This proved beneficial to drive-in fishers seeking a local day trip, something that would otherwise be rare during peak season. Cape winding down wet
In any case, several guides were forced to leave town and seek employment elsewhere. Local motels and hotels also lost business as charter and visiting bus tour clients cancelled wholesale. The good news is that 2022 has all the signs of being a bumper Cape season!
With COVID restrictions and lockdowns being lifted and another heavy wet season predicted, those who have done it very tough over the past two years are cautiously optimistic for a return to near 'normal' next year. My advice would be that if you are contemplating a fishing or four-wheel-drive trip to the Cape in the near future, you should book as soon as possible, if you haven't already. I know that many charter operators have most if not all spots already pencilled in for next season.
East coast beckons
Now that the tourist traffic has almost disappeared from the Cape, the eyes of keen Weipa fishers turn to the eastern coast and the Great Barrier Reef off Chilli Beach and Portland roads. It's the time of year known as the doldrums, characterised by the trade wind dropping off and the sea turning oily calm as the first storms start to build up.
The weather conditions are not for the fainthearted, as 37C days and brutal humidity combine to make things very hot and sticky. So, what's the attraction? Why tow a boat for five hours plus over some fairly rough and bulldust-holed roads to go fishing?
The answer to that conundrum is readily answered when you arrive at the clear blue water on the outer edge of the reef on a calm glassy day. If there's a better place to spend time dropping a bait or lure or taking a swim among the coral gardens, they are certainly rare. Dropping a thick fillet of fresh coral trout on the barbecue back on shore at the end of the day definitely seals the deal.
Barramundi closed season
If you are one of those fishers who love chasing barra, Queensland's need to enforce a closed season for its wild stocks should be something that makes you very angry – particularly when our neighbours in the Northern Territory can run a Million Dollar Fish competition to catch barra in their waters while ours are off limits.