IT has certainly been a cracker wet season here in the far north. Cape York and the Torres Strait have received a drenching, which has revitalised the landscape and been welcomed by locals. As anyone who lives in the far north knows, the wet also brings amazing weather windows, where the wind drops completely and the ocean turns into a millpond.
With family visiting us here on Thursday Island, I was able to venture wide on a few occasions to chase a feed on both line and spear. Storm fronts quickly developed on occasion and I played it safe by cutting the trips short and making the dash home. While frustrating, I've certainly learnt not to push the limits with Mother Nature over the years. Cape York winter
We managed great fishing with nannygai, sweetlip, fingermark and black jewfish coming aboard while dropping fresh bait of mackerel and squid. Crayfish and trout are common catches on the reefs around Thursday Island and it was awesome to bag a few in the shallows, with my nephews and 4-year-old daughter floating around pointing out cray antennae. As the saying goes, 'start them young'!Cape York winter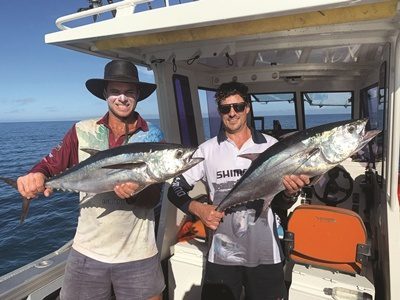 Spanish mackerel fishing this season has been the best I can recall for many years. On several trips the action was fast and fierce, with two-way hook-ups on Rapala X-Rap Magnum 30' divers being the norm once bait was located. After a few have been caught for the Esky, a fun way to target these speedsters is to use topwater lures such as small to medium-sized stickbaits because these fish can get seriously airborne.Cape York winter
Other pelagic species such as extra-large queenfish, giant trevally and longtail tuna have been found in good numbers around the tip of Cape York and the inner islands of the Torres Strait. These species are great fun as they all know how to pull string. We've also lucked on cobia on several trips, which have been hanging off the huge bull sharks that have learned boats equal an easy feed.Cape York winter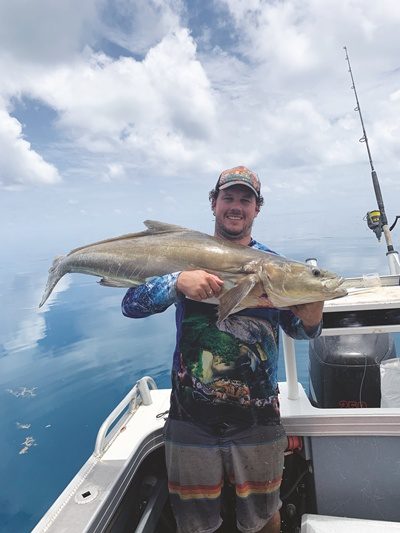 For whatever reason though, sharks tend to leave cobia alone.