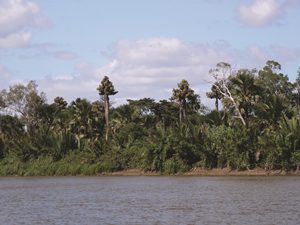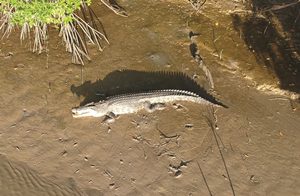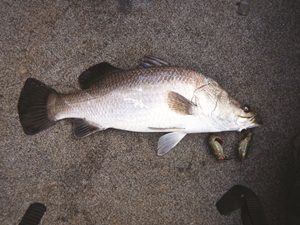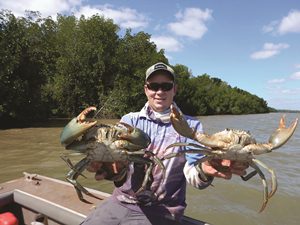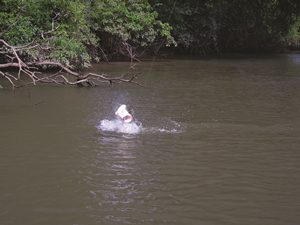 WELL, with all the who-haa that's been going on, here at Cape York we locals finally got a late OK from authorities to travel within the Cape's 'biosecurity region'. So, my wife Shelley and I decided to tackle the 8-hour lap from Cooktown to Weipa to visit our kids, and of course get out for a fish in that magical part of Australia.
Wenlock Cape York
The gravel sections of Peninsula Development Road were pretty ordinary but not dreadful after what was a fairly mediocre wet season. The road crews were only just making a start, having been delayed by events. They do such a great job.
Anyway, the day arrived to visit and fish one of my favourite places – the mighty Wenlock River – with family and friends. This involved bank fishing about 100km upstream from the river mouth. One of the remarkable things about the Wenlock is that even that far up, the river though fresh is still strongly tidal.
Only a few minutes in my son Josh – of Sportfisher Hire Boats and Fishing Charters fame – rolled a huge barramundi on a lure on a river bend that he estimated at around 110cm. Lures failed to attract any further attention there, so grandson Eligh – one of the keenest anglers around – cast a cherabin to the same spot. Wenlock Cape York
The explosive boof and water boil that resulted is one of the most impressive I've ever seen! Eligh gamely tried to hold the barra out of the snags but it really was a one-way contest. Ping, and that was that!
A few smaller barra were landed and released at the mouth of a nearby gutter before we had to make the four-hour drive back to Weipa. The next trip was by boat with Josh and Lee Hodgetts – owners of the highly reputable Weipa Sportfishing Charters.
In fact, they both work closely together on charters, and a fishing trip with the pair is both highly educational and entertaining. Now, it has to be said that the Wenlock is not always the easiest river to fish, especially the estuary. There's a lot of 'big' water in this section.
Although the creeks and mud gutters near the mouth are usually pretty reliable, in many other areas you often have to hunt around to find good fish. On this particular day, we first had to find the preferred salty wedge of water to set some crab pots. By assessing the amount of froth from the wake of the outboard to find the brackish water, Josh decided on the best section of river and out went the pots for a few hours soak. Wenlock Cape York
Heading upstream, we spotted a cracker estuarine crocodile basking on a sunny bank – a perfect subject for drone filming. More by fluke than skill, I managed to get some half decent clips only to have the drone battery start to die in the you know what. The emergency critical low battery warning started squawking, with the drone wanting to return to where it had been launched from by default.
Unfortunately, that was a few hundred metres away. With deft boat driving by Josh, I finally managed to pluck the drone from the air before it landed on the water to become a feature of the riverbed. Now time to fish.
We first tried a couple of rock bars that often produce very well. It was very quiet – results which matched the side scan sounder which depicted only a handful of fish. We then headed further upstream to find some drains, given the success at one the previous week. So, the other wild thing about the Wenlock is the luxuriant profusion of vegetation that clothes its banks. Wenlock Cape York
Imposing standard mangroves flourish in the lower estuary, grading to seriously impressive stands of Nypa and Corypha palms in the mid reaches. This in turn develops into a lush ribbon of rainforest, all of which combine to give the impression of being on a New Guinean rather than an Australian river. First cast into the snags at the mouth of small gutter and I was on to a decent barra in the high-70cm range.
After some toing and froing, it finally gained its freedom in the plentiful snags. And so began a great session on barra, which were all hanging in snags around the virtually hidden gutter mouth. The prize of the day was a 98cm fish that Josh skillfully kept out of the timber, and after taking a few pics, was released back into this amazing river.
A big surprise was two red claw that one of the barramundi regurgitated. Though favoured as bait by anglers in many places, we've had virtually no success with red claw in this part of the Cape – cherabin being the standout success. Mid-afternoon we returned downstream and pulled the crab pots, with great success. Wenlock Cape York
All but one had legal males, though not being full a few were released. The tally of keepers was a neat dozen, which were boiled and devoured at Josh's place that night. A fantastic day of living the dream and I can't wait to get back there. The wind has been pretty consistent along the east coast of the Cape in not allowing reef fishing from small boats.
Living near Cooktown, I can see plenty of trips into the magical Rinyirru (Lakefield) National Park in forthcoming months as a great alternative.
For Cape York wet season and wet season build-up content, click here!