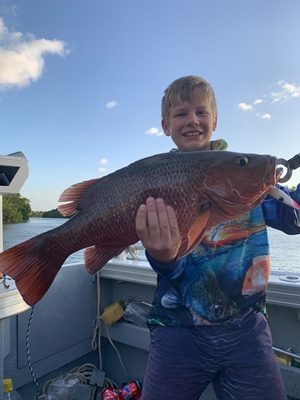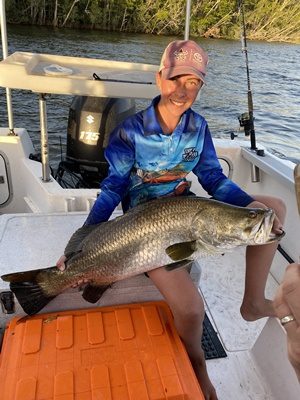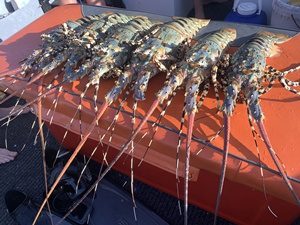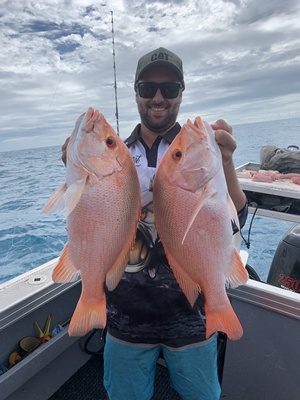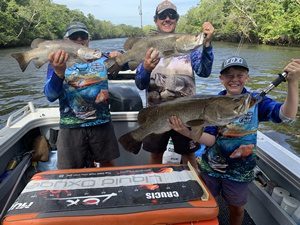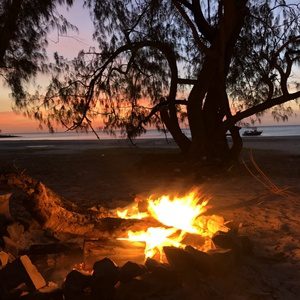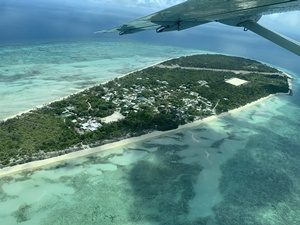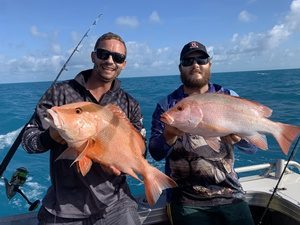 THE last third of the year produced memorable fishing around Thursday Island and the tip of Cape York. As the temperature climbs, the fishing fires up and there are more opportunities to push wider as the strong southeast trade wind begins to abate. As it's been a while since I penned an article, here's a quick summary of the fishing highlights from the past few months.
September – barramundi fishing Cape York
A crew of good friends embarked on an annual week-long pilgrimage in late September, to fish a remote stretch of Cape York. Dubbed the 'Cape York River to Reef Classic', there wasn't a great deal of reef fishing due to the strong wind that persisted for most of the week. Build up wet
I certainly had a full boat for the trip, with my dad, father-in-law, nephew and another good friend joining me in my 7m Fisher Maxi Cab. Several other crews joined us in their boats for the epic adventure, which covered over 280 nautical miles, or 518km.
The target species for the week was of course barramundi. Plenty of banter was going around because there was a $50 buy in for the biggest barra from the 15 fishers, just to make things a little more interesting. While we managed a few salty rats around the mouth of one of the rivers, the better fishing was well upriver in the brackish water. Build up wet
All boats managed several great catch and release sessions, with two and three-way hook-ups on a couple of solid barra. A substantial number of quality fish in the mid 70cm to low 80cm landed on our boat. The standout lure was the 12cm Classic Barra Ghost in Casper, in fact white was once again a standout colour for both plastics and hard-bodies. Build up wet
Towards the end of the week, my 12-year-old nephew Axel was confident he would walk away with the money for his 86cm barra. However, he was beaten at the finish line by 12-year-old Nash Stanley, who boated a trophy 1.01m on the final day and walked away with the cash.
Great to see the young anglers loving their barra fishing and showing us all how it's done. The by-catch in itself was enough to keep us entertained, with queenfish, estuary cod, trevally, giant herring and a few solid mangrove jack coming aboard. We ventured out one morning to chase a few reef fish and were rewarded with nice nannygai, coral trout and sweetlip. Build up wet
However, the weather soon had us heading back to the river for protection. With 35-knot gusts predicted, we packed up a day early and made the wild journey back across the Endeavour Strait to Thursday Island. Glad we did because the following day the wind was absolutely howling.
October – finding new ground
The wind dropped completely for a handful of days in October. It was certainly humid, which had everyone predicting an early wet because we don't usually experience doldrum-like weather until December. Luckily, the weather was glassy during the week, though picked up by the weekend. Build up wet
However, as it wasn't as bad as what we'd been copping for most of the year, I put together a crew and headed wider to search for ground around a few shoals. I was specifically targeting large-mouth nannygai, which are one of my favourite fish to chase here in the tropics. We'd had a great session on nannygai about 18 months earlier in the same rubbly area, but as the fish don't hold on any specific structure, they're often not in the exact spot when you go back.
This ended up being the case for us, and I'd spent a good 45 minutes sounding around. I almost gave up when I ran over a few specs about 400m from the original mark and told the crew to drop. After a few solid bites it was on and I was relieved to see the first large-mouth nannygai come aboard.
We used slabs of spanish mackerel as bait on paternoster rigs and fished in only 14m of water. It was a great session, with the school rising to the surface and following hooked fish to the boat. When we had a few nice fish in the Esky, we switched over to an assortment of soft plastics and jigs. Build up wet
Feeding that hard meant the fish weren't being too fussy and we were getting hit on the drop, which was a load of fun. A huge positive for finding fish away from structure or any main reef system was that there were less sharks around, which are huge nuisances here in the tropics. October also saw mackerel move in close to Thursday Island, and we had a great session on a few solid spaniards trolling Rapala X-Rap Magnum 30' lures on a nearby high point. Build up wet
On the neap tide and with the cleaner water, they move in closer to TI and they push wider on the new and full moon, when the currents pick up. Spanish mackerel are such a great fish to target with blistering runs and great eating qualities. I've certainly enjoyed smoking spanish mackerel in the kipper. The pelagics will continue to fire over the summer months. Build up wet
November – spearfishing
We had one of the best neaps of the year in early November, with the current dropping right out. When this happens the water clarity improves substantially, and rods are replaced with spearguns and masks.
Crayfish – also known as tropical rock lobster – are abundant on the local reefs. However, as they have a bag limit of only 6 per boat and aren't the most difficult of quarry to catch, the main focus is on targeting species such as blackspot tuskfish, mangrove jack, coral trout and spanish mackerel.
The thrill of the underwater hunt and selectiveness of spearfishing are certainly two of the reasons I'm addicted. It is quality over quantity, and quite often I'll swap the speargun for the GoPro and follow a buddy around as they try to get a personal best fish.
It requires teamwork, patience and safety considerations because of course it can be a dangerous sport. For this dive, after grabbing a few cray early, we turned our attention to the range of fish species on offer and ended up with a nice mixed bag of reefies. Build up wet
I must have spent 45 minutes stalking a bommie that was home to a very solid reef jack, who proceeded to play hide-and-seek with me. That round went to the fish. Mangrove jack will push out to the nearby reef systems once they get to 50-60cm in length.
They are abundant on the local reefs around the Torres Strait and being a challenge to hunt, they are a prized target species. Jack are often found swimming around with schools of slatey bream and can therefore be hard to spot. Also, you often get only a brief opportunity to spear them because they quickly wise up and seek shelter. Build up wet
December – doldrums
So, what will December bring to the far north? Typically, early December is the most exciting time of year – it's when the doldrums kick in! This transition period from the dry to wet season results in the wind completely dropping out and the water turning to a millpond.
Jerry cans are filled, salt ice made up months in advance is loaded into Eskies and most of the heavier tackle is dusted off.  We head wide, up to 115 nautical miles in search of mind-blowing fishing in untouched areas. Of course, with the imminent wet it can be a little nerve racking because storms can brew quickly.
The predicted weather events surrounding La Niña suggest we are in for an early and above average wet season over summer. While we certainly need the rain, fingers are crossed that a weather window presents itself for exploring the remote reefs and sand cays, which have been off limits for most of the year. Build up wet
Check out our remote adventures on the Fishing Missions Youtube Channel and Facebook page. Have a safe and enjoyable festive season fishing with friends and family.