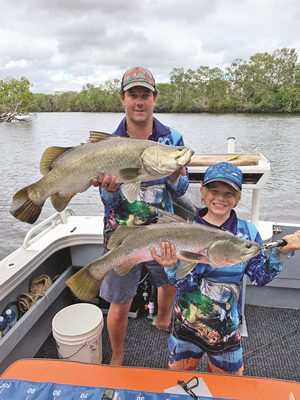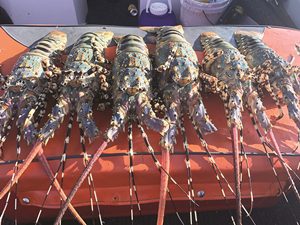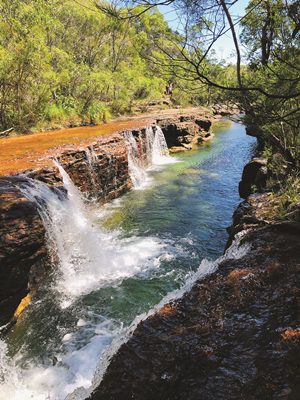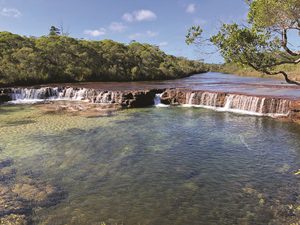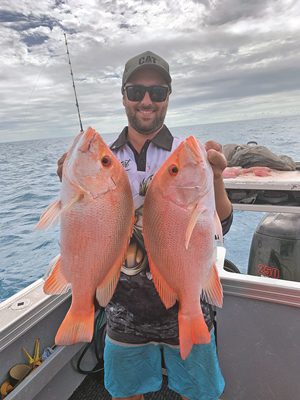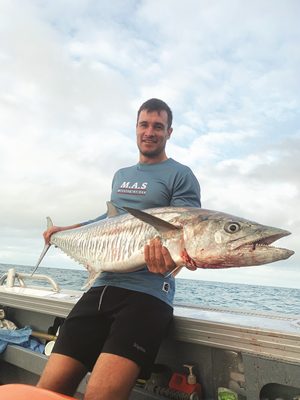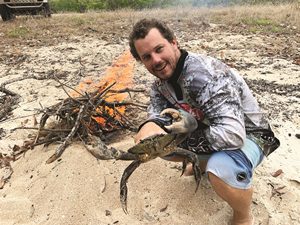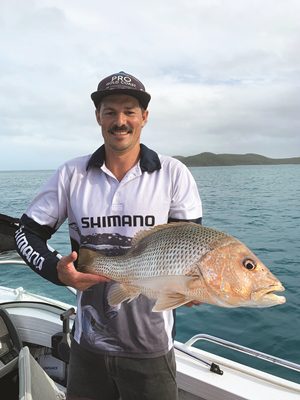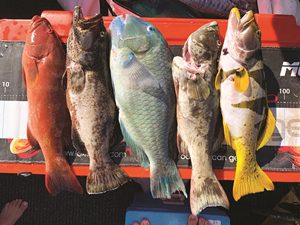 OCTOBER is an exciting time to explore Cape York. Fishing will fire up as water temperature continues to increase. Better weather windows will also present with the build-up to the wet season. This allows avid boaties to travel further and access exceptional fishing.
Spanish mackerel will certainly be one target species, which will increase in numbers in the coming months. Trolling Rapala X-Rap Magnum 30s is an effective way to target these speedsters. As well as beautiful eating, they make a gun bait for red emperor, fingermark, coral trout and large-mouth nannygai, which are a few of my favourite species to target on the bottom.
Each trip I aim to find new ground and I will always have a game plan in mind prior to leaving the boat ramp. Navionics is useful for identifying contour lines or prominent high spots to drag a few lures around for mackerel. The bonus is these same areas generally hold good country for my favourites and I've located productive ground while dragging a couple of X-Raps around.
If the water is clear I'd much rather be in it spearfishing, which can be exciting when putting together a feed from the local and more remote reefs. Common targets include crayfish, blackspot tuskfish, mangrove jack, coral trout and spanish mackerel. You learn a lot about fish behaviour by observing them underwater. Cape York October
This translates back to understanding fish behaviours when targeting them on-line. Just like slow movements and stealth are required when spearing, the same applies if fishing shallow reefs because noise travels quickly underwater, and an anchor dropping or sound system blaring is enough to send fish scattering.
Natural lure and bait presentation are also important. I've seen coral trout staring at an unnatural looking bait on the bottom, which has been dropped from the boat by one of the crew.
Chasing barramundi
At the time of writing, I'm gearing up for an annual week-long trip to chase a few tropical species in a remote part of Cape York, namely barramundi. My dad, father-in-law and nephew will once again be joining me as crew for this sortie. It is rewarding to share epic fishing experiences in a magic part of the world with close family. Cape York October
Prior to the barramundi closed season, fishing will fire up as barra become more active in warm water. Last year we managed several great sessions catching and releasing barramundi on an assortment of lures. We use a range of techniques to target these fish. Cape York October
Location and what stage the tide is at will dictate the techniques I use. Jig trolling hard-bodies along deep banks, casting hard-bodies around rock bars, feeder creeks and drains, jigging soft plastics and vibes around deeper snags and holes, and live baiting all of the above when fishing seemed a little slow have proven effective methods for bagging nice barra around the Cape over the years.
Each year fishes a little different to the previous, and the two biggest factors that impact barra fishing in these parts are tidal run and water temperature. The river can fish well during the outgoing tide because fish are forced out of the mangroves and into deeper holes. The opposite can be said for rocky headlands and beaches, which I find fish better with an incoming tide.
We've had some great barra sessions along the beach, which is an area often overlooked by travelling anglers. The timing for this type of fishing is important. You want to be fishing just as the flats are starting to flood and baitfish – such as mullet – are pushing up to feed. Barramundi, salmon, queenfish and trevally won't be far behind. Stealth is needed, and good pair of polarised sunnies can help you see nervous baitfish in the shallows. Cape York October
Once the flats are flooded and the water is too high, fish disperse and are much harder to spot. I've spent my fair share on lures over the years and the well-known brands of Classic Barra, Gold Bomber, Reidy's B52s, Halco Scorpions, Rapala X-Rap 15s, Z-man SwimmerZ, Squidgies range and similar all do the job. I find that fishing the right lure for the depth is more crucial than brand.
There's no point flicking a Gold Bomber at snags when fish are sitting 4-5m deep, which can be the case in the upper reaches. Barra can be lazy and it's important the lure is in the strike zone. The water is relatively clear in the areas we fish, so natural colours work best. While your 2020 travel plans to explore Cape York may have been postponed until next year, when you do make the trek north it is well worth including a couple of days out on a local fishing charter if you're not bringing your own boat. Cape York October
Not only can you partake in amazing fishing, you will also experience the wild and pristine Cape York. Check out some of my remote fishing adventures on my Fishing Missions Youtube Channel and Facebook page.
Tight lines.