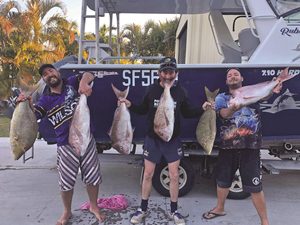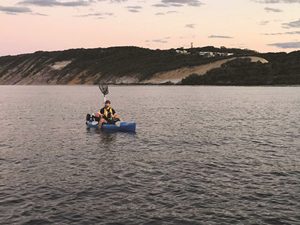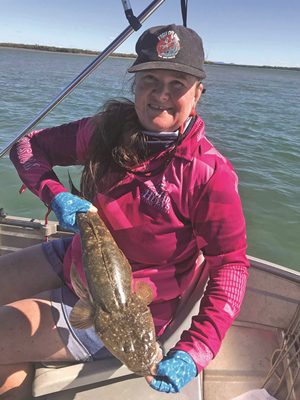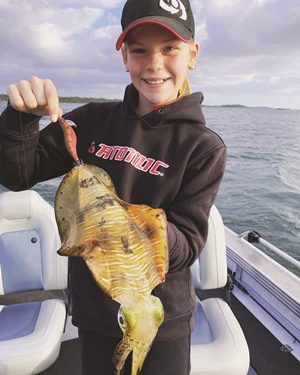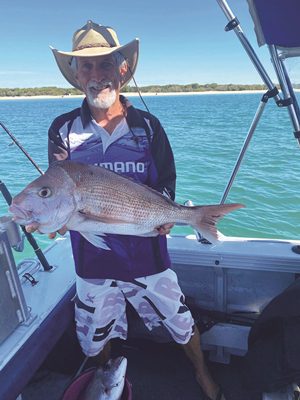 OVER the past few weeks, we've had plenty of tourists through Tin Can Bay. Many came for a day visit to feed a dolphin, others to dust off the caravan and stay a few days, and plenty for a fish and to explore the Great Sandy Straits.
The hard stand in the marina has been pumping! Boats have been in and out non-stop, either for their yearly maintenance or a couple of quick fixes. So, how has the fishing been the past few weeks? From all accounts, pretty damn good! Tin Can October
Bread and butter species have been in good numbers in the bay, keeping fishers busy. Winter and summer whiting are still being caught in quantities, along with squid. Try hunting mangrove lines on a making tide for a feed of summer whiting. You can target them with worms or yabbies, but if you're up for a challenge, try using small poppers and stickbaits such as Bassday Sugapen and Nomad Dartwing for a surface bite.
If you're after an even bigger challenge, try small plastics and flies in yabby patterns. Sight fishing for whiting can be great fun and when you hit a good school can result in a fish a cast. Using a light spin rod around 1-3kg or a 5-6 weight fly rod will make it feel as though you're fighting a small marlin in the shallows.Tin Can October
Good numbers of flathead have been turning up on the flats recently, with most of the better fish succumbing to 4'' soft plastic lures and the flats along the western side of Fraser being prime. Good reports of sand crabs have come through over the past couple of weeks. The stretch of water from Alligator Creek to the green marker – known locally as 'Big Mick' – has been bringing the best results for sand crabbing. Mud crabs have been a little harder to find in cooler water, however the upper reaches of Kauri Creek have been worth a look if chasing a feed.Tin Can October
Offshore, great catches of snapper have been taken from in close to Four-Mile reef. Jewfish have also been caught in close, as well as a good mix of blackall, grass sweetlip, hussar and nannygai.Tin Can October
If you're keen for a road trip, hit up Borumba for a little freshwater action – bass can be a great target and are easy to find. They are schooling in deeper water close to the dam wall in an attempt to spawn, but you'll need to be quick because as water temperature rises, this species will start to head back up the dam and spread out. Using your sounder to find schooled fish in the basin is the best way to target them.
Having an arsenal of small metal jigs and plastics will definitely help to get them biting. The most popular jigs have been Palms Slow Blatt and Bit Arts Miniature Dax in 20g, 14g and 10g weights, but don't forget about the faithful Halco Twisty. These lures have been eaten by bass for years.Tin Can October
Just retrofit them with twin assist hooks at the top and bottom of the lures and it's game on! Remember, if you are heading to Borumba – which is part of the Stocked Impoundment Permit Scheme – you'll need a SIPS permit to fish there, and these are available from qld.gov.au The best thing about the SIPS program is that the full amount of your permit cost goes back into your nominated dams. The other good thing about hitting the dams is that it's a great way to give the trailer a good wash down in the fresh, and there's not too much to clean up once you get home.Tin Can October
That's it from me this month, so stay safe and get out for a fish! Find us at the Tin Can Bay Marina on Emperor St for all your boating and fishing needs.