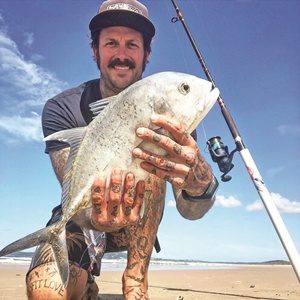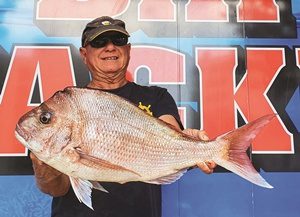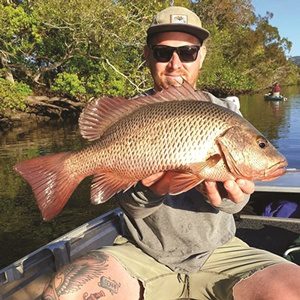 NOVEMBER is a great time to start planning for the next month as we head towards my favourite time of the year – the pelagic run. This year things are set to be quite different, with La Niña being the driver for a better than average pelagic season.
Summer warm up
For now though, expect to find a few big spanish mackerel patrolling the shallow coastline from Double Island towards Mooloolaba. If you have a kayak, a whole bonito, slimy mackerel or garfish on a troll rig and a short length of single strand wire is the go-to rig. Double Island often produces a mixed bag of species not often caught around Noosa.Summer warm up
These include amberjack, goldband snapper, saddletail sea perch, nannygai and red emperor. At times it is well worth the effort to load the trailer and drive to Tin Can Bay. This makes for a shorter boat ride if Wide Bay Bar doesn't scare you and conditions change. It is the land of big fish and big bust offs, so go in well equipped with 40-60lb gear.
High-speed jigging is a great method to target amberjack and trevally, which fight all the way to the boat. In this area PE3 is the smallest diameter of polyethylene fishing line you should use, as even the smallest of amberjack will wear out anglers not used to this method of fishing.Summer warm up
Sharks can also be a problem and lighter outfits don't let you apply the pressure required for lifting fish up quickly. Take a look at the various high-speed jigs around 100-200g, and switch out stock hooks for Decoy Middle Pike on slow jigs and long pike assist hooks for knife jigs.
Slow jigs also work very well here while drifting and as always upgrading the hooks is essential, as are long 3m or more leaders to cope with getting rubbed up against the reef. For those fishing the local, North Reef has been holding a great mixed bag of species, with jewfish around the 1m mark.Summer warm up
These fish will take a wide range of baits including live, slab and strip on a snelled 7/0 octopus circle hook and 60lb leader. Another way to target these fish is on slow jigs, with the Samaki Ribcage an option for deeper water. The new Hot Bite Raptor Slow Fall jig would be great for lighter PE2-3 outfits fished in shallow water or during a light current run.
If drifting out near North Reef, be sure to use soft plastics in the 5-7" size range. You will need jig heads up to 1.5oz and around 5/0-7/0 hooks to suit most styles. For a lighter current, be sure to break out the humble pilchard floater as big mid-water snapper, cobia, tuna and mackerel frequent this area.Summer warm up
In closer, Sunshine Reef is showing good sized coral trout, grass sweetlip, venus tuskfish and of course snapper. Sunshine has been popular for smaller craft during stronger wind days, as the consistent southeasterly wind is usually behind you for the trip home.
Out here a mixture of styles work very well and 20lb gear is perfect for smaller soft plastics, 3/8-3/4oz jig heads and jigs in the 40-80g range. If bait fishing and dropping live bait, then 50lb or greater is recommended because the reef can be an unforgiving place, especially when the fish of a lifetime latches on!Summer warm up
Having a gang-hooked pilchard floater out on light wind days can result in a wide range of species picking up your offering. If the current is light enough, using a steady stream of burley can make the difference between success and failure. Be sure to pick up pellets, tuna oil and aniseed oil, and mix it with sand for best results.
The headlands are a great place to have a few larger stickbaits in – both floating and sinking styles and anything in the Nomad range is a great starting point. With a pair of polarised glasses, you can often sight cast to tuna and cobia often passing close by. Take a look at PENN Prevail II Surf Spinning 9'6" rods for rock and heavier lure casting up to 150g.Summer warm up
Match this with a Shimano Ultegra 5500 long cast reel and you have a great combo when loaded with a high quality 30lb braid. Also along the surf line you can expect to find a continued run of small dart and early morning will provide lure anglers with giant trevally, which push baitfish into the surf zone and smash them.
You may pick up a mackerel from any of the rocky areas, with the middle groyne in the Noosa River occasionally providing anglers with this species and many other fish on the right day. Mangrove jack are on fire, and anywhere from the mouth of the river towards Cootharabah will provide a multitude of locations.
Try any points, rock bars, deep holes and mangrove edges – to name a few places these fish are likely to hang out. Many anglers will cast or slow troll hard-body lures, cast soft vibes, flick soft plastics and fish live and dead baits.
Night fishing can be very productive because jack will often break from cover under a night sky. Be warned though, a jack will know how to get home and fast. It should be noted that many anglers see these fish as prized sportfish, with most returned only to be caught again and again during the season.
Mangrove jack have to head offshore to breed, so please consider your bag limits before keeping them. Bigger flathead are still showing up, and are generally found in the lower part of the river and around the mouth of Lake Cooroibah. You can also find these fish throughout Lake Weyba and the various sand flats surrounding the area, as well as the frying pan on the north shore.Summer warm up
These are generally the first fish caught by anglers using lures and they respond well to trolled hard-body lures such as Zerek Tango Shad and the shallow Samaki Redic. Flatties can also be caught at night when targeting jack.
The better places to find them would be where there is a good light source from public jetties or houses with flood lighting. Baitfish are attracted to this light, so a paddletail plastic such as a Keitech Swing Impact Fat in Sight Flash colour with a slow roll will succeed in hooking-up flathead.Summer warm up
For daytime anglers, bream and whiting are firing up and from the frying pan to the dog beach are a few great locations.   The MMD Splash Prawn is proving popular for the light 2-3kg tackle brigade, as is the smaller Bassday Sugapen 58mm with a short 50cm leader. Surface lures can bring fish out from almost anywhere.
When skipped across the flats, angry packs of whiting can suddenly appear, so it's a good idea to always wear polarised glasses for this style of fishing. We stock a huge range of Costa frames and the glass lenses are second to none. For bait anglers, a simple running sinker rig and a little red whiting tube above your hook is the go for a fresh feed of whiting.
The freshwater has provided anglers with a shot at bass, yellowbelly and saratoga. And the early morning has proved a great time to chase bass and toga on the surface, with 12lb leader the lightest and 16-20lb perfect for big models. Weedless rigged Z-Man FrogZ and small MinnowZ on weightless hooks allow for great surface presentations, as these plastics float.Summer warm up
Once the sun rises, suspending jerkbaits are best deployed and the Jackall Squirrel is no stranger to getting smashed on the pause. Working edges and overhanging trees are often overlooked, so be sure to give them a try if you are finding the bite a little tough. If the wind is up and the bite has died off, using smaller tailspinner jigs such as the Jackson Iga Jig will turn the fish on because the vibration and small size tends to be irresistible enough to trigger a reaction bite.
These jigs often get inhaled, so squashing the barbs down will allow for easy hook removal and quick return. Don't forget to check for current conditions online before you head out, as upgrades and algal blooms can result in temporary closures. While checking the conditions, don't forget to purchase a SIPS permit.
Enjoy this month on the water!Summer warm up
For the latest information, log onto fishingnoosa.com.au for up-to-date bar and fishing reports, and don't forget to drop into Davo's Tackle World, Davo's Boating and Outdoors in Noosa and Davo's Northshore Bait & Tackle in Marcoola for all the right equipment, bait and advice to get you catching.
Be sure to follow us on Facebook and remember, tight lines and bent spines!