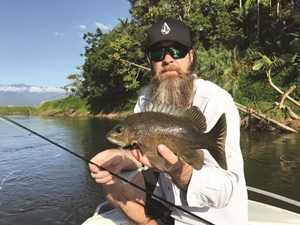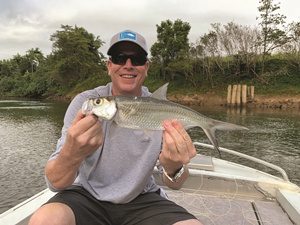 TARPON have to be one of the best species to target on lures. They are aggressive, hit lures hard and put up a great fight, but it's the visual element to tarpon fishing that make them so exciting.
Dragging small lures through deep pockets will entice silver flashes, as tarpon sitting on the bottom with their upwards-looking eyes scan for anything moving through the hole. You can get up to three or four hits before one finally hooks up and the fight is on. tarpon pink
Those flashes and bumps certainly get the heart racing, but the real work is to be done once you're hooked up, and they don't fight fair! Their bony mouths mean the slightest inkling of some loose line will see you back to square one.
Like the mighty barramundi, they take to the air and put on a fantastic aerial display. While I catch most of my tarpon with a slow retrieve through deep holes, they will also take surface lures with enthusiasm. tarpon pink
I once saw fish surface feeding on the Daintree River, managed to tie off the boat and cast a small popper into the frenzy, landing six fish from six casts. My lure of choice at the moment is the Micro Mullet by Lively Lures in hot pink.
I bought a few just to see how they'd go and have been very impressed. They perform in all sorts of light conditions, have strong trebles for the size of the lure, and most importantly have a very high vibration rate at low speeds. tarpon pink
My clients have caught all the species up in the freshwater on them, such as sooty grunter, jungle perch, barramundi, mangrove jack and of course tarpon. Prior to these lures I used mostly lures made of balsa wood, and while these lures are very good as well, I would go through too many trying to remove hooks from fish, bending the wire at the tail of the lure and breaking the balsa. tarpon pink
The beauty of the Micro Mullet is that it is moulded plastic and tough as nails. Another great attribute is that when paused it will rise in the water column quite quickly. They are made in Queensland, so there is another great reason to go out and get a few for your tackle box! tarpon pink
The read about more sweetwater action, click here!