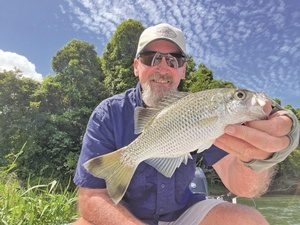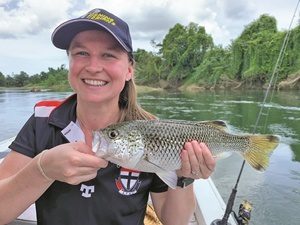 THE rain finally arrived, and as soon as the water cleared up, I was making my way to the top of the river. The clear water of the upper stretches of our river systems offer unique fishing opportunities, and it is with much anticipation that I await this time of year.
Wet season fresh
The increased water level allows you to head up into water that hasn't seen a boat for a few months. Of course, a band of younger anglers venture out and walk up the creeks, but this section of the river is still inhabited by many crocodiles, and a few of them are a size you wouldn't want to encounter when flicking lures.Wet season fresh
My knees are a bit past a full day of walking through creeks and rainforest, so I have to be content to wait for the rain to arrive. But when it does, the rewards are definitely there to be had. The first thing you'll encounter is the change of landscape from the previous year.Wet season fresh
On my first trip this year, I came across a number of fallen trees, a few quite large, which will provide plenty of cover for fish in coming months. The first trip up the river is a bit tenuous, navigating submerged timber, moved or new structure and channels that have moved from one side of the river to the other.Wet season fresh
Many a prop has been irreparably damaged on these first encounters of a new season. But the rewards are what make it all worthwhile. Fishing water that possibly hasn't seen a line for months. Finding new locations where fish are now holding. Relearning secrets the river is hiding all over again.Wet season fresh
But most of all, getting that first hit and landing that first fish. Sight casting for sooty grunter and jungle perch has to be one of the best angling experiences going. Getting hit on topwater lures is again fantastic. All in crystal-clear water at times only a few centimetres deep.Wet season fresh
Finding holes full of tarpon, and of course coming across the occasional barramundi and mangrove jack just sweetens the whole trip.