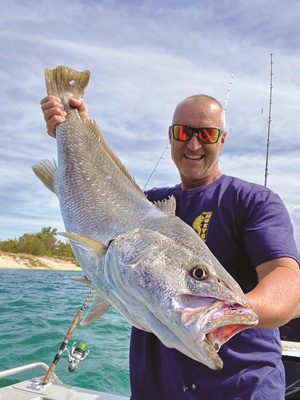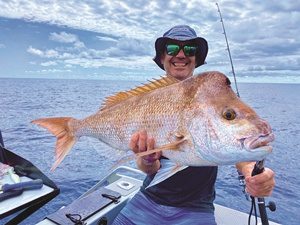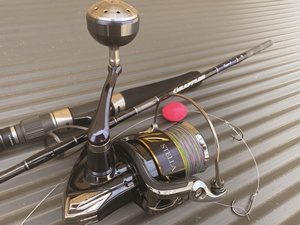 HOW many of you have had the itch to chase one of those big silvery slabs you've seen all over social media and magazines lately? The appeal of feeling the line being pulled uncontrollably from your toughest gear as you hook-up.
You're locked up and giving it all you've got. With the adrenaline pumping, you know that at any second the excitement could end in disappointment. But the battle is on and you cannot give up until the monster is boat side. Shimmering as it rises to the top, it slips deep into the biggest net on the boat and the trophy now belongs to you. Summer jewfish
Mulloway – jewfish as they are commonly known around southeast Queensland – are the ultimate prize for many anglers and throughout November and into December they have appeared in our waterways in promising numbers. Jumpinpin and the Gold Coast Seaway have been producing not only good numbers of fish but quite a few extra-large specimens.
The close offshore reefs have also produced, and big snapper have been a regular and very welcome by-catch. Even better is that the hotspots can be fished in almost any sized boat, with appropriate safety measures in place. So, now that you're thinking about heading out to target one, let's go through a few pointers to steer you in the right direction for success.Summer jewfish
First, you are going to need to think about bait or lures. Live bait is often the best and a big jewies love nothing more than a live yakka or slimy mackerel. Go and spend the time to jig a few of these up at known bait grounds and make sure you keep them in top health in a well set-up live bait tank.Summer jewfish
I can't stress enough the importance of good live bait. I know dead bait are effective, but livies are the preferred option. I try to get at least 10-20 bait in my tank, so I don't run out if pesky bream decide to attack them.
Next is the rod. A lot of rod and reel set-ups are out there, but I seem to have the most success on a shorter spin rod around 5'6" (or 1.7m). I use a Shimano Grappler Type J S56-6 teamed and a Shimano Stella SW 8000, spooled with YGK Jig Man PE5 braid and Black Magic 80lb Supple Trace leader at the business end.Summer jewfish
I get good feel through the short graphite rod and can keep good contact with the bottom when on the drift. I like to use the monofilament trace rather than fluorocarbon because it is far more supple and presents the bait more naturally.
The rig is simply a couple of 7/0 Owner Cutting Point SSW Octopus hooks snelled about 10cm apart on a leader of around 2m. A 4-5oz lumo egg sinker running down to the top of the first hook keeps the bait in the zone where you can feel it, right on the bottom.
Now, pin a live bait through the nose on one hook and through the back with the second hook, allowing the hook points to be well exposed. Do not sink or try and hide the point in the bait, because you will miss the hook-up.Summer jewfish
Use your sounder and hunt around to find fish. They generally hold fairly close to the bottom, so zoom in if you need to. Once you've marked them, come back around for a drift. Drop the bait in the water and control the fall to the bottom so the sinker doesn't overtake the bait and create a tangle.
As soon as you hit the bottom, knock the bail arm over and tea bag the bottom. Generally, boat control can be an issue because you must keep vertical over the line. Never allow the line to become slack or form a belly. If it does belly out, you're going to lose contact with the bait and sinker, and more than likely snag.Summer jewfish
Keep the bait in the zone, which is about 10cm off the bottom, and be ready. The eat is often brutal and because you're so close to the bottom, you have to work hard to turn the fish early. As soon at that tip bends, go hard and if you survive the first 10 seconds, the chances of boating the brute will increase by half.
Now it's up to you and if all goes to plan, you'll be smiling after a solid fight. Where you catch one, you'll often find another, so crack on and hopefully you'll score a few more. Remember to always check the bag and size limits and release the smaller fish. If you can't get livies, another very successful way to hook-up is with big plastics.Summer jewfish
Use the same technique by jigging right on the bottom. Big plastics are good and fool many fish into a bite. I will talk about fishing for jew on plastics later but for now, whichever technique you use to fish for this species, enjoy it and have fun. Hopefully in December we'll start to see black marlin move in close and other awesome summer species with them.Summer jewfish
Until then, have fun and fish hard!