WINTER has kicked off with a bang and so has the fishing! Fantastic flathead
The cold temperature has certainly brought the winter species on the chew and this month things should be even better.
The rainfall we have had this year has discoloured most systems and the dirty water has hung around, so a lot of fish have been congregating towards the entrances.
Flathead have been a real standout, which is great to see.
The quality has already been awesome, with most fish in the 40-50cm range, along with a few bigger models about 70cm.
We haven't had a good winter flathead season for years, so hopefully this one continues and gets even better.
While I haven't explored many systems yet, I'm assuming most rivers and creeks are worth a look.
The Caboolture River can be a very good flatty producer, but it struggles to recover from heavy rain compared to other rivers in the area.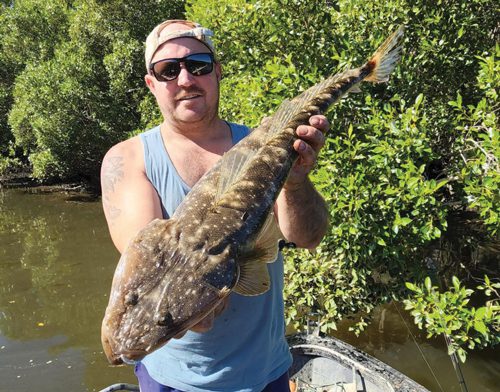 The Pine River is always a good place to explore too and it has cleaned up nicely.
The westerly wind we received early in June had the water crystal clear in some spots.
Flathead aren't shy of clear water, but you do need to keep the noise to a minimum and make long casts.
A lighter leader around 10lb can also help, though bigger fish can easily run through a lighter leader.
The fish have been feeding very aggressively and have been swallowing a lot of plastics.
The seesawing motion they use when trying to rid themselves of a lure will cut through light leaders, so I prefer to run a 12-14lb leader.
Still, I've nearly been worn through by plenty of fish and have to re-tie the lure after most captures.
Any small nick or roughness will weaken the leader and the next fish you hook might pop it straight away.
Many of the fish I've caught have been coming from slightly deeper water in the 1.8-4.5m range.
They have been super fussy some days, which means it takes a while to work out how they're feeding.