WINTER has arrived in the Moreton Bay region and has brought with it a host of targeted species!
Tailor started showing up around the beginning of June and the numbers and sizes have been getting much better.
The average sizes caught have been in the late 40 to mid-50cm range, which gives you a great fish to cook up – also makes a great meal on the smoker.
There are plenty of land-based places to wet a line for these fish – the rock groyne beside the Shorncliffe Pier, the Brighton Swimming Pool at high tide, Brighton rock groyne, Ted Smout Memorial Bridge fishing platform, Margate Beach, Woody Point Jetty, Deep Water Bend and Bongaree, to name a few easy locations to get to.
Better catches are normally taken at night during a high tide using blue bait or small pillies on a gang-hook setup.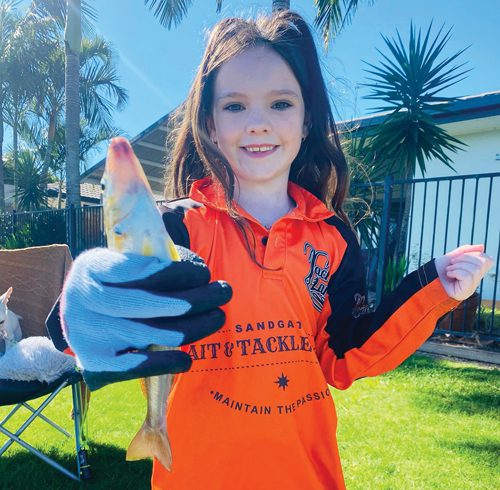 You can also use a float system – this is effective when fishing from rock groynes or piers – though be mindful of the current and other fishos around you.
The break in the rain allowed people to get out and wet a line, and a few even managed to lose a bit of tackle.
Chris and Bella were part of a large family group who all came together for a 'family fishing competition' afternoon – not that it started out as a competition but as always, it ended up being one.
A lot of runs were put on the board, fish being caught in the first Beachmere family get-together were bream, whiting and even a little stripey snapper, though not really one to brag about.
At the end of the day, everybody went home with great memories and a lot of smiles.
Well done crew, we look forward to the next family fish-off at Beachmere! Moreton Bay