Hi everyone, hope you are all having a nice week. Unfortunately, our great run of good weather on the Gold and Tweed coasts has come to an end this week, with the return of wind and rain making things a bit difficult. If you are still keen to get the kids out of the house during the school holidays, we are lucky enough to have a few options to be able to hide out of the wind and have a fish. The swell may drop a little as we approach the weekend but the rain is forecast to hang around. Best to have the most up-to-date forecast before heading out. Let's have a look at what's been happening this weekend. Gold Coast Coomera
As the first week of school holidays is nearly done and dusted, fingers crossed you managed to brave the weather and find an opportunity to get the kids out of the house and have a crack at landing a fish. Basic bread and butter species such as bream, flathead and whiting are great target fish for kids of all ages to try their luck on. The fishing has been great so far this winter but with a bit of wind hanging around this week, we are blessed to have plenty of options to hide out of the wind and fish. The main species you will be able to catch are the humble bream, whiting and flathead, which are all accessible fishing either land-based or by boat. All the above species are around in good numbers through the waterways of the Gold and Tweed coasts at the moment.
As far as fishing gear goes, all you need is a basic light estuary or kiddies combo, available at your local tackle store. A standard running sinker rig works fine, use a trace around 40cm long of 8-10lb leader, size 3-4 ball sinker and match this with size 2-4 bait-holder hook and you have a great all-round rig that will work well on most of the fish you'll encounter. As far as choosing a good spot to start with, try your local jetty – they offer are a great structure that attracts bait and in turn predators such as bream, flathead and a number of other fish species. Try not to cast out too far because the fish will usually be right at your feet. Trying your luck off one of the many beaches along the Broadwater or parks on the canals is another good option – they will hold good numbers of whiting, flathead and bream close to shore. The Tweed and Nerang rivers, Currumbin and Tallebudgera creeks, Runaway Bay esplanades, Paradise Point, the Coomera River, Jacobs Well and Cabbage Tree Point are some spots to try your luck. When it comes to choosing the right bait, yabbies and beachworms make great live bait and are also good fun for the kids to catch. Prawns, squid and white pilchard are also a good frozen bait option. Gold Coast Coomera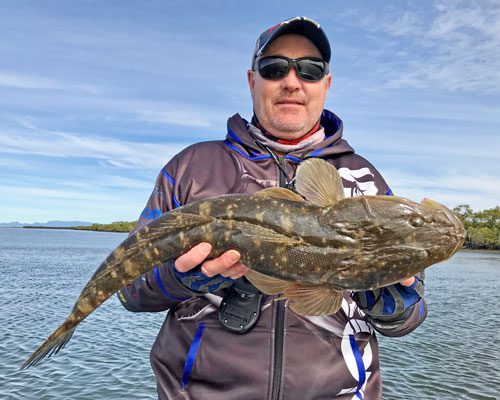 The offshore fishing last weekend was great, with near perfect conditions greeting fishos lucky enough to get out for session. The close reefs have been fishing well on the lead up to the new moon. Reports of plenty of snapper being landed on both the 18 and 24-fathom reefs including some extra-large knobbies were great to receive. Anglers also caught plenty of cobia with some 20kg plus fish, silver jewfish, teraglin, moses perch, maori cod and tuskfish making up the bulk of the catches. The 36-fathom grounds have also produced a good mixed bag of fish, including snapper, quality pearl perch, teraglin, cobia and the hard fighting amberjack, yellowtail kingfish and samson fish. Live yakka have done the damage on a lot of the larger fish caught, making it well worth the effort to have a few live bait options in the tank. Also, Western Australian pilchard, whole large squid, bonito fillet and mullet fillet will normally do the job. I always recommend using a berley trail when anchoring on a mark to increase the chances of attracting fish in the area and keeping them interested. If the swell decreases, heading offshore may be worth a go over the weekend – rain depending. Just make sure you have the latest forecast before heading out on the water. Gold Coast Coomera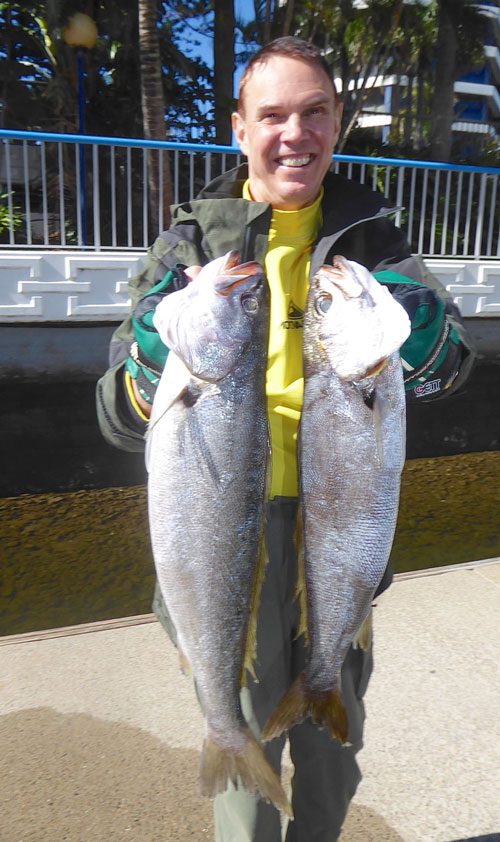 Flathead have still been the main focus for plenty of fishos, as this species are starting to school up in large numbers throughout the Broadwater and Jumpinpin, slowly making their way out of local rivers and moving closer to open ocean entrances to spawn during spring. When planning a trip to target flathead, it is worth having a few areas marked that have produced fish in previous years dependent on the tide you're working – I have noticed that you can catch 10 fish in one spot and then, when you go back a week later, you catch nothing. It seems the fish have a bit of a pattern in certain areas, it's a matter of having a few casts or trolling a certain area for 15-30 minutes. If you don't catch a fish within that timeframe, move on to the next spot and repeat until you finally find better numbers of fish to target.
Trolling hard-body lures is a good way to cover a larger area when searching for fish. When the tide is high, targeting the tops of sandbanks and the shallow edges of mangrove islands is a good idea. As the tide drops, focus on fishing the edges and drop-offs of sandbanks, creek mouths or any deeper holes you can locate on the sounder. I also enjoy using soft plastics and a mixture of soft and metals vibe lures. Some good spots to have a look at are Wave Break Island, Gold Coast Seaway rock walls, Crab, Brown and Rat islands, Aldershots, Never Fail Island, Bedrooms, Tiger Mullet Channel, Jumpinpin Bar entrance, Kalinga Bank, Crusoe Island and the mouth of the Logan River.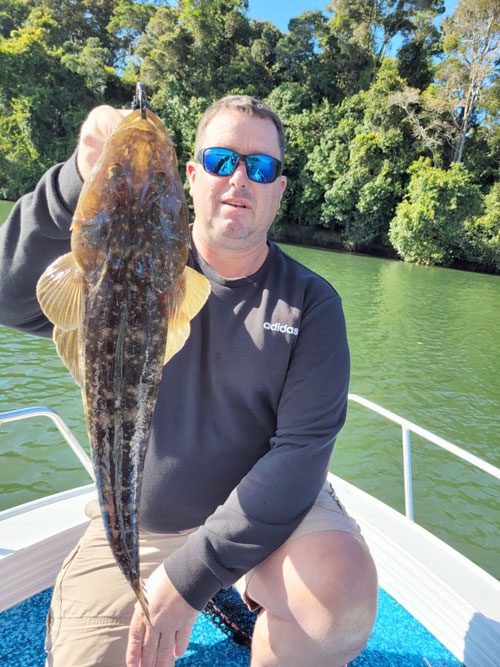 Brad from Brad Smith Fishing Charters reports… As I expected and hoped for from last week's report, this week delivered the same dreamy conditions that guides such as Clint and I have been waiting for – after a long first half of the year with constant rain. There is not a lot of difference between my blog from this week and the past three weeks, other than the Tweed River is on fire, with massive of catches of flathead, bream, beautiful little school jewfish, the occasional whiting and well out of season mangrove jack. The key is to know how to read your sounder properly and work the huge schools of baitfish that are flourishing in the deep holes of the river. Jigging the deep holes with a combination of Samaki Vibelicious and Ecogear ZX40 lures will see them get smashed, as well as trolling the shallows on the top of the tide with Pontoon 21 Crackjacks. I am fully booked for next week and frothing to get out on the water with my clients.
Clint from Brad Smith Fishing Charters reports… The big plus for me this week has been that arrow squid have started appearing in numbers. We are a few weeks away from the big sizes and numbers turning up but it is great to see them finally return after a late start to the season. My favourite jigs are Ecogear Dartmax in 2.5 and 3.0 sizes, with the white silver, green gold and pink shades among the most successful for arrow squid in the Broadwater. There are lots of babies, with some bigger keepers around too. When they are in full swing in July and August, I will be doing heaps of squid fishing charters. They are so delicious to eat fresh. I find the best way is very simple – clean them, cut the tubes into rings, roll them and the candles in tapioca flour, then fry in olive oil in a pan for two minutes each side, sprinkle with salt and pepper, serve on a plate with a bit of mayonnaise or tartare sauce and a salad… superb! Fishing has been tricky otherwise, with bait schools moving fast and often. This week should see an improvement and more aggressive feeding activity from bream, tailor, jewfish, winter whiting, flathead, flounder, squire and more arrow squid! Samaki Vibelicious in whitebait colour will work best, as well as yabbies and Ecogear Marukyu Isome red worms. Gold Coast Coomera
If you have any great catches or photos you would like to share, please email us and let us know how you went, brett@coomerahouseboats.com.au or brett@fishotackle.com.au
Stay up to date with all fishing regulations in Queensland https://www.daf.qld.gov.au/business-priorities/fisheries
Fisho Tackle and Coomera Houseboat Holidays now have Hire Tinnies follow the link to view https://www.coomerahouseboats.com.au/our-fleet-type/hire-tinnies/
Seabreeze is a great website to access a local forecast http://www.seabreeze.com.au/graphs/
Good luck with the fishing.
Brett