Wet, wet, wet is what it has been for the past few weeks on the Gold Coast and with the confirmation of La Niña being in full swing, we will see above average rainfall this summer. Fishing freshwater flush
What does this mean for fishers? Fishing freshwater flush
Getting wet for one, and with that most likely reduced numbers of boats on the water. Fishing freshwater flush
The rain does funny things to the rivers and creeks and ultimately the ocean.
When rivers and creeks flood, it gives them a good clean out and stirs things up.
In the short term the fish may go off the chew due to the amount of fresh, but once things settle down the fish will fire up with a vengeance.
At this time of year, mangrove jack are the prime target for most estuary anglers.
The usual haunts such as walls and bridges will produce, however it is the favourite snags that may have moved and appeared with the flood tide that will have anglers pulling out every trick they have in their book.
A good fresh is known to get mud crabs on the march and the timing is right to have a bumper crab season in time for Christmas.
When the rivers and creeks spew what resembles coffee into the ocean, things can get interesting.
A big fresh will actually plummet the water temperature on the close reefs and reduce visibility to nearly zero.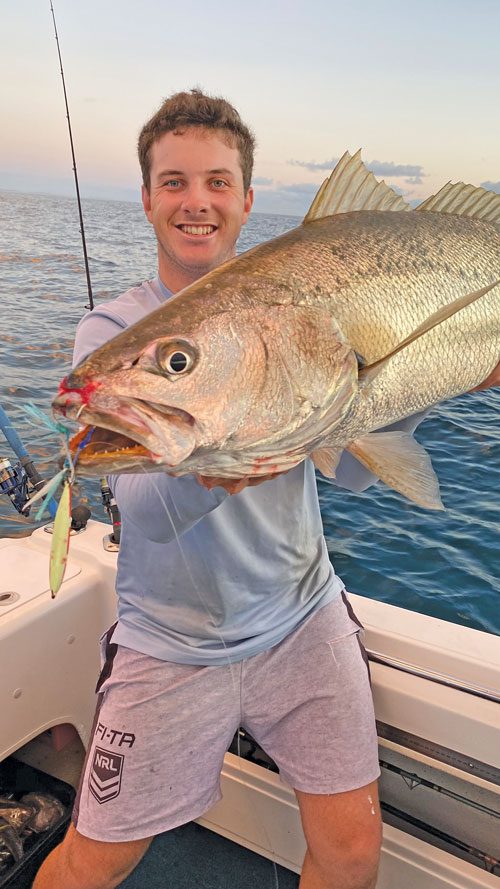 I've found fish such as mackerel will only hang around for a few days in dirty water before moving on to warmer cleaner areas.
On the other hand, jewfish, trevally and similar fish relish the dirty water.
While out on the ocean, finding a water line where clean and dirty water meet is like finding gold.
These areas are a fish magnet, with pelagics hunting along the edge of the dirty water knocking off any baitfish that might poke its head out.
Towing lures or live or dead bait along these edges is a great way to raise some good fish such as wahoo, marlin and spanish mackerel.
The dirty water after a lot of rain can reach many kilometres out to sea and, be warned,  in this dirty water are any number of obstacles and types of debris that can damage a boat.
Logs and trees are only a couple of examples, also be on the lookout for tarps and rope that can get wrapped around a motor, dead animals such as cows, floating backyard furniture, bins and buckets – all can wreak havoc on the water, so care must be taken, especially in low light conditions.
As of early December, we haven't seen too many spotted mackerel being caught.
The water was taking its sweet time getting up to that trigger point of 23C and when it did, along came 100mm of rain and the northerly wind.
So, it may be very close to Christmas before we get a good crack at them.
There have been some very small spaniards around, which could be a sign of a great year for the blues.