As predicted the swell continues to linger around and this week has seen a few boats cross the bar. Right now, this should only be done by experienced skippers in boats with plenty of horsepower hanging off the back. Sunshine Coast Noosa
During the week, Sunshine was fished by the bigger charter boats and small cobia were still hanging around in good numbers. These fish love floated pilchard as well as bigger soft plastics around the 5-7" size with a curl tail. After rain, grassy sweetlip tend to come out and some bigger fish up to 50cm were caught on bait and paternoster rigs. With the dirty water, the mackerel have pushed out wider, but they will often swim close to the bottom where the water is cleaner, following the flood of the Noosa River. All too often bait will get snipped off, so try a short length of wire and drop a bait down to the average depth you are seeing them on your sounder. Using bait runner reels is perfect for this as the sudden hit won't see lines break off. We hold the full range of Shimano Bait Runner reels, wire and many trace options for all reef species and mackerel. Sunshine Coast Noosa
With the focus on the estuary, we have certainly seen some cracking bream, with one tipping the measure at 43cm! A fish of this size must be handled with care and released as they are more than 35 years of age and the link to future generations of stock. Most other bream are in the 28-34cm range, making these a better eating sized fish. Whiting are also feeding hard and tend to sit hard on the bottom with the dirtier water. They love beachworms, squid and yabbies on light running sinker rigs. If you have an old yabby pump in need of some attention, we hold replacement bungs and service kits. Sunshine Coast Noosa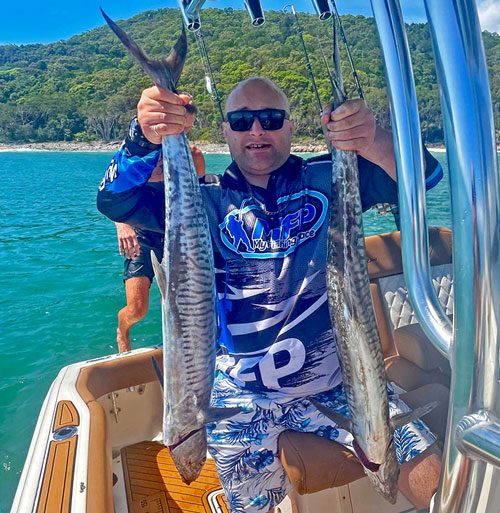 Away from the lower part of the river, up around the mouth of Cooroibah heading toward Cootharabah, you will find good numbers of flathead, school jewfish and mangrove jack. All of these fish will take bait of pilchard and mullet on lighter gauge hooks. Only use lightest of sinkers so the fish can pick the bait up and run if needed. Once you feel the weight, you can strike and enjoy the fight. The best style of hook for this is a circle hook which is designed to reduce the chances of deep hooking the fish, so hooks can be removed for a quick release.
For lure anglers, you can try throwing storm ultra-blades that are designed to not catch the bottom but emit a lot of vibration. This vibration will draw fish in for a better look and possible bite. Other options include smaller 3" paddle tail plastics rigged on light weedless hooks. When weedless hooks are used, you can cast around any structure or slow roll them along the bottom and not get stuck. A slow roll is a classic presentation for jack and flathead, so give this method a try if failing to connect to fish.
Freshwater continues to overflow from most of the dams and lakes in the area. If intending to travel, be sure to check the status online because access can change should there be a sudden downpour. Finding the fish may take some doing as the water quality will be murky and have a lot of suspended particles. This often sees fish retreat to deeper depths or areas that didn't suffer heavier flooding. You would be best to carry a range of plastics, poppers, stickbaits and blades. When looking for fish, be sure you have a small diving lure out the back as you may find fish taking this.
Now for all the latest information, log onto www.fishingnoosa.com.au for up-to-date bar and fishing reports, and don't forget to drop into Tackle World Noosa, Noosa Boating and Outdoors and Northshore Bait & Tackle in Marcoola for all the right equipment, bait and advice to get you catching.
Be sure to follow us on Facebook and remember tight lines and bent spines!