Hi everyone, hope you have all had a great week. It's been another fairly nice week on the Tweed and Gold Coast, with moderate wind making fishing inshore waters a fine option. Offshore, the large swell has stuck around most of the week with only the most experienced anglers trying their luck. Unfortunately, as we head into the weekend the southeasterly wind is tipped to kick in strong and another big swell will move in, making sheltered waters the best option until the weather eases. Let's have a look at what's been biting this week. Gold Coast Coomera fishing
Due to the large swell hanging around offshore, fishing has been left up to the most experienced anglers over the past week, with a few nice catches coming in. Paul Wilshire decided to try his luck with a quick trip offshore early on Monday morning, which paid off nicely with him landing a great-sized spanish mackerel around the Palm Beach area trolling a dead bait. Gold Coast Coomera fishing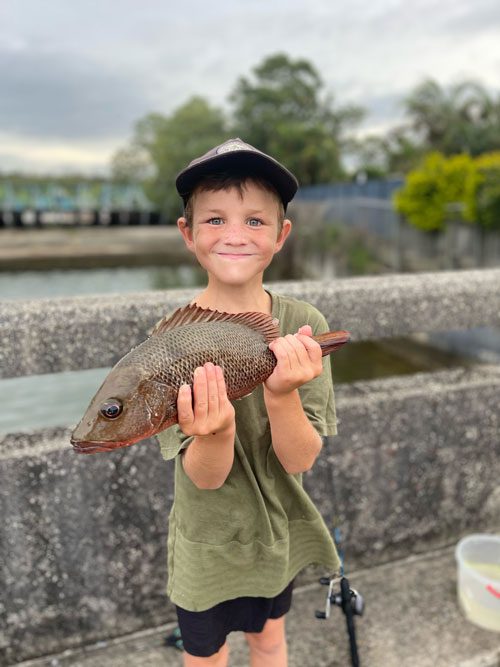 The Gold Coast Game Fish Club ran their light tackle masters' competition on the weekend, with teams doing well on the Saturday, managing to tag and release a few black marlin on live bait and trolling lures. Due to the tsunami warning, Sunday's fishing was cancelled for safety reasons. After the next southeasterly blow settles down and the swell eases, it with definitely be worth chasing marlin. Because the clean warm water will be pushed in closer to the coast, most reefs and the usual marlin haunts  – such as spot X – have been holding large numbers of baitfish, which should bring the predators in good numbers for the rest of summer – fingers crossed. Other pelagic species such as dolphinfish and wahoo are a big bonus for those angler's keen to chase a feed while out looking for marlin. Try your luck around the fish aggregating devices or any debris you may see floating around in the ocean because it can quite often hold good schools of predators. The best two methods when using live bait are slow trolling or dropping down a weighted live bait – slimy mackerel and yakka are the best options for live bait fishers. For those keen to have a go at trolling, I'd recommend trying a range of skirted lures from 15-25cm long, these should get a fish interested if you are working the right area. Leader size from 80-120lb should work for most of the fish at a size you would normally encounter. Just make sure you have the most up-to-date forecast before heading out. Gold Coast Coomera fishing
After the recent big swell offshore, the fishing in the Broadwater adjacent to the Gold Coast Seaway area has been great, with a good number of different species being landed this week. Fishos reported catching tuskfish, snapper, grassy sweetlip, spangled emperor, small mouth nannygai along with bream, tarwhine, lessor queenfish and flathead. Try drifting the main channel area from the Seaway entrance towards Currigee and Crab Island – these areas contain plenty of gravel and rubble patches of reef – areas that hold good numbers of feeding fish. Drifting bait will work well – yabbies, prawns, white pilchard, mullet fillet, Western Australian pilchard, live herring and silver biddies will make great bait options. For the lure fishos – working soft vibes, metal vibes, micro jigs and soft plastics can be very rewarding and a great way to fish the area.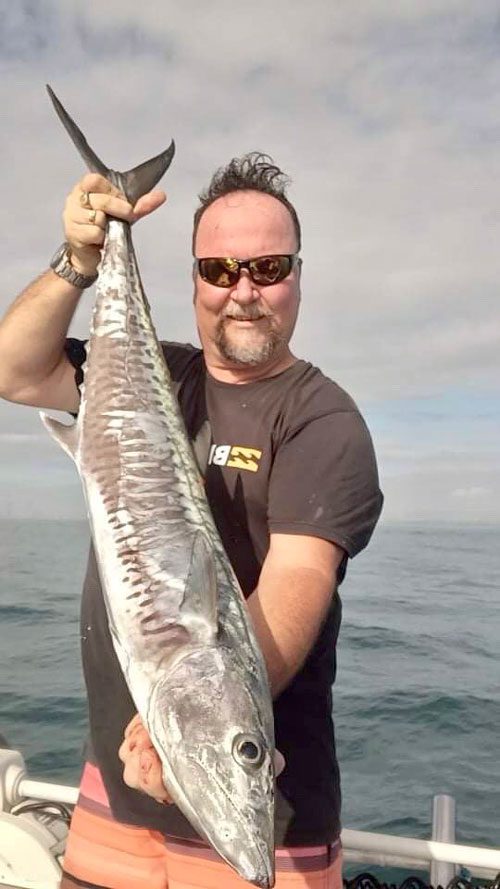 Great quality whiting have been caught this week in good numbers around most sandbanks and edges of channels in the Broadwater, Jumpinpin, Currumbin Creek, Nerang River, Logan River and the Tweed River. Live bloodworms, beachworms and yabbies make the best bait – these great tasting fish can be targeted quite successfully land based, with the night bite producing the best numbers of quality fish.
Brad from Brad Smith Fishing Charters reports what a great week it has been for many reasons – the border checkpoint finally came down, the weather was calm and the fishing was fantastic. This week saw light winds and partly cloudy skies keeping the conditions comfortable and incredible numbers of fish smashing our lures. The species caught this week were mangrove jack, whiting, a few small giant trevally and a massive number of flathead and bream. Trolling Hurricane Slam lures around the 3.5-4m line worked well as did drift jigging Samaki Vibelicious vibes, and jack and a few nice flatties took a liking to the Samaki Redic Jerkbait deep diving minnows. Darker coloured lures and golds got the best results due the water being a bit discoloured from all the rain we've had this summer. Well, let's hope everything stays as is so we can enjoy next week and until the end of the summer holiday period.
Clint from Brad Smith Fishing Charters reports some epic fishing on charters this week and much improved weather. The weirs for both the Nerang and Coomera river systems are overflowing, which has kept the upper to middle reaches dirty and fresh, pushing vast numbers of fish into the Broadwater. The rain we had during Ex-Tropical Cyclone Seth has resulted in some amazing fishing fun everywhere from Sundale Bridge to the Coomera River mouth. I have been wading the flats some days and catching many big whiting up to 42cm, plenty of flathead 40-60cm and big sea bream. Other days, during a small neap tide, I have focussed on the main channel north of the Seaway, where we have caught over 20 species this week including tuskfish, snapper, flathead, whiting, trevally, squid and tailor on Samaki Vibelicious soft vibes, Ecogear ZX40s, soft plastics, live yabbies and Ecogear Marukyu Isome red worms. Drifting through reef zones in 5-7m depth are where fish have been found actively feeding. I'm amazed how widespread the sand whiting have been – they are everywhere from the ankle deep shallows to 8m deep in the middle of the main channels.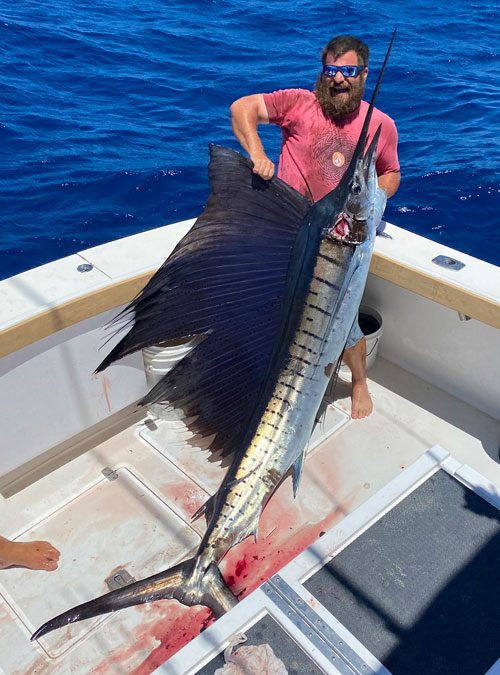 Gavin from Sea Probe Fishing Charters reports there have been plenty of dolphinfish still around all FADs, which is great news if you're chasing a feed. Also, good to see a few black marlin are on the 50-fathom line using lures and also live baiting the usual spots. On the 24s, plenty of teraglin and silver jew have been biting, along with a few mackerel.
If you have any great catches or photos you would like to share, email us and let us know how you went – brett@coomerahouseboats.com.au or brett@fishotackle.com.au
Stay up to date with all fishing regulations in Queensland https://www.daf.qld.gov.au/business-priorities/fisheries
Fisho Tackle and Coomera Houseboat Holidays now have Hire Tinnies follow the link to view http://www.coomerahouseboats.com.au/our-fleet-type/hire-tinnies/
Seabreeze is a great website to access a local forecast http://www.seabreeze.com.au/graphs/
Good luck with the fishing.
Brett