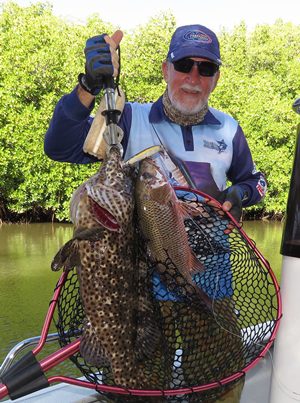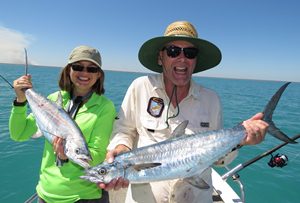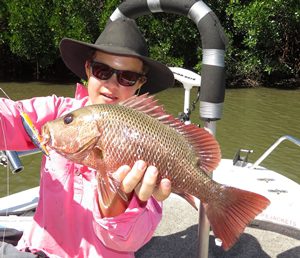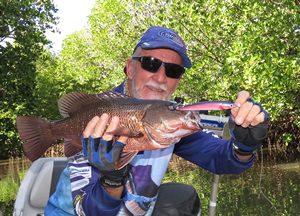 TOM and I were motoring up a small side creek on the electric against a slow run-out tide. The waterway was barely a cast wide but had already produced a few feisty barramundi and a couple of bumps from big blue-lipped pikey bream. Overhead, the tops of the mangrove forest were buffeted by typical dry season trade wind but only an occasional gust deflected our lures as they sailed towards the root-lined banks.
Cape York therapy
Tom's Aldi-bought offering landed beside a brushy looking fallen mangrove tree and was smashed immediately after it moved. A 50cm lates calcarifer hit the air seconds later as I readied my Leads Hijacker for a cast to the same spot. My young companion was experienced enough to handle his own fish – and would probably out-fish me if given leeway!
Suddenly, Tom yelled that a big cod was chasing his barra, but my lure was already inbound. As Tom lifted the barra aboard, my Hijacker lure was snatched by a mangrove jack, which disappeared in a huge crimson boil and had angled the braid into snag before I could lift the rod to come up tight.Cape York therapy
I could feel the line rubbing on timber as I tried to wrestle the jack into open water and was succeeding when again the voracious big blackspotted cod decided to join the party.  The greedy bugger grabbed the jack by the head, then powered back towards the snag leaving a hole the size of a kid's swimming pool, but I managed to halt the run because the cod had managed to snag a treble and my adversaries were now fighting against each other instead of their potential captor.
I yelled at Tom to take a video of the mayhem, but he decided to grab the net instead and somehow scooped the duo into its folds. The mangrove jack had been savaged around the head and measured 47cm, so it was quickly brain-spiked, bled and iced for the kitchen. Ol' mate Mr Greedy monster had chewed the rear hook out of the lure body but was sent back to ravage another day.Cape York therapy
Meanwhile, while the cod was detained in the boat, Tom had cast back in the same spot and removed another smaller red devil from its snaggy home. That one went back too, and I managed to pull another barra from the upstream side of the snag on a replacement lure, just to put icing on the salty cake. Encounters like that make mangrove lure casting one of my favourite fishing activities, with the results exciting, yet unpredictable.
Losing is almost as much fun as winning – and an expected part of the deal! We managed around 30 barramundi for the morning, a fairly typical total for early spring, if you work the right tide and area. Though the majority were undersized, there were a couple of males that appeared to be showing signs of maturity ahead of the coming breeding season.Cape York therapy
This could be confirmation that a La Niña event is not too far over the horizon, an option that will certainly be welcomed after a number of lean wet seasons on the Cape. Getting a fishing fix has been a vitally important 'chore' during the COVID-19 crisis. If ever the powers that be needed confirmation of the contribution recreational fishing makes to the ongoing mental health of the community, its value has been clearly demonstrated during the lockdowns that have limited many other social activities.
When camping and out of town trips were prohibited at the peak of the restrictions, the boat ramps at Weipa were overflowing with trailers every weekend, as residents escaped to the water in search of a feed for the family. There is little doubt that the ability to carry out this normal activity in the midst of virus chaos helped many people cope with the massive change forced on them.
To boot, recreational fishing and boating have also been major contributors to our much-depleted economy, with tackle and boating shops reporting increased turnover contrary to national trends. A great positive story in a seemingly endless stream of negatives. But back to the fishing…Cape York therapy
A warmer than usual winter has kept water temperature in a range that suits barramundi activity, so there have been plenty of small fish around creeks and rivers with an occasional horse making an appearance. Cod, mangrove jack, fingermark, grunter and small queenfish have been on the chew on bigger tides.
However, numbers of blue and king threadfin salmon seem to be well down this year, which may change for the better once hotter weather arrives. This year, with the lack of visitors – in the charter industry and drive-in fishers – fishing seems to be noticeably better for both estuarine and offshore. Tuna, mackerel, trevally and queenfish appear to be a little more prevalent, while fingermark, cod, coral trout and tuskfish are being taken regularly around the bauxite reefs.
A few days of fishing with my daughter Mel and her husband Ben – who had planned trips to New Zealand then Melbourne before being locked down – proved to be a fairly hectic affair. On our first day we found a patch of 6-8kg grey mackerel that were feeding on bait schools wide of Red Cliffs. As usual, trolled Halco Scorpion 90mm divers did the trick, with fish largely unresponsive to other models.Cape York therapy
Thankfully, the sharks left us alone long enough that we were able to put a few mackerel in the icebox – for a couple of feeds at home plus half a dozen frozen packs for my visitors to take with them. The following day, we topped the visit off with a few nice upriver barra. The local game fishing club experienced several memorable days on sailfish when weather allowed, with boats landing and releasing more than 10 fish in a session.
Estimated at over 250kg, one large black marlin was tagged during a marathon session by a member fishing a trolled lure – a fantastic effort. The Weipa Billfish Tournament is still scheduled for the first weekend in October, so checking what COVID restrictions apply may be a good idea. Due to an inability to travel to other parts of Australia or overseas, quite a few Queenslanders have taken the opportunity to visit the Cape at short notice, and we've seen a steady flow of drive-in visitors, with many towing a boat.Cape York therapy
Though summer can get very hot and humid, the fishing more than makes up for the uncomfortable conditions. So, if you have the chance, it's definitely a good time to head to the pointy part of Australia.
For a non-fishing attractions guide to Cape York, click here!