The 2021 Fitzroy River Barra Bash was held at the end of October this year, and my friend Benny and I fished it as team Bush 'n Beach again. The competition was extended to an extra half day, which worked out so well.
We got to Rockhampton a few days before the competition started so we could have a look around and see if we could find a fish or two. We had a look around the city reaches and found plenty of fish that didn't want to eat. Though as we weren't wanting to pressure too many fish before the competition started, we didn't put much effort into catching them.
The comp started with a briefing at the Frenchville Sports Club on the Wednesday night and it ran for three days. The Thursday and Friday were from 5am-5pm and the Saturday was 5am-12pm. We decided to spend our time around Port Alma where we've had a bit of success on some decent quality barramundi.
We got to our first spot nice and early, so a quick rest after applying plenty of Aeroguard was on the cards. Once 5am kicked over, we started casting a few big plastics around some structure for the first hour but drew a blank.
We started trolling the same area with a few deep diving Atomic Hardz Shiner 85 Double Deep lures. These are a great trolling lure that get down to around the 6m mark, which is excellent for a lure that size.
Benny was first to hook up and the fish ate the lure while he was cranking it back in, slightly behind the boat. All hell broke loose with the barra jumping around everywhere. After a quick but nervous fight, a nice 90cm model was in the net and ready for a quick photo and release. Half an hour later Benny hooked up again but this time it was in some heavy cover.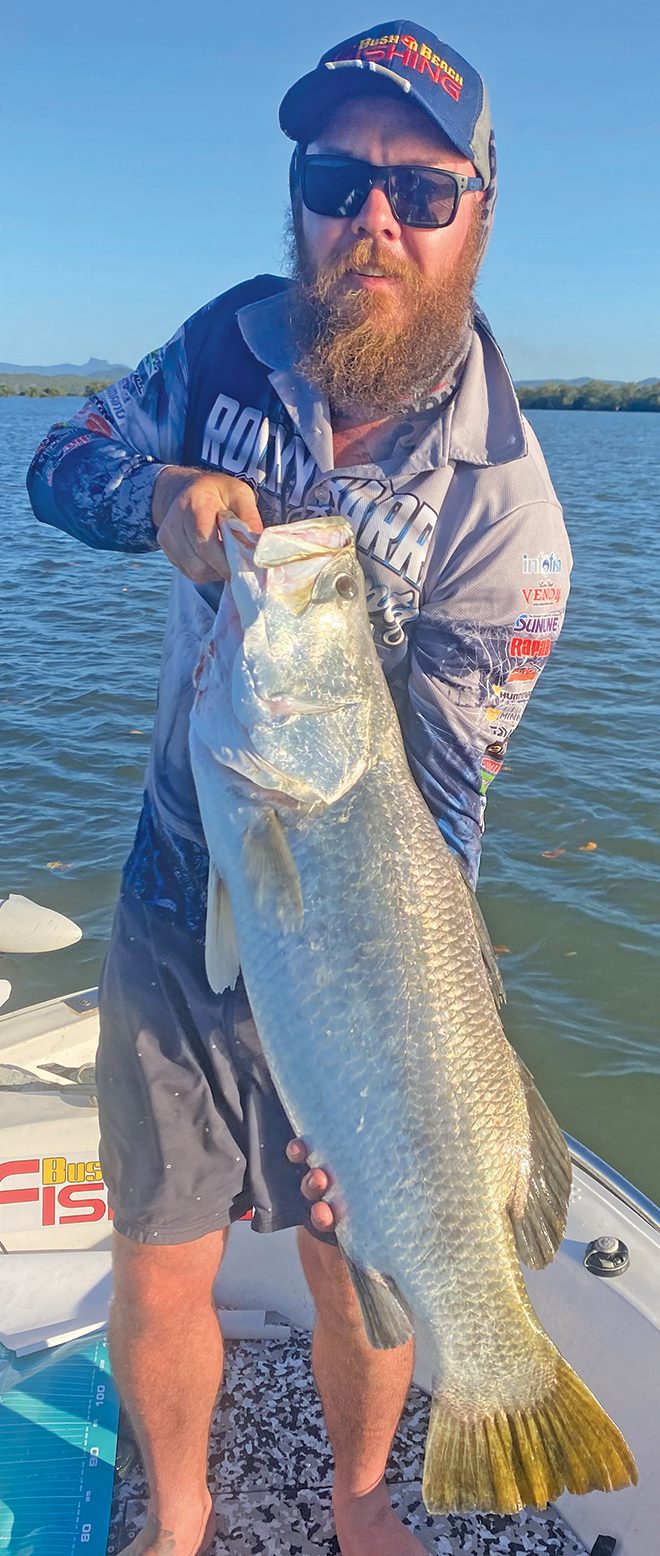 The last couple of years we've worked out a little plan to get them out of the structure, which has been working very well. The idea is to put enough pressure on them to make them jump if they're staying deep and trying to bust you off. If you put too much pressure on them, hooks and rings start to bend and straighten, so it's a fine line.
Benny nailed this fish perfectly and had it next to the boat and ready for the net in no time. This fish was also spot on 90cm, so the quality was very good. We missed a couple of bites over the next half hour and then the fish started shutting down.
Benny snagged up one of his favourite Atomics that was catching the fish and had to bust it off. The next seven hours weren't much fun with a few missed bites and no fish landed. The next bite period was close to starting and the fish were getting active again. Benny continued his good form and hooked up to a better one.