Hi all, with December not far away, what might be going to happen here on the coast? Well, we might start to get bigger southeasterly gusts and more coastal showers and with the wind comes the southeasterly swell, so be careful on our coastal bars. Offshore crabbing
Hopefully, the rainfall tally starts to creep up and maybe we'll get a bit of a fresh running in our creeks and rivers before the wet season kicks in around the end of January. The pelagics will start to thicken up and with a little luck there will be a good run of spotty and spanish mackerel this year. I may even get to jump the Noosa Bar in my friend Ryan's 5.6m Shark Cat to fish the close grounds and we might even chase a few mackerel too. Offshore crabbing
But if we get floodwater pushing out, grass sweetlip and venus tuskfish have the potential to be in good numbers on Sunshine Reef. If you get out early, it's not hard – if the fish are there – to catch 15 to 18 then head home, and with the fish cleaned and boat washed down, you're done by 1pm. A great cheap day on the water, so hopefully we get to go a few times. Offshore crabbing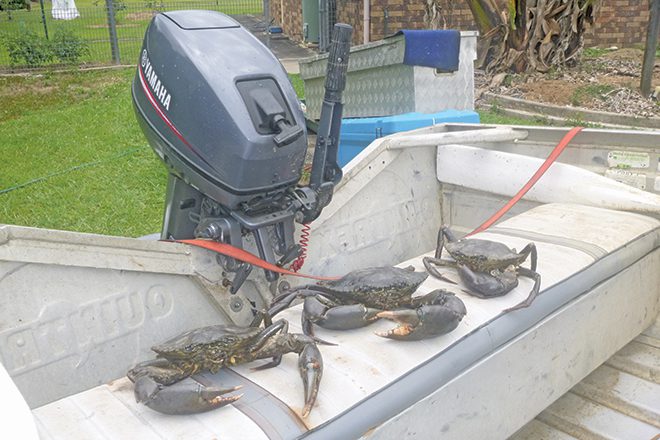 If not, I might slip out in calm weather for a look. I was going to sell my 5m tinnie but decided to keep it, so it should be good.  I have not been fishing recently, but as I said in my previous story, I start crabbing the Noosa River system in November – actually, as we had hot weather I started in late October.
The first thing I do when I haven't been crabbing for a while is check that my surname and address are still clearly marked on my floats and on the label in my pot. I found, after many years of crabbing and using many different marker pens that don't work well, a cracking permanent marker pen – it's a cattle ear tag marker and is a great pen that lasts for weeks. It's called an Allflex Tag Pen. The last one I bought lasted about five years and for around $16, it works so well.
The next thing I do is check over my four pots for little holes – I use thin rope to sew them up. Next, if crabbing deeper water, I put on a longer rope and if shallow I put on a shorter rope. Then with the pots ready to go, I bait them with fresh fish frames and raw chicken frames, load them in my 5m tinnie and away I go.
I've been crabbing for weeks now and have run out of fish frames, so I'm using chicken frames and have been getting up to four crabs with every lift of the pots, which has been fun. My wife Donna loves crab and the rest of the family get a feed too. On calm days, I take out the 'new to us' 3.7m Quintrex tinnie with a 15hp two-stroke Yamaha on the back.