Hi all, most days you'll find us starting the day at Latino Coffee, situated opposite the local service station at Agnes Water, having a coffee. When the weather is good, we watch the endless parade – of what I call the 'top end of the market' – trailable fishing boats fuel up in preparation to explore the southern reef systems of the Great Barrier Reef. small boats advantages
I may sit there a little envious as I watch these boats pull into Captain Cook Drive but then reality hits as boat after boat pull up to the bowser. There isn't a doubt in the world relating to the ability of these craft or the comfort factor, but when it comes to fuelling up… give me my 4.2m Horizon Allrounder with its tiller 30hp Yamaha any day. small boats advantages
Sure, we all need to keep a close eye on the weather and know our small craft's capabilities, but there's a different satisfaction in achieving results from a small open boat. When the weather turns nasty, with a small boat you can find a hidden fishable location, usually in the shallows where larger craft can't access. small boats advantages
Steve Cooke of Agnes Water took advantage of a weather window and made a dash to land a coral trout from the shallow reefs around Bustard Head. I was a little green with envy at Steve's result from his 4.2m tinnie.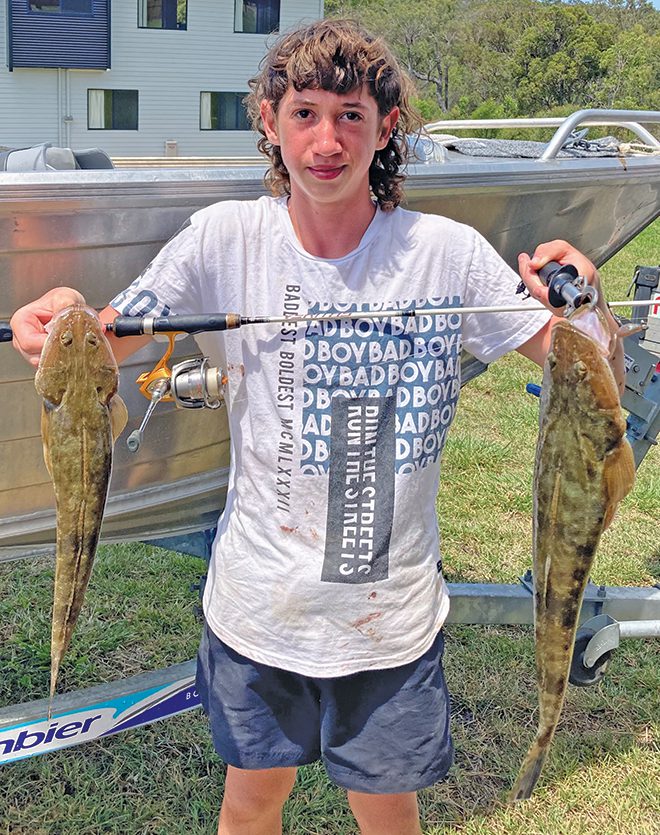 Next day he set out to do it again, but the weather gods decided to put a dampener on his plans. Steve was able to make the decision to switch to Plan B – to fish and crab the sheltered waters of Round Hill Creek. Versatility and the ability to have back up plans are musts for those flying the small tinnie flag. Though we're all open to the forces of nature.
I had recently planned to take Richard Cobden out for a saltwater session. Unfortunately, Richard had a one-day window to hit the water and as usual the fan decided to turn it up a notch. After a quick chat, I was surprised when Richard said he was also eager to catch his first flathead.
The wind and tidal variation made fishing extremely difficult – luckily we had a Plan C, which was pulling the tinnie onto the sandbanks and walking the shallows with the howling wind at our backs. We threw plastics on a rising tide and followed small schools of whiting that were working their way into the gutters.
As the water continued to rise, I was able to float the boat up the little channels and drag the small craft behind us while Richard continued to cast – and even sight cast – to good sized fish in the skinny waters. I have no doubt that having the light Horizon Allrounder allowed us to achieve our goals for the day and placed Richard onto a few fish that fulfilled his dream.
A few small fish fell to small hard-body lures, but the real highlight was watching good fish break their sandy cover to explode a distance of about 2m to nail a well-presented plastic in crystal-clear water 300-400mm deep. These fish were super committed, making this one of my true fishing highlights.