Hi Everyone, hope you have all had a great week and enjoyed the Australia Day public holiday, with moderate south easterly winds and rain showers hanging most of the week on the Tweed and Gold Coasts fishing has been a bit tuff unless you can find a nice spot to hide from the wind. As we head into the weekend the forecast is looking much the same at the time of writing my report with 15 to 20 south easterly and rain. An early start and finish would be the best advice to make the most of the conditions. Let's check what's been on the chew this week. Gold Coast Coomera fishing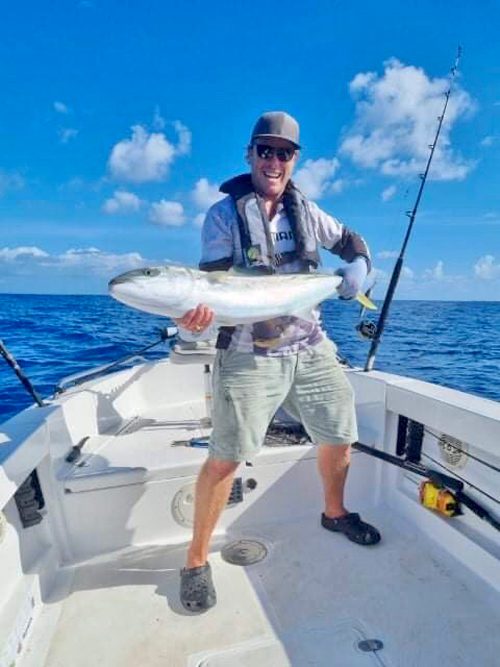 Reports of some good quality Mud Crabs being caught around the Gold Coast area the past week is good news for anyone keen to put the pots in for a soak and chase a feed. With the amount rain fall easing up a bit it will be worth heading back up the local rivers and setting the pots back up in all the feeder creeks and creek mouth entrances as the crabs that got washed out over Christmas and New Year's should have made their way back up the rivers. Fresh bait is always the best choice, make sure you do check your bait regularly and change it out when required. A bait bag is another must have item as it stops small fish, crabs and eels from eating your all your bait until a good-sized Mud Crab gets to find it. If you are setting your pots during the daytime I would recommend trying to stay in the area and go for a fish that way you can keep and eye on them and avoid them being checked by other people. Putting the pots in late afternoon and re checking early in the morning gives you the best opportunity to catch a nice feed. Just make sure you are all up to date with bag and size limits in your local fishery   https://www.daf.qld.gov.au/business-priorities/fisheries/recreational/recreational-fishing-rules/crabs-lobsters Some good areas to try are the upper reaches of the Nerang River, Coomera River, Pimpama River, Jacobs Well, Cabbage Tree Point, Canipa Passage, Currumbin Creek, Tallebudgera Creek and the Logan River. Gold Coast Coomera fishing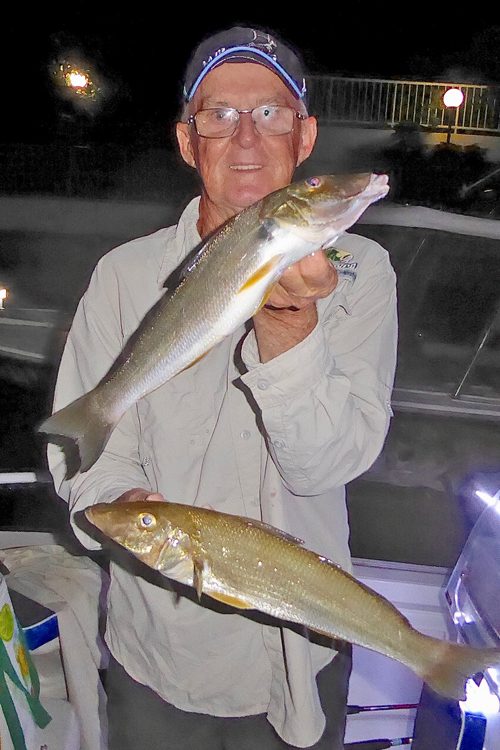 It's been nice to see some good feeds of Whiting being landed this week, Wayne Young (see photo in report) has been doing very well the past few weeks putting in plenty of time and effort managing to land some very consistent catches of great sized elbow slappers in the Nerang River. Fishing during the night time has been the best option when targeting the better quality fish as they feed much better under the cover of darkness. During the day time it is worth trying your local sandbanks that have plenty of yabbie holes visible, you can pump some fresh yabbies on low tide then fish the same area with un weighted yabbies as the tide rises, this is a very productive and satisfying way to target Whiting and other species like Bream and Flathead and put together a great feed. Some other good spots to try are Coomera River, Pimpama River, Tallebudgerra Creek, Currumbin Creek, Jacobs Well, Cabbage Tree Point, Logan River and Wave Break Island. Picking the right tide times is important when targeting Whiting, as the old saying goes no run no fun and when targeting Whiting this is very true as they feed best when the tide is flowing at its fastest, once the tides slows to turn they will normally disappear and go off the bite until the flow picks up again. When fishing the rivers live Blood Worms are best followed by Beach Worms and Yabbies. Fishing light is the key to getting the bite, use a longer light estuary outfit 7-10ft in length spooled with 6-9lb mono, run a long 6lb fluro carbon trace and a 4 to 5ball sinker should do the job when the tide is running matched with either a size 6 to 4 baitholder hook. Gold Coast Coomera fishing
Brad from Brad Smith Fishing Charters reports the Tweed River is very muddy at present, best to fish near the mouth for Flathead and Whiting.
Clint from Brad Smith Fishing Charters reports the Gold Coast Broadwater has been fishing well for good size Whiting on the banks, and Squire, Tuskfish, Tarwhine, Bream, Tailor and Trevally in deeper water. Live yabbies are best for Whiting, while Samaki soft vibe lures are working in the channels.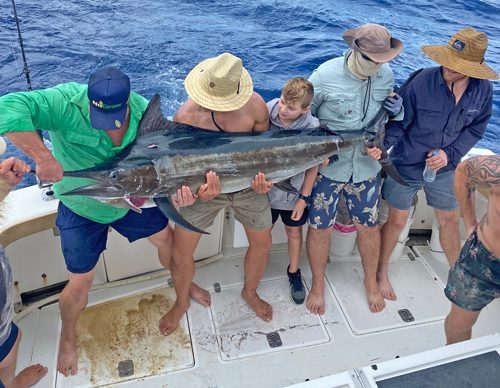 Gavin from Sea Probe Fishing Charters reports there are still Plenty of Dolphin Fish hanging around most of the FADS off the Gold Coast at the moment. Also Black Marlin have been landed around Spot X and 5 miles north all along that line using lures and also using live bait works the best .On the 24s, Palm beach and Mermaid Reef anglers have reported a few Mackerel have been showing up.
If you have any great catches or photos you would like to share, email us and let us know how you went – brett@coomerahouseboats.com.au or brett@fishotackle.com.au
Stay up to date with all fishing regulations in Queensland https://www.daf.qld.gov.au/business-priorities/fisheries
Fisho Tackle and Coomera Houseboat Holidays now have Hire Tinnies follow the link to view http://www.coomerahouseboats.com.au/our-fleet-type/hire-tinnies/
Seabreeze is a great website to access a local forecast http://www.seabreeze.com.au/graphs/
Good luck with the fishing.
Brett