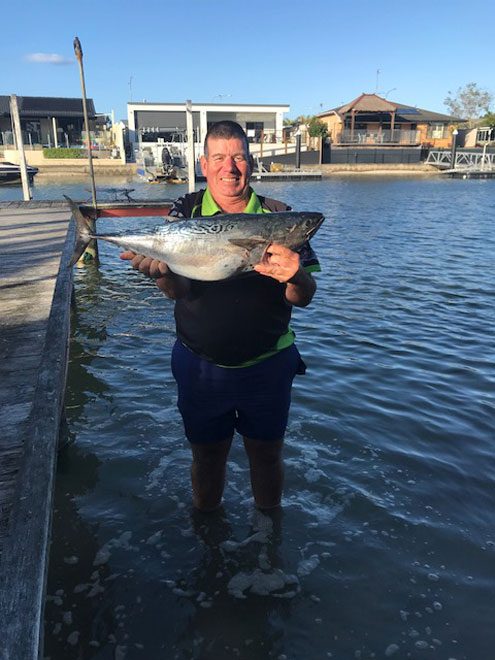 HI everyone, hope you have all had a good week, the weather has certainly warmed up during the start of spring on the Gold Coast, which is great news for those anglers who enjoy targeting inshore estuary species because they'll be on the move. Gold Coast Coomera
With September school holidays kicking off this weekend, it's a great time to get the kids outdoors and having some fishing fun. Let's have a look at some options to try this weekend. Gold Coast Coomera
September school holidays are a great time to get the kids out of the house, spend some quality time outdoors and go fishing. Kids of all ages will enjoy the fun of casting the rod and then the anticipation of landing a fish, even catching your own bait like pimping yabbies is an adventure especially for the young ones. Keeping it simple is the key, you don't need fancy rods and reels. Gold Coast Coomera
A basic light estuary outfit will do the job for most of the fish species you will expect to encounter while fishing on the Gold Coast, 6-9lb main line, 8-10lb trace, 3-4 ball sinker and a hook size between size 6-2 to suit your bait of choice.
Land based fishing is good option on the Gold Coast and a great way to get the kids started.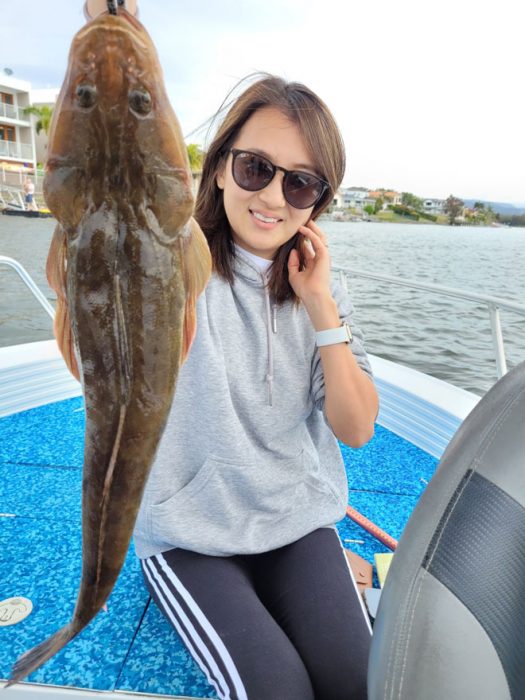 Spots such as Paradise Point, Runaway Bay, Labrador, Hope Island, Currumbin Creek, Tallebudgera Creek, Nerang River and Jacobs Well all offer public jetties, parks or sandy beaches which make good fishing spots. Some of the target species you can expect to land are bream, tarwhine, whiting, flathead, moses perch, tailor, flounder and trevally just to name a few. Some good baits to use are prawns, squid, while pilchards, worms and yabbies for the above species.
Another option is to put on a soft plastic for kids that tend to wind their rod back in as soon as you cast it out, they will have a good chance at a quality flathead or trevally jumping on. If you get any nice catches make sure to email in your photos for me to put in the paper.
Offshore anglers have managed to score a few nice fish over the past week until the wind picked up, unfortunately at the time of writing the report the weather for the weekend is looking like we will see pretty strong winds and the increased swell making conditions very average. Once the swell drops and wind eases it will be worth a look for a nice feed of reef fish.
In close the 18 and 24-fathom reefs will be worth a look for some big snapper on the dawn bite, float lining live yakkas, Western Australian pilchard, large squid or mullet fillet should to the trick. In close due to fishing pressure, the lighter the tackle set up you can use the better your chance at a big fish as they can be very tentative at times. The 18 and 24s have also been producing a mixed bag of teraglin, maori cod, moses perch, jewfish and the occasional cobia.
Out wider on the 36 and 50-fathom reefs current permitting we have seen some good catches of snapper, pearl perch, tuskfish, jewfish, yellowtail, amberjack and samson fish.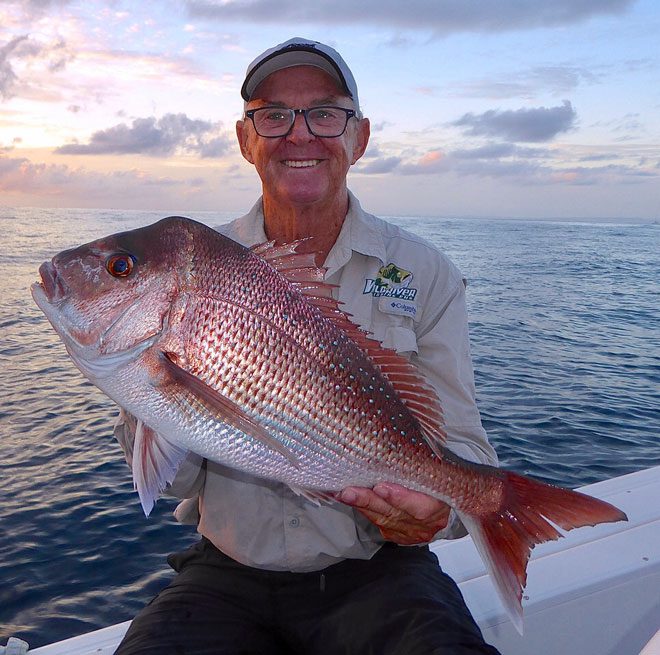 Brad from Brad Smith Fishing Charters reports I have not been able to do my Tweed Report for some time now as I live in Queensland and fish the Tweed. This has inspired me to think outside the block and look for some new grounds apart from the Broadwater that Clint and I know so well.
The Gold Coast is surrounded by both natural and man-made waterways and my present area of operation that I am still learning is throwing up some great structure and some great fish on lures. The main fish that my clients have caught have been bream with some nice quality fish being boated. The species I have found not in numbers but very good quality have been flathead, which are always great fun on the end of a lure.
The giant trevally that reside in this area were the absolute highlight of my newfound grounds, and the fish we caught this week were around the 50cm mark which are fantastic on light tackle. We had one beside the boat that was massive and after nearly 30 minutes of playing it surfaced beside the boat and towed us along before destroying the trebles of the little Pontoon 21 lure. I am going to go a bit heavier in equipment this week as I have also been demoralised on the reef areas I have found and my guess it is the red devil mangrove jack.
Clint from Brad Smith Fishing Charters reports, like Smithy, that I have been fishing the calm waters of the Gold Coast estuaries this week, everywhere from Chevron Island to Jumpinpin. There are still some arrow squid at the southern end around Southport and large numbers of big founder widespread. These superb table fish are easily caught on vibe lures anywhere there's sand. They will readily strike at Samaki vibes and Ecogear ZX40 lures.
I prefer to bleed them on capture, then put them straight on ice. Like any fish this greatly improves their edibility. Then scale and gut, rub whole in a mixture of tapioca flour, salt, pepper and a bit of garlic powder, then fry in a pan with olive oil. Amazing!
The dusky and bartail flathead are small to medium size this week. The bigger girls will be in the seaway feeding up. Water temp has been hovering around 20C, and the water is nice and clean of weed at the moment. A run-out tide is fishing best in the channels.
Best areas: Sovereign Island, Ephraim island, Labrador, Southport, Cronin Island.
If you have any great catches or photos you would like to share, please email us and let us know how you went. brett@coomerahouseboats.com.au or brett@fishotackle.com.au
Stay up to date with all fishing regulations in Queensland https://www.daf.qld.gov.au/business-priorities/fisheries
Fisho Tackle and Coomera Houseboat Holidays now have Hire Tinnies follow the link to view http://www.coomerahouseboats.com.au/our-fleet-type/hire-tinnies/
Seabreeze is a great website to access a local forecast http://www.seabreeze.com.au/graphs/
Good luck with the Fishing.
Brett