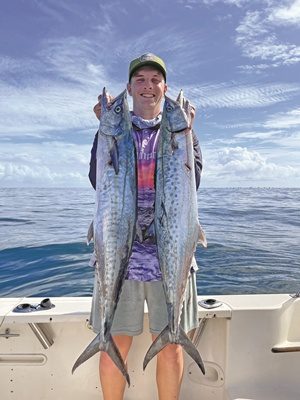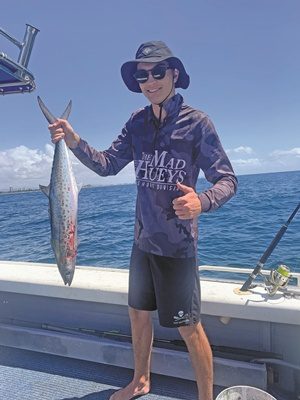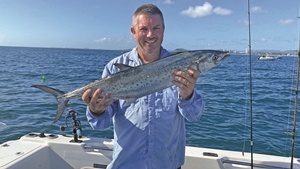 AUTUMN is here, and that means the temperature will start to taper off, but not the fishing! As we head into the cooler months, the fishing on the Gold Coast will hit fever pitch in April and May. Traditionally at this time of year, the size of the fish you dare to catch is only limited to the size of the bait you're game to use.
Mackerel action Gold Coast 
Big tailor, trevally, jelly bean tuna or bonito, if I've got a rig big enough for them. The mackerel have been on the chew all through summer and they don't seem to be slowing down. Even with dirty cooler water, we still had a hot bite, though we did have to move around to find fish. I haven't seen so many rat spanish mackerel as I have this year, they've been in plague proportions, which hopefully means we'll be having a few fantastic sessions in coming weeks.Mackerel action Gold Coast 
One thing to look out for with the big spaniards is the dreaded ciguatera poisoning. You run the risk of getting it with any spaniard over 10kg, and the bigger the fish the bigger the risk – at this time of year spaniards over 30kg do turn up on the coast. Spotted mackerel have steadily been getting bigger and fatter as the season progresses.
Those lucky enough to be able to pick their days have been rewarded with their bag in under an hour. The fish have been hitting almost anything you throw at them –bait, slugs, hard-bodies or skirts. Out wider there have been a few good catches of marlin with several fishos having insane sessions. Mixed in with them are also mahi mahi and wahoo.Mackerel action Gold Coast 
In the creeks and estuaries, good catches of flathead have been scored around the shallow weed beds, and mangrove jack near any structure. My favourite way to fish for them when I have time is live baiting. There is just something about the whole process – catching your own bait with the cast net, keeping them alive and then sitting back looking at the stars waiting for the rod to scream off – love it. The local bars are all in a varying state.Mackerel action Gold Coast 
The bank out the front of the Tweed River Bar is getting wider. The last time I was out, I had to check I was keeping the correct heading because it seemed to take ages before I was across in 4m of water. This bank will catch the swell, so keep an eye on it if there's any sea running. Currumbin is changing daily, with the banks moving and gutter closing off.Mackerel action Gold Coast 
Choose your tide and don't hang outside for too long, otherwise you might find yourself stuck out there for the change or worse, on the sand bank. Tallebudgera Creek is what I would call dangerous – shallow and you have nowhere to run. The Gold Coast Seaway is good as per usual, though watch out for the dawn surfers paddling across to Stradbroke Island – in dark wetsuits, they are near impossible to see.
Click here for more Gold Coast mackerel action.
For more autumn Gold Coast tips, click here!
Until next month, smoking drags to you all.