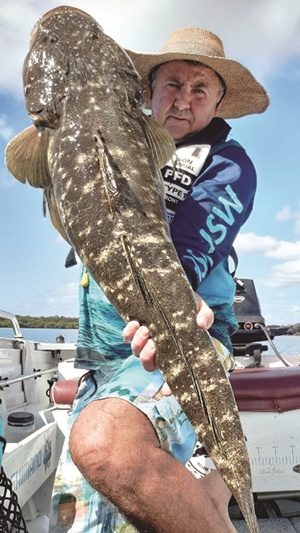 WELL, first of all I would like to say happy new year to all of you. I'm looking forward to a great year ahead. I hope you have all had a safe and happy holiday period, and I'm sure your loved ones spoilt you at Christmas.
After such a turbulent 2020 for all of us, let's keep our fingers crossed that 2021 is a little more 'normal' and we can get plenty of fishing done. At least summer has been a little more typical, with warm weather and a few storms so far this season. The warm weather has fired up a few of the usual species and I do think we are in for a cracker of a season, if we don't get floods. flat out flathead 
As we all know, summer on the North Coast is well known for flooding, so don't be surprised if there's one in the next few months. For now, flathead have been kicking along very nicely with a couple of great fish caught already. A real mix of techniques has been working over the past couple of months – it comes back to how you'd like to target them.
We've had quality fish taking live bait being slowly drifted along the rock walls and also along the sand flat drop-offs. We've also had plenty of fish grabbing soft plastics in the 70-100mm range, as per normal. Colour choice has been all over the place, with light conditions being the deciding factor on most days.flat out flathead 
The majority of the plastics have been paddle tails but a few of the curly tails have worked too on colder days, particularly over the top of the sand flats in North Creek and Mobbs Bay. Large swimbaits and glide baits being slow rolled over sand flats have also tempted big female flathead over the past month.
This will be a technique to continue using over summer, with plenty of mullet and whiting cruising over the flats in line of sight of flatties.
Whiting and mangrove jack have been enjoying this warm weather, with good numbers of whiting on most of the sand flats from the mouth of the Richmond River to Pimlico Island.flat out flathead 
The usual bait, such as worms and yabbies, have been working well on a larger run-up tide, as have more natural or clearer colours when using surface lures over sand flats.
Stickbaits and poppers have both tasted success, and if you don't have any in your tackle box yet, grab yourself a Bassday Sugapen, Bassday Backfire 65mm Popper, Daiwa Silver Wolf Slippery Dog, Atomic Hardz Pop 50 or an Atomic Hardz K9 Bulldog to name a few. Get out there, throw a few around your favourite sand flat and have a bit of fun.flat out flathead 
As is usually the case, jack have been hanging around most of the rock walls from the ferry to Broadwater. Cut mullet bait and live bait have been working well for bait fishers at night, while the 4-5" soft plastics in darker colours have had the most success for the lure brigade.flat out flathead 
A few fish have also been taken on surface walkers and poppers, but this seems to be a better proposition early morning during a run-out tide.
Offshore the current is continuing to make life a little difficult, with most anglers needing a truckload of lead to hold bottom, even on the 32-fathom line. Our only saving grace is that the current brings plenty of pelagic species with it, and the mahi mahi have been fairly solid so far this season. The smaller models still seem to be haunting the fish aggregating devices and the wave rider buoy, while the larger fish are hanging out a little wider and seem much more interested in small to medium skirted lures being trolled around.flat out flathead 
The more natural colours have worked most days, but it will always pay to have a pink or a luminous-coloured skirt on board, just in case. The heavy current is also a good thing for amberjack and kingfish. The current is still keeping schools of baitfish fairly concentrated and this is making it easier for predatory species to hunt them down.
It is however, making it hard for us to get a live bait or knife jig in the right area to tempt these powerful brutes, but if you can get your angle of delivery spot-on, you could be in for one hell of a workout.flat out flathead 
The north 48-fathom line has been a little more productive recently, and as by-catch there have been a few larger pearl perch taking live bait intended for kingfish and amberjack.  Any tick of the clock now, we are going to see mackerel show up again – as is usually the case, they've by-passed Ballina and shown up south of us.
Unfortunately, Ballina is a little geographically challenged, with warm water pushing past Cape Byron, then moving wide and south of us. We do need southeasterly wind to push the fish and warmer water into us, but I'm sure these conditions are not too far away.flat out flathead 
Now is the time to drag the wire trace, hooks and swivels out to start making a few rigs so you're ready to go when they arrive. Well that's about all for me for this month, so until next time – tight lines!