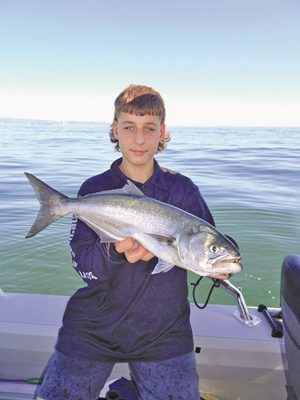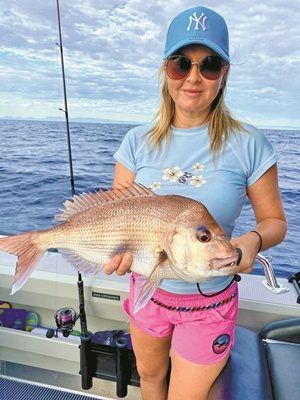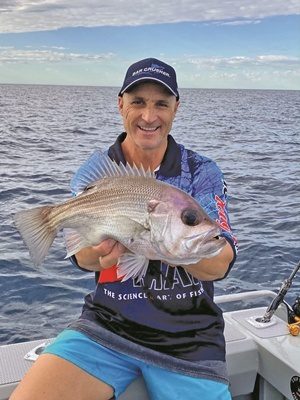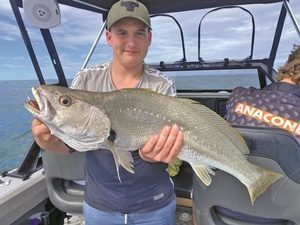 There are still good numbers of mackerel about for those of you who troll lures or rigged bait. Deep diving hard-body lures between 150-200mm work well when trolled at 4-6 knots. The same sized lure with a smaller bib will be good on the troll at a faster speed of around 8-9 knots too. I use a 20cm length of wire at the front of my lures to stop them being bitten off. The other alternative is to troll a dead rigged bait.
Gold Coast techniques
Tailor, slimy mackerel and bonito can be used very effectively. They can all be caught or purchased locally and rigged on ganged hooks or custom-made rigs. Most good tackle shops will have pre-made rigs to make it easier for you when starting off. They will also be able to supply you with all the gear you'll need to make your own custom mackerel rigs. Try trolling around Mermaid and Palm Beach reefs and along the 24-fathom line off Surfers Paradise. Gold Coast techniques
Many good-sized spanish mackerel have been taken this year, but be quick because they won't be around for much longer. Out wider, from 36 fathoms and deeper, the current should start to gradually slow down, and snapper and pearl perch fishing will start to hot up. Early season snapper love to eat big squid and pilchard heads. Float lining is the most effective way of catching these prized fish and patience is also very important.
On the past few trips out, I've had female anglers on board and they've out-fished their male counterparts on snapper – I think because of their relaxed attitude and soft touch. Snapper can be aggressive feeders one day and be very finicky the next. On days where you are catching good numbers of fish, you don't seem to get a really big model.Gold Coast techniques
On the days when they seem to have gone off the bite, you must be patient and keep persisting because that's when a big moocher will sneak up unexpectedly on your lightest line and scream off with it. I can't stress enough as to how important it is to make sure every line you drop in the water is tied and rigged perfectly.
Don't be lazy and think 'it will do' – make sure your hooks are sharp, your knots are good and strong, and there are no frayed or scuffed lines or leader. For most snapper fishing, 20lb braid and a 30-40lb leader is enough in the 36-fathom areas. If you're fishing the 50-fathom regions, you may want to go up to 30lb braid and a 60lb leader.Gold Coast techniques
Keep the rigs simple and rig up so your bait swims as it would naturally. I'll go into rigs and techniques more next month.
Pearl perch will be lurking around in wire weed this month and we have been taking home a few good-sized fish already. They love dead yakka and slimy mackerel that have been squashed a little, until their gut pops a bit. Send these to the bottom and you've got a good chance. Remember to use your sounder to find fish.Gold Coast techniques
Finding reef is good, but if the fish aren't there, you are wasting time. Active reef is the way to catch quality fish and seeing reef, small fish and big fish on your sounder is going to be the best way to determine whether you want to drop a line in or you move to the next patch. I'll occasionally sound over three or four spots until I find the best looking one. There is no use spending time over dead ground.
Inshore, the Gold Coast Seaway has still been going off with mangrove jack, jewfish and tailor – all in good numbers around the walls and the hole at the northern end. Live yakka are still the go to, and they can be caught just outside the Seaway. I'll talk fishing again after I settle into the new house and get things sorted.Gold Coast techniques
Until then, I hope you all catch big fish.