THE VMR Bundaberg Family Fishing Classic is back. Great prize pool at VMR Bundaberg Classic
The fifteenth VMR Bundy Classic will be held from June 24-26, 2022. Great prize pool at VMR Bundaberg Classic
The prize pool for lucky draws includes a Quintrex 420 Busta boat and trailer package, $5000 and $8000 cash and other great prizes. The total prize pool for the lucky draws and fishing category prizes usually exceeds $70,000.
The VMR Bundy Classic runs from Burnett Heads over three days, with an open offshore category, as well as senior and junior estuary categories.
The estuary fishing allows for catch and release and dead weigh-ins.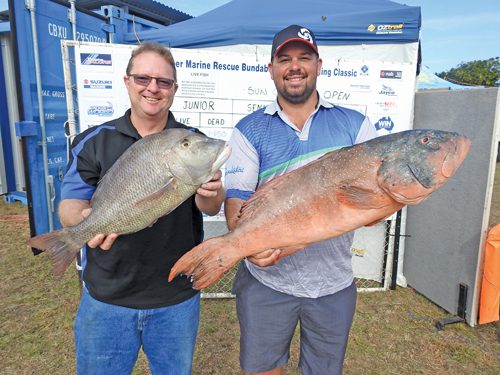 A strong list of category prizes is on offer and the early bird prize of a $1245 car fridge will be for entries prior to May 31.
Burnett Heads is a great central venue for excellent beach and estuarine fishing, with Baffle Creek and the Kolan, Burnett and Elliott rivers all fishing well.
The three-lane ramp at the Gateway Marina at Burnett Heads is a good facility for those who want to chase pelagics and reef fish at the many reefs and gutters in northern Hervey Bay.
VMR spokesperson Graham Kingston noted that a friendly yet serious competition has taken place in recent years between some of the offshore specialists.
The rules cater for junior and senior entries in live release and dead fish categories.
The live fish category has included about 30 percent of the total estuary weigh-in for recent Classic events.
Graham said, "We have an excellent live fish viewing tank that is very popular with the kids, and fish are tagged and returned to the harbour."
The very popular lucky draw sessions will include the Friday evening this year, with the cash draws on the Friday and Saturday, and the boat draw on the Sunday.
Times are shown on the program, which is available on the Classic website.
The junior lucky draw prize is a kayak.
This is an exciting family event with many prizes for both junior and senior participants.
You only have to register to participate in the lucky draws – the fishing provides extra fun.
This great event is only possible with the support from VMR's fantastic sponsors.
Boats Galore and Suzuki Marine have combined to support the boating package, while long-term sponsor Tackle World Bundaberg has continued with quality fishing tackle prizes for both seniors and juniors.
Harvey Norman Bundaberg is on board as a major sponsor with thousands of dollars in gift vouchers, The Bolt Place is sponsoring again, Rum City Locks and Security is helping with financial support for prize purchases and Koastal Kayaks is providing an impressive kayak prize.
Many other local sponsors allow VMR to keep the prizes rolling.
The excellent media coverage provided by the Seven Network and local broadcasters ensures extensive promotion of the event, and Tayco Outdoor Advertising have boosted the promotion with a large roadside billboard.
There will be plenty of great food stalls manned by supporting service clubs and a licenced bar.
The program, registration form and rules are available at vmrbundabergfishingclassic.com.au
Registrations are $40 for adults, $10 for children and $90 for a family of two adults and three children.