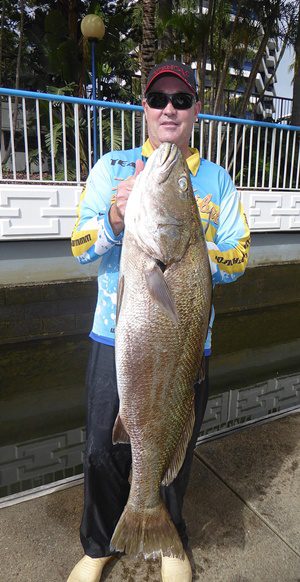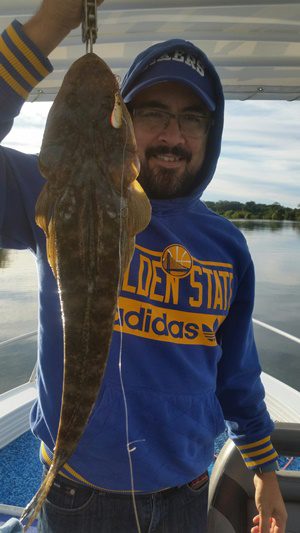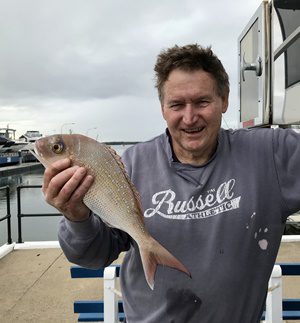 Hi Everyone, hope you have all had a good week, what a great start to Winter on the Tweed and Gold Coast with plenty of sunshine making fishing a great option. Looks like the wind will ease by the weekend, which is great news. Just watch the swell if you are looking at heading offshore, make sure you have the latest weather forecast. Let's see what's been on the bite.
Weather permitting Offshore has been producing some good catches lately, I was lucky enough to get out for a fish last Sunday. My good mate Wayne "Youngy" Young was generous enough to lend me his pride and joy for an offshore fishing mission with my daughter Bec. The current was flowing pretty hard making bottom fishing difficult at times, there was plenty of bait and fish showing up on the sounder just getting your burly and bait in front of them took a bit of technique. We ended up with a few Snapper, Moses and a cracking 15kg Jew Fish which made getting up early and getting rained on worthwhile. I fished the 18 fathom reef east of the seaway, I have had other reports of similar catches coming through which is great news as we transaction into the Winter months ahead. The best baits were whole WA Pilchards, Large Squid, Bonito and Yakkas. Some nice catches also came from the 36 fathoms reefs with a mixed bag of Pearl Perch, Snapper, Tusk Fish and a few Dolphin Fish off the fad.
Bream will be a prime target since the great start to Winter on the Tweed and Gold Coast, it's great to see large schools of White Pilchards turning up around Jumpinpin and the Broadwater as the Bream love eating them. Burley is a Bream Fishos best friend, just keep a steady trail going to attract the fish and them keep them feeding in the area. The secret is not to over do it, a bit at a time will do the trick, you can cube with WA Pillies, bits of flesh baits or Burley bombs and pellets all work well. My favourite bait is Mullet Fillet, White Pilchards, Prawns and Yabbies. Bream can be found everywhere throughout our waterways, best to target areas with good structure like Jetty's, Bridges, Rock walls and Fallen Trees. Some popular spots are the Gold Coast Seaway, Runaway Bay Canal mouths, Southport Bridge, Nerang River, Whalleys Gutter, Tiger Mullet Channel, Crusoe Island and  Kalings Bank.
Brad from Brad Smith Fishing Charters reports the Tweed has been fishing very consistently over the last few weeks for a variety of species. The deep holes in the Tweed River are the best places to try but make sure you take the time to study your sounder and locate the bait schools that are holding along the bottom before you start to fish. The species that have been feeding on the bait have been Flathead, Bream, School Jew and the odd big Whiting and Big Eye Trevally.  As nearly always the time around the tide changes has seen a spike in the fishes feeding patterns especially the Jewies. The lures that have been doing the damage are the ever reliable ecogear zx 40s and the samiki vibelicious soft vibe lures. Now that the water is starting to cool down we should see the fishing getting even better especially for the Flatties and Jew so i am looking forward to the oncoming winter months.
Clint reports in the Broadwater there have been good numbers of Squid, Tuskfish, Whiting, Sand Crabs, and Flounder around Crab Island this week. The big dredger working along the Western channel is stirring up the water and attracting fish. I catch most of my Squid with Ecogear ZX40 440 colour lures with a bit of Sax scent smeared all over them. The little assist hooks on these lures are "sticky" and have a knack of pinning the squid through one of their candles. They also hold bottom very well in flowing water, and draw the Squid out of weed beds and reef. The Squid are getting bigger as winter draws on, so set a light drag to avoid pulling hooks through them.
Gavin from Sea Probe Fishing Charters reports on The 50 fathom line there has been little current and bit of a mixed bag has being getting caught like Ajs, Samson, Kingys, Cobia, Snapper, Tusk Fish and Pearlies. Using paternoster rigs have been doing the best with pillies squid and live bait. On 36 fathoms a lot of dolphin fish on all the fads just use pillies and little slugs for them.
Hope you all have a good week and stay healthy and safe. If you have any great catches or photos you would like to share, please email us and let us know how you went.
Stay up to date with all fishing regulations in Queensland https://www.daf.qld.gov.au/business-priorities/fisheries
Fisho Tackle and Coomera Houseboat Holidays now have Hire Tinnies follow the link to view http://www.coomerahouseboats.com.au/our-fleet-type/hire-tinnies/
Seabreeze is a great website to access a local forecast http://www.seabreeze.com.au/graphs/
If you have any great catches to report or fishing photos please email them to  brett@fishotackle.com.au    Good luck with the Fishing.  Brett    great start to winter gold coast