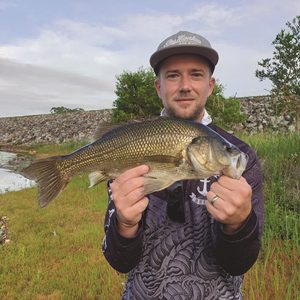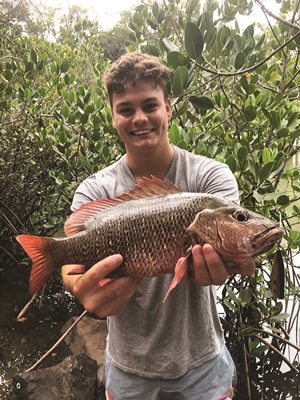 WE have certainly seen mixed weather across the state, from a prolonged drought to torrential downpours and catastrophic hailstorms.
For anyone with a boat, offshore is all about the pelagics and getting stuck into some big mackerel and tuna. In big easterly swells, the Noosa River Bar holds waves up to 2m. Before these arrive, be sure you know how to cross a bar and can identify the channel, which changes weekly.
Also be sure your boat is appropriately powered and you are equipped with current safety gear. Before you cross a bar, be sure to log on with the Coast Guard so they can track your progress and be there should something happen. If you need jackets, flares, a V-sheet or an EPIRB, be sure to pop in and get yourself compliant prior to attempting to cross a bar.
With the lighter swell, Sunshine Reef becomes the more popular reef system in close for those able to cross a bar. A little further out in the deeper water you'll find Chardons Reef. Here we typically see spanish, spotted and the odd school mackerel, mainly after a rain event. If conditions are perfect, you can also find wahoo and even black marlin around this stretch.
In deeper waters you may need to add extra weight to your floaters, especially if you're looking for the clean blue water pelagics love. On the calm days it is worthwhile anchoring and dropping baits in a steady berley trail. One fish that often gets big in this area is cobia, which can reach 15kg or more. They will take a wide range of baits and lures, including bigger jigs such as the Black Magic Flipper.
The big ones will often follow larger soft plastics wound back slowly, only to take them at your feet! Stopping cobia will depend on how lucky you are because they often head straight down. Chardons Reef can also be a great place to grab a few of the biggest Samaki Vibelicious Thumper Tail soft vibes and work the bottom for the solid reef fish.
North Reef has been a popular spot when the wind comes from the north. Here the reef bottom is very different to Sunshine Reef and resembles rubble. This area produces mixed reef fish including moses perch, venus tuskfish, pearl perch, goldspotted cod, sweetlip and big jewfish.
With pilchard floaters you can expect to pick up cobia, snapper, mackerel and tuna. Don't forget to check on the basics such as gang hooks and wire before heading out to North Reef because you can go through a fair bit of gear. If you can't use single-strand wire, give Technipeche Graphite Metal Tresse a go because this can be tied to create your usual knots such as a bloodknot and requires no crimps.
It's also worth hopping a large 7" soft plastic along the bottom. Be sure to grab some 6/0, 1-1.5oz jig heads to suit bigger-profile soft plastics and run 30-40lb leader and similar eight-strand braided lines. If you are trolling, having a varied spread of lures can really help and often entice a bite from species including mahi mahi, spanish and wahoo.
Heading north, if you only have a smaller boat or kayak, be sure to give Halls Reef a go. Slow trolling big dead baits such as sauries, garfish and slimy mackerel sees many anglers hook huge spanish and spotty mackerel. Swells break here because it's less than 20m deep, so always be on the lookout for bigger sets rolling through, especially if a fish takes you into the shallows.
You will need long-nose pliers and a solid gaff like the Silstar 2 left or right-handed option, which has a reach of 170cm and is perfect for 20-30kg fish patrolling these areas. Surf fishing will see an improvement from any big swell hitting the coast. Once the swell backs off there will be plenty of new gutters for fish to explore.
Have a look in the channel at the Noosa River mouth and around Middle Groyne. Here you'll find deep holes that have produced bigger flatties, whiting and grunter bream to 45cm. Simple running sinker rigs are all that's required to get you out there.
For the land-based estuary anglers, mangrove jack continue to dominate and for most are considered catch and release only. These prized sportfish will test not only your reaction time but your knots, hooks, leader and angling skills. If using lures such as a Jackall Squirrel or Lucky Craft Pointer, be sure to swap the hooks out for Decoy YS-81s or Owner ST-66s because other hooks will bend on bigger 55cm-plus fish.
Other easier species to target include good-sized flathead and trevally, especially in the lower estuary around the river mouth. These fish will take live baits of herring and whole fish baits including whitebait and hardyhead. For lures, anglers have a range of plastics in the 3"-4" size with curly and paddle tails for when the current isn't running as quickly and jerk shad or flickbait-style plastics for faster-moving water.
The River & Estuary Value Pack from TT Lures is a great way to buy bulk assorted HeadlockZ jig heads in a quality case. Perfect for the estuary angler, it contains all the popular sizes and caters to species from bream to big flathead. Watch the currents around the moon phases because they can be extremely strong, especially if it's been raining, which makes fishing hard.
Search closer to structure if this happens because these fish can be found out of these currents. One good thing about the rain is mud crabs will be on the move. They can be found among the creeks and mangrove edges not only in the Noosa but the Maroochy and Mooloolah river systems too. Come in and pick up a four crab pot deal, which includes everything you need to get crabbing.
Prior to the rain, the fresh water saw big drops in most of the dams and lakes across the land, with Borumba sitting just above 60 percent in January before being bolstered to over 90 percent in mid-February. Early morning trips have been the go to avoid the heat and wind, with chunky saratoga and bass getting caught off the top as a result. It is important when fishing these areas to be quiet and minimise movement for the best results.
Lake Macdonald, being a smaller body of water, has not dropped like Borumba and is fishing well. Suspending lures, spinnerbaits and tailspinners work well for daytime fishing. Have a look at Hot Bite spinnerbaits and Jackson Iga Jig tailspinners, which work well in the lake. If you are slow trolling, check out the new Zerek Tango Shad extra deep.
These lures are popular in the estuary and, with the deep-diving option, are great for the main basins of both areas. No matter where you fish, be sure to show us your catch and be safe on the water.
For all the latest information, visit fishingnoosa.com.au for up-to-date bar and fishing reports. Don't forget to drop into Davo's Tackle World, Davo's Boating and Outdoors in Noosa and Davo's Northshore Bait & Tackle in Marcoola for all the right equipment, bait and advice to get you catching fish.
Be sure to follow us on Facebook and remember: tight lines and bent spines! cross a bar cross a bar