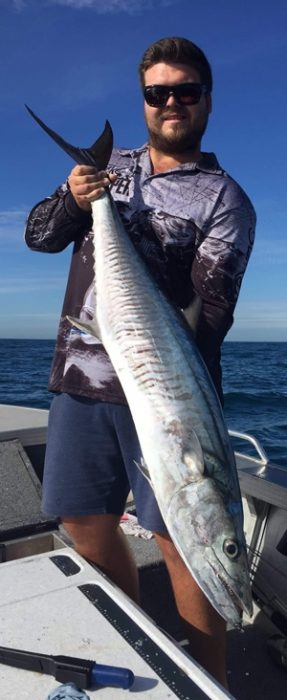 BUNDABERG OFFSHORE
The offshore fishing out from Bundaberg has been red hot over the past few weeks.  The captures of coral trout and grass sweetlip have been impressive!  Most of the sweetlip are being caught on mullet fillets, and the trout are chewing on pilchards.  Remember to sit on your favourite spots on the change of tide.  There has also been plenty of spanish mackerel being caught.  Floating gar out the back while your bottom bashing will be well worth it.  Fingers crossed the weather plays the game for this weekend.  Remember to always check the latest forecast before heading out.
BUNDABERG INSHORE
The inshore reefs have been firing lately.  With all the bait getting around, the pelagics have been turning it on!  This cooler weather will get the snapper on the scene as well.  Throwing 20g soft vibes and 5" soft plastics will always get you good results.  The size of the grunter that are being caught in the late evening into the night has been crazy.  Most of them have been caught on lightly-weighted squid and prawns.  There has been some nice squid getting around as well so don't forget the squid jigs!
BURNETT RIVER
With the cooler weather turning up, the bream have started to show up in good numbers.  I've heard of some rippers being caught on the rock bars on Zman Grubz.  There has also been some cracker blue salmon starting to turn up.  These are super exciting fish to target on light spin gear.  Using prawn imitation plastics and vibes is the way to go to catch them.  Don't forget to throw the crab pots in because we've got big full moon tides this week.
KOLAN RIVER AND BAFFLE CREEK
The Kolan River and Baffle Creek have been producing mud crabs and whiting. For the whiting, fishing the morning incoming tide will be the go. Fresh yabbies and beach worms are the deadly baits for them. The quality of the mud crabs the systems are producing is getting better. Keep in mind the night tides this weekend are way bigger than the day tides. Don't forget to throw some paddle tail soft plastics into the snags because there is still some cracking mangrove jack being caught.
For more Baffle Creek tips, click here!
COVID-19 RESTRICTIONS IN QUEENSLAND
The Chief Health Officer public health directions from 2nd May 2020 states Queenslanders are permitted to leave their homes (principal place of residence) for recreation within a 50km radius.  Fishing and boating is permitted with people who normally live with you OR you and one person who does not live with you.  A reminder to abide by the social distancing regulations and practise good hygiene.  For further information, visit:
https://www.health.qld.gov.au/system-governance/legislation/cho-public-health-directions-under-expanded-public-health-act-powers/home-confinement-movement-gathering-direction
Till next time
Keep it real
Mitch Beyer