WE had been so blessed with the weather we encountered on our way around Queensland. However, our luck ran out as we made our way to Baffle Creek, with rain, wind and storms as a welcome. That said, we still had a special time making camp at Rocky Point Retreat, which is situated 63km north of Bundaberg and 90km south of Agnes Water.
Rocky Point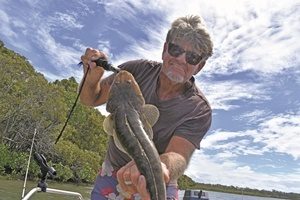 Rocky Point Retreat is one of those magic camp spots and is located on the banks of Baffle Creek in the tiny village of Winfield. Darren and Kati Rasmussen maintain the place beautifully, and it offers a unique experience if you want a simple relaxing time in the middle of a waterway with fantastic fishing and crabbing.Rocky Point
The campsites are generous in size and we had ample room for our caravan, Isuzu D-Max, tinnie and a couple of kayaks. We set up on a waterfront site, which allowed us to connect to bore water though not power, which suited us fine. The bore water was of high quality and very drinkable – in saying that Tonia and I have only had access to tank and bore water for the past six years.
Be warned, many people do have a reaction, with an upset stomach often the end result. Sandflies, midges and mosquitoes were a problem at times, particularly around dawn and dusk, which may be concerning to parents of toddlers. In my evaluation, the quality of fishing and crabbing on offer far outweighed any negatives at this location.Rocky Point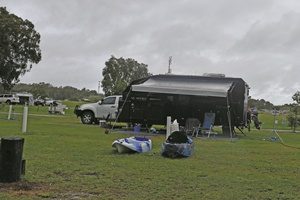 The waterway has a lot to offer, with a variety of target areas to explore such as sandbanks, channels and drains, twisted mangrove-lined banks, fallen timbers, rock bars and rocky points. As usual, I enjoyed catching my fish on hard-bodies, but for those who wish to fish with bait, yabbies are easily gathered by pumping the sandbanks around low tide.