LAST month I covered part one of my Swain Reefs trip on board Big Cat Reality Charters with Wilson Fishing. This month is part two – filled with more epic fishing and great memories.
Swain Reefs test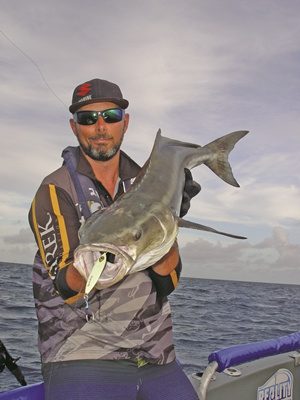 With an action-packed four days of fishing that was to follow, it would be impossible to mention everything in this article, so I'll fill you in on a few of the memorable moments. On day three, we found ourselves situated at Centenary Reef on the upper northern area of the Swain Reefs region. It was blowing a solid 20 knots, so we opted to try something different and fish the top of the reef flats on the morning high tide.
This would give us an opportunity to test out the new prototype Wilson stickbait lures to see how they would perform. Being a prototype lure still in development, I'm unable to show pictures of the lures, but they will be released in the second half of 2021 and are set to become hugely popular. For this style of fishing, we used a combination of ATC Virtuous spin reels and Shimano Saragosa spin reels with 50lb line.
These were matched to Venom 40-60lb Stickbait rods, which are one of the most versatile rods in the range and purposely designed for this type of fishing. Over the course of the next few hours, we caught heaps of red throat emperor and coral trout, which made for excellent fishing and great fun. When you're only fishing in a 1-2m of water, the fish fight extremely hard and it doesn't take much effort for them to go straight back into the reef and bust you off. Swain Reefs test
Satisfied with our results on the reef flats, we decided to look at the front leading edge of the reef to see if could entice a giant trevally. As soon as we arrived, we could see good amounts of bait showering out of the water, so I positioned the boat for Dane to cast a 220mm Zerek Zappelin Stickbait straight into the zone. Within a few seconds of the lure landing, the water erupted and the stickbait was absolutely smashed.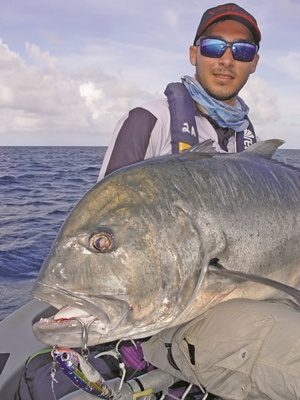 The fish headed straight out into deeper water, which was a surprise and Dane soon had a healthy GT boat side that was quickly released. By then, it was time to head back to the Big Cat for lunch and also welcome the arrival of Wilson owner Graeme Wilson and general manager Kord Luckus. Due to commitments, they couldn't join us for the first half of the trip, so they flew in on a seaplane to ensure they didn't miss out completely. That's commitment. Swain Reefs test
The next couple of days consisted of the same ordinary weather, but we continued to chase GTs on stickbaits and poppers, which produced plenty of good-sized specimens before chasing reef fish around the main reefs. One morning, we had an awesome session on the edge of reef line in 20-30m. I was using a 6" Zerek Live Cherabin and a 5" Zerek Live Shrimp, and more often than not they were smashed before they reached the bottom.
I was pulling nice coral trout one after another with a few good coronation trout and red throat emperor also in the mix. The outfit I was using for this was an ATC Virtuous spin reel on a Blade N Tails 15-30lb rod, which was an awesome match for this style of fishing. Dane was using the 80g Mustad Wingman jigs with a slow twitch technique close to the bottom. This was also resulting in nice trout, red throat and spangled emperor one after another.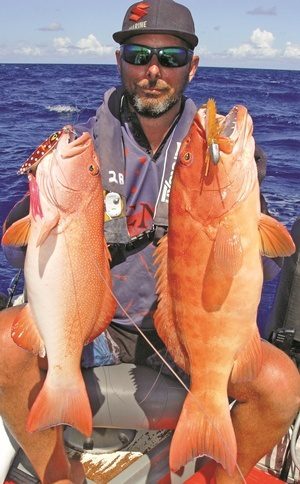 Swain Reefs test
Using these techniques around the reefs was effective and could out-fish bait at times for a few different reasons. You have less by-catch of smaller unwanted species, more of a natural presentation, you can catch fish faster and you tend to get less snags. One important factor I should mention is the importance of positioning the boat directly over the top of where you are working your plastic or jig to maximise the lure technique and action.
TO READ THE FULL ARTICLE, CLICK HERE!
If you're interested in watching a bit of the action, jump on to my YouTube channel Gregs Wicked Fishing and watch Part 1 and 2 of the crazy action. Swain Reefs test
Until next time, tight lines.