The state of Queensland has many beautiful spots that are well worth visiting and Carnarvon Gorge is one of them – our next destination on the mini lap. Depending on what time of year you visit will determine where you can stay because more camping and caravan spots are opened over school holiday periods.
On this trip we made Takarakka Bush Resort our home base for a couple of days as we explored various walks within the Carnarvon National Park. It can be a little hard to get in contact with various accommodation places but be persistent and email as well as call. Unfortunately, availability is also a problem so try and book as soon as you can. Fortunately, we managed to book in and, though our dates were a week before the school holidays, it was still very busy. Carnarvon Gorge
If you are considering staying at Takarakka, overall it was fine – the camp sites were large and the kids could ride their bikes around, plus you're only a short drive to several walks. Though a little more effort from the staff to ensure the facilities were kept clean and stocked would have been nice – definitely wouldn't call it a 'resort'. Thankfully the natural beauty of Carnarvon Gorge made up for this.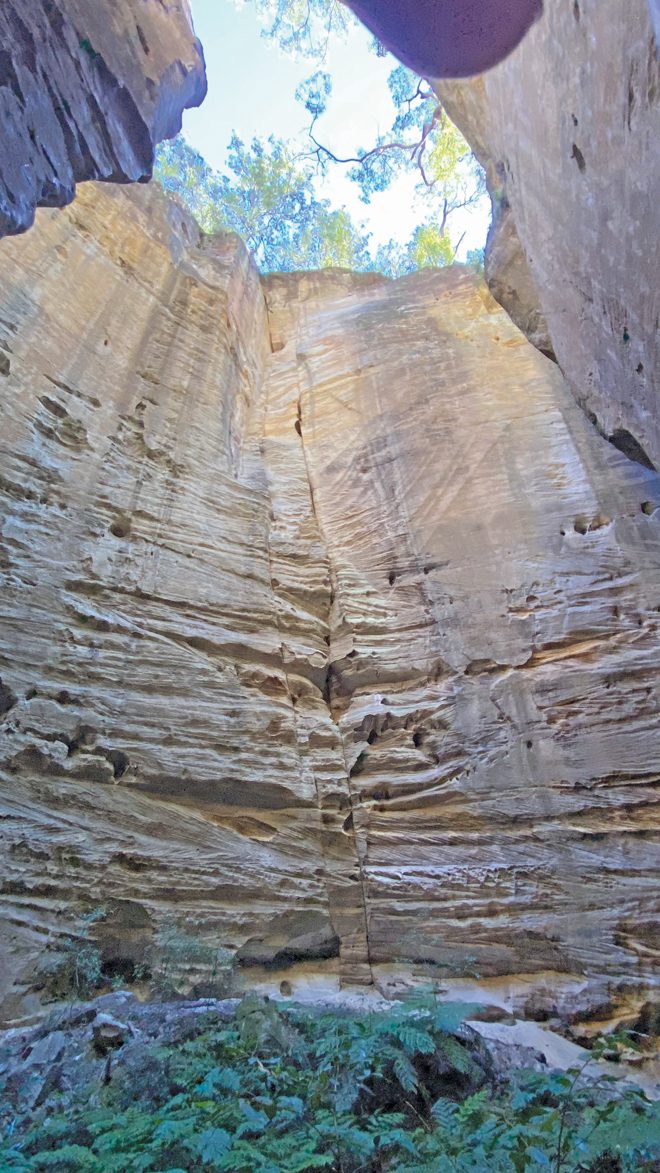 Before heading off, we did a couple of short hikes to see how the kids would go, as we wanted to do the longer walks to the Amphitheatre and the Art Gallery. Wow, they were certainly worth the additional effort. The aptly named Amphitheatre highlights nature's efforts in architecture, with a 60m chasm deep inside a gorge – simply breathtaking.
As well as the 8.6km return walk, there is also a tiered ladder that needs to be climbed to access the open-topped cavern. The Art Gallery which is a little further along is also worth a look. The large section of displayed Aboriginal art tells many stories, and it's great to have a read and reflect on how life would have been for the traditional land holders. If you are keen for an even more adventurous hike or an overnight camp, Big Bend is highly recommended – but I haven't had the chance to do it yet.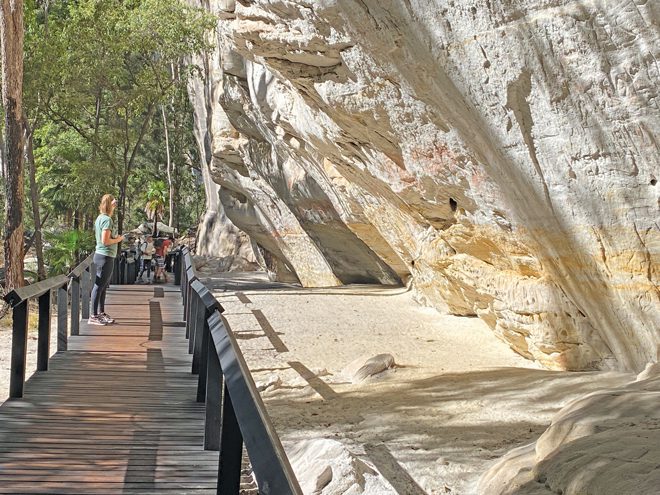 Two other hikes I would absolutely recommend are to the Moss Garden and Boolimba Bluff. The Moss Garden is a tranquil destination with fern gardens and a slow running waterfall providing a very relaxing ambiance. Greta and I did this walk late one afternoon without the kids and had the place to ourselves. It was extremely relaxing and rejuvenated us, which was needed because we had to run back to get to Takarakka before the bar closed at 6pm. However, they decided on this day to close it eight minutes early, which was exactly when we arrived back – so glad we ran!
Another walk we did without the kids was Boolimba Bluff. While not a very long walk, there are a lot of stairs to climb which makes it a little challenging, though the view at the top is worth it. From the top of the gorge you can see all the different landscapes and it is here you appreciate how large and wonderful this piece of paradise is. If you are into walks and want to see some Aboriginal art, I'd recommend spending at least a few days here. Ours was a three-night stay, which I suggest would be the minimum because there is so much to see.
After putting in quite a few hard yards on foot and with our next destination, The Gemfields, a few hours away, it was time to get back in the car and on the road again. The run from Carnarvon Gorge north to Emerald with a detour to Lake Maraboon was an easy drive because I had worked out how to best use the airbag suspension on the JB Scorpion Sting caravan. Ensuring your vehicle and van are well set-up is crucial, especially when on outback roads as there can be large potholes or groves and ridges in the road that move you around.
It's worth noting that before our trip I had the wheels on the van aligned. On a car the alignment is very straight, for a caravan however the person doing the wheel alignment skews them a few degrees inwards to better handle the camber of the road, which leans the other way.
In my next story, we continue our lap west to the dinosaur trails.