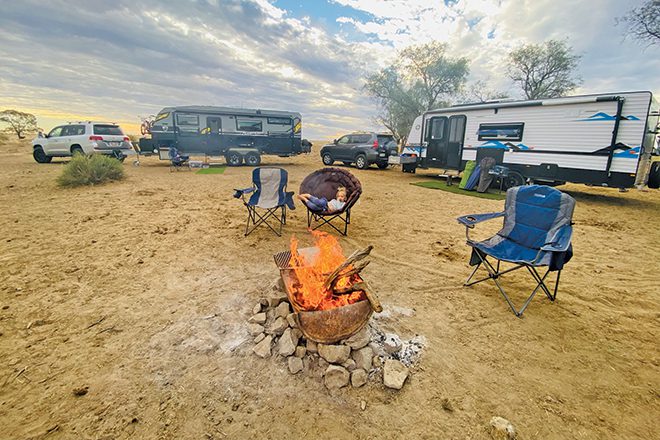 Western Queensland is known for many things including the Royal Flying Doctor Service, the Australian Stockman's Hall of Fame, the Qantas Founders Museum, all in Longreach, and the Tree of Knowledge, sheep shearing and more recently the site of the discovery of several dinosaur bones. In fact, Queensland has one of the largest and best collections of dinosaur fossils in the world. All of these attractions make western Queensland a place well worth visiting. dinosaur trails
After leaving the Gemfields, our next stop was at a property just outside Barcaldine, a town renown for the Tree of Knowledge memorial. The camp did not have any power or water – apart from the hot artesian spring that could be pumped into a large bath-style container, which was why this particular spot was chosen. Relaxing in the hot spring as the sun set painted a truly spectacular picture. dinosaur trails
Unfortunately, we were a little late getting to the spot – it wasn't exactly signed well – so the solar-run pump only had a small amount of sun left to pump the bath full. At least the kids had a nice hot bath, though maybe next time we'll visit without the kids, so mum and dad can have a bit of rest and relaxation. The late-night dip was still very enjoyable, with the flat dusty country providing a fantastic backdrop for the myriad of stars. dinosaur trails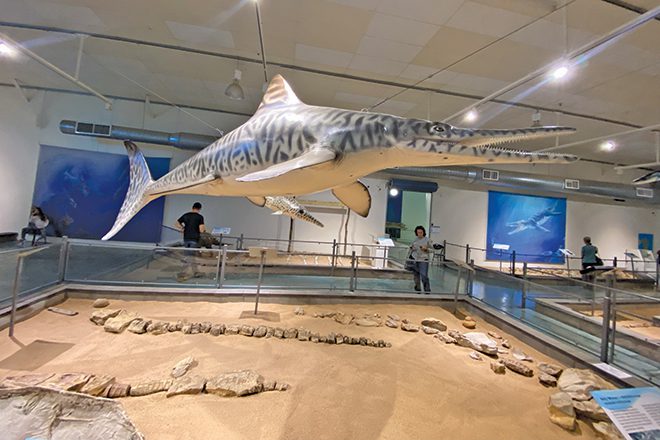 Throw in a large sprinkling of cows and we felt we were in the middle nowhere. Anyone who has travelled the outback during rainfall will appreciate how boggy the black soil can get. Thankfully, we managed to get back on the highway and were heading west before the heavens opened. It was awesome and the area had a good drenching, and while we know how precious water is especially in the outback, the unseasonal rain continued for a few days which meant we were held up in Longreach.
We had planned and booked to go on a paddle steamer and see a show, however this was cancelled as we were unable to get to the departure point. Despite the rain, we managed a visit to the Qantas Founders Museum and the Longreach School of the Air. Both excursions were enjoyed by the kids and the adults and are well worth doing. When planning the trip, it was decided not to visit the Hall of Fame – as much I still want to do it, we felt it would be too much for the kids.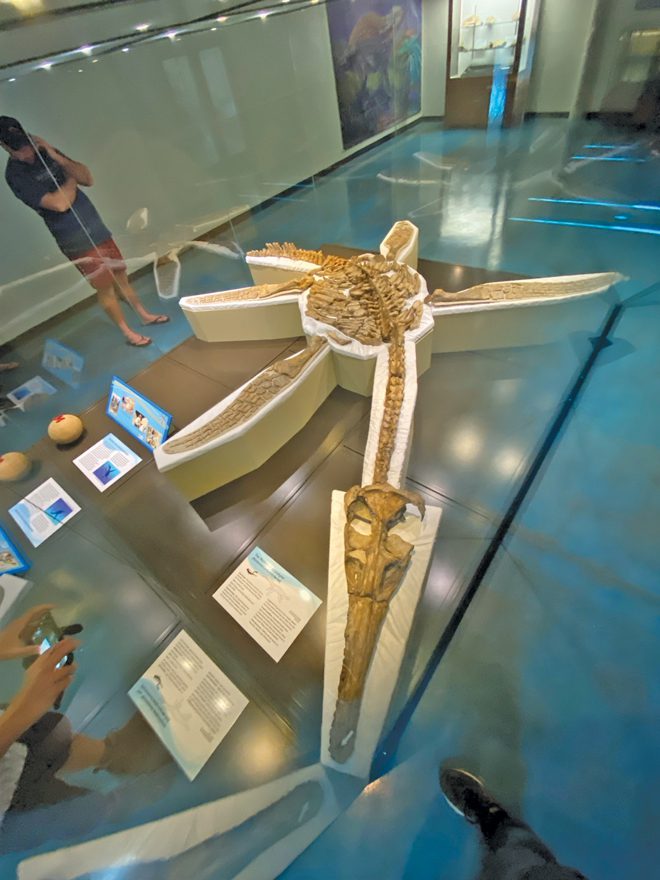 If you are visiting, make sure to book well in advance for the activities you want to do, as many of the tours fill up quickly. After a couple of days of rain, which was quickly soaked up by the dry ground, we were on the road again – destination Winton to drive the famous dinosaur trails. To be honest, I was a little unsure of what to expect – though the kids and everyone were super excited. However, after visiting the first part of the tour, I was hooked and even keen to come back at a later stage as a volunteer to help excavate or clean the fossils – however as there is typically a long list of volunteers, I may need to wait a while before getting called up.
The dinosaur trails encompass three main towns including Winton, Hughenden and Richmond, which all have a slightly different story to tell. Our base camp for one night was in Winton, which allowed us to unhook the van and travel the 110km out to the Lark Quarry Conservation Park, site of the Dinosaur Stampede National Monument. Fortunately, the water had mostly dried up and the road was open, so we could make the trip out.
The Lark is basically a depiction of a dinosaur stampede, which was created around 95 million years ago, but I won't go into too much detail as it will spoil the experience for those who want to visit. Just outside of Winton is the Australian Age of Dinosaurs, which was our first port of call the following morning and the first stop – though we did backtrack a little – before heading north to Hughenden. This place was spectacular, nestled high on a ridge you have an appreciation of the sparseness of the outback and what it must have looked like.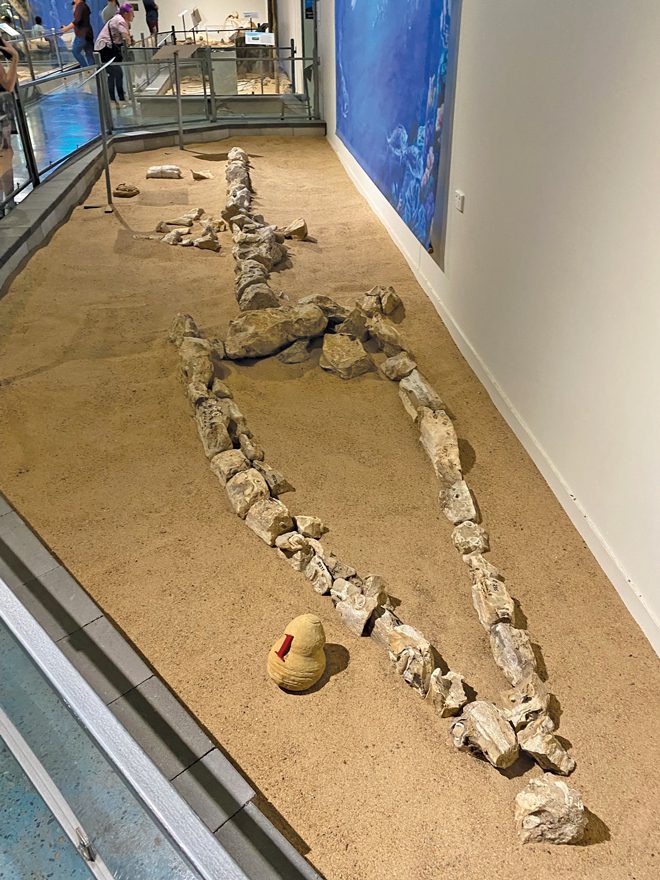 On this tour, we were able to get very close to the dinosaur fossils, and even touch them. The fossil preparation laboratory was one of the spots it was possible to volunteer at, to remove bits of dirt and rock from around the fossils – after training, of course. If you're keen to get a better understanding of how fossils are found and excavated, this spot is the place to visit. A side note – it also had the best reception and wifi of all the places we visited during our outback travels – and laptops did come out briefly!
With the next camp planned at Hughenden, we set off north. The road was a combination of one lane, bitumen and dirt. As the rain had only recently cleared, there were plenty of large rut marks on the sides of the road where vehicles had to get off to make way as they approached each other. The ground was still a little damp under the surface and I could feel the car and van move a little as we passed various vehicles. This is a reminder to take caution when travelling on outback roads – in some places you are literally in the middle of nowhere.
Unfortunately, around this time our travel partners were having issues with their hired van – the hot water system was not working and also leaking. This meant our free camping was reduced and we had to spend more nights than planned at designated caravan parks – which were basically booked out. Luckily for us, some had vacancies due to rain stopping people getting through to their booked sites.
When travelling, as much as it is important to have places booked and a set itinerary, you need to be flexible and adaptable as things don't always go exactly to plan. After setting up camp in Hughenden, we decided to hit the local pub for a feed and get ready for our trip out to Richmond the following day, which was the final leg of the dinosaur trails. In hindsight, it may have been better to go to Richmond directly from Winton, rather than going out and back.
As mentioned, each part of the dinosaur trails has its own unique story – in Richmond you get to explore Kronosaurus Korner, which is home to Australia's premier marine fossil collection, and originated from the inland sea that existed around 110 million years ago. Having a love for anything marine, this part of the tour was very interesting. Aside from the actual tours, there are plenty of other things to do in these western Queensland towns. So, if you have some free time and aren't on a tight schedule, I recommend spending a few nights and immersing yourself in the outback culture.
Next part, the trip continues north to Porcupine and Cobbold Gorge.
Visit bnbfishing.com.au for Parts 1 and 2.